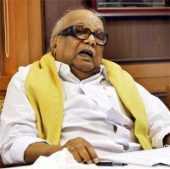 The all- party meeting to discuss a resolution the government plans to move in Parliament on violation of human rights of Tamilians in Sri Lanka, a demand that the Dravida Munnetra Kazhagam had placed as a condition to stay within the United Progressive Alliance, began around 7.15 pm today at Home Minister Sushilkumar Shinde's office .
Though the DMK withdrew support to the UPA and its ministers in the Manmohan Singh cabinet resigned on Wednesday, the government has decided to go ahead with the proposed resolution in Parliament on the Sri Lanka issue.
Minister of State for Parliamentary Affairs Rajeev Shukla said an all-party meeting has been convened this evening to discuss the resolution. There are differences between parties on the wording of the resolution with the DMK and the AIADMK demanding that the term "genocide" be include while condemning the atrocities against Tamils of Sri Lanka during the recent civil war.
Earlier on Wednesday, the government announced that it will also move amendments to the resolution on Sri Lanka at the United Nations Human Rights Council to send a "resolute message" on that country's human rights issue.
Stressing that India wanted the Geneva-based UNHRC to adopt a "strong" resolution on Sri Lanka, Finance Minister P Chidambaram said India will move amendments to the draft to send a "resolute message" to that country on alleged human rights violations of Tamils and "goad" it to have an independent inquiry, a key demand of the DMK.
Chidambaram also dismissed allegations that India had sought dilution of the strongly worded resolution by the United States, saying it was an absolute "canard". He had also said the DMK's demand for a resolution to be adopted by Parliament on Sri Lankan Tamils issue was in the process of consultations with other parties.
The DMK, UPA's second biggest constituent with 18 Lok Sabha MPs, quit the alliance on Tuesday.
Chidambaram claimed that the DMK was aware of the government's position on the issue but had changed its position between night of March 18 and morning of March 19. "We are not aware of the reasons why the DMK changed its position between the night of March 18 and the morning of
March 19," Chidambaram said, while noting that DMK supremo M Karunanidhi had said the party would reconsider decision to withdraw support if Parliament adopts a resolution before the end of current sittings on March 22.