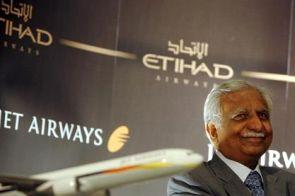 In what might impact Jet Airways' operations out of its present hub in Brussels (Belgium), the Indian airline would have to develop Abu Dhabi as an exclusive hub for flights to North America, South America, Africa and the United Arab Emirates ('exclusive territories'), according to the final commercial cooperation agreement signed with Abu Dhabi-based Etihad Airways.

Canada would be included in the list of 'exclusive territories' once relevant amendments are made to the bilateral air services agreements to permit Jet to fly to Toronto via Abu Dhabi.

Jet currently flies to New York and Toronto via its hub in Brussels.

A copy of the CCA has been reviewed by Business Standard.

It additionally states Jet would have to route its services from India to Sharjah and Dubai through Abu Dhabi, as soon as it becomes economically viable.

However, exceptions can be made, allowing Jet to continue non-stop operations between India and destinations in the 'exclusive territories', if Etihad agrees this would be economically viable.

A detailed questionnaire sent to Jet, on the impact for operations out of Brussels and India due to the terms of the CCA, remained unanswered.

The CCA also stops the Indian carrier from entering into code-share arrangements with third-party airlines, the impact of which might result in bypassing Abu Dhabi as a hub for traffic to and from the exclusive territories.

According to the terms, Jet would have to exit existing joint ventures or code-share arrangements with airlines.

Jet can form code-share arrangements with third parties to destinations within exclusive territories not served by Etihad or its affiliates but only till such time as they do not commence operations on these routes.

To strengthen its presence on the Indo-US route, Jet will soon add flights to Newark and Chicago via Abu Dhabi, according to the business plan in the CCA.

Jet is to connect Mumbai to Newark, Bangalore to Chicago and Delhi to New York, taking on Air India which connects the same three points through Delhi (direct to New York and Chicago) and Mumbai (direct to Newark and via Delhi to New York) in the US.

The combination will also challenge the domination of Emirates among West Asian carriers over the lucrative Indian-US market. According to studies, the India-North America market is growing annually by just under 10 per cent and about 730,000 passengers will fly yearly between the two countries by 2014.

Also, to woo more passengers from the metros as well as non-metropolitan cities of India, the agreement has initially identified eight cities from where Jet will fly directly to Abu Dhabi.

These are Ahmedabad, Mumbai, Delhi, Bengaluru, Hyderabad, Chennai, Thiruvananthapuram and Cochin.

These cities will come on the map by 2013 or not later than the International Air Transport Association's 2013 winter session, says the agreement.
Image: Jet Airways chief Naresh Goyal