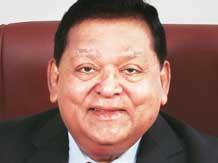 In an interview with PricewaterhouseCoopers, A M Naik, chairman of Larsen & Toubro Limited, talks about the company's strategies, opportunities and the challenges facing it.

Naik was one of the 1,330 business leaders who participated in PwC's 16th Annual Global CEO Survey.

Edited excerpts:

Where do you see the global economy going over the coming year? Do you see any signs of recovery and growth?

I think the global economy may grow at 2.5 per cent or three per cent.

Over three years that may become four per cent or 4.5 per cent if lots of things are fixed in the meantime.

What about the Indian economy? Where do you think it will be three years from now in terms of the growth rate?

The Indian economy has fallen from nine per cent to five per cent in less than two years. India did have the best opportunity because, over the last 18 months, institutional investors had no options in the US or Europe.

But due to our lack of decision-making at political levels and the opposition who oppose almost anything, we could not take advantage of the opportunity.

However, it looks to me as if the government is very strong now and might achieve what it wants to in terms of reforms and other measures.

If it does that, then I think the momentum should pick up.

In terms of L&T's growth and profitability in the current environment, what are the specific businesses and geographies you are focusing on?

Our area of focus right now is West Asia, some parts of Africa and the Far East (East Asia) where we are involved in infrastructure construction, hydrocarbon and power projects.

When it comes to export, as opposed to doing projects on the ground, our heavy reactors go to Brazil, Russia, China and elsewhere.

To an extent, we have been able to cushion our problems with tremendous growth in IT and engineering operations, which we started primarily to protect our talent.

Having said that, however, we are over-diversified and we need to bring some discipline and some degree of focus to our diversity.

We are currently restructuring and hopefully that will be done in two or three years.

The real problem is the prospect of the project pipeline drying up and what will happen in 2013-14 and 2014-15.

We build on a 15-17 per cent contribution from our overseas business and we hope to get that to 25 per cent.

When you talk about the challenging environment, whether it's political uncertainty in India or slowing down of the BRIC economies, is the level of these threats greater or less than in the past year, three years or 10 years?

Well, growth in India is now at its slowest rate for the last seven or eight years.

Globally, too, things are probably worse than they have been in the last seven or eight years.

What would you say are the top two threats that have implications for L&T's revenue growth and profitability?

Well, the biggest threat is finding the leadership talent which can make things happen internationally.

With the current domestic situation being what it is, the most important thing is to make a major impact internationally.

Obviously, you need different types of orientation, organisation, structure and leadership to build our international presence quickly. Being unable to do that is our biggest threat.

Number two is how fast we can bring up our shipyard which was meant for defence projects.

Unfortunately, defence policies are not supporting the private sector, but constantly giving work to the government sector which often fails to deliver on time.

We made major investments in the forging shop and that forging was meant for the nuclear industry, but after the Japanese accident the nuclear scene has gone haywire.

Suddenly, the market has collapsed.

So, internally, our biggest challenge is ensuring that we cut our losses and make these two investments productive.

That can be done by putting our shipyard with the defence policy change into action, and putting the forging shop to multiple other uses.

Given these two challenges that you have identified, what changes are you leading within the organisation to meet them?

In our 1999 vision statement, we said our aim was to be a company which constantly creates value; a second aim was to become multinational and international.

We made a slow start on the latter and the change should have been accelerated sooner.

That is happening now.

The best talent will have to be recruited.

To become multinational, our management team has to become multinational. So, we have started hiring people from Italy, France, Australia and the Arab countries.

Can you give some examples of restructuring activities that you've initiated in the last year or two, or whether it is consolidation or disinvestment?

When I took over in 1999 I realised that L&T was defocused.

So, we closed our undercarriage parts business because there were no buyers. We sold medical, we sold petrol pumps, we sold a joint venture on paper machines.

These were all small businesses.

We sold Ready Mix and cement which were at least big businesses, but they were not at our core. Our engineering business remained but was very tiny at $20m, $40m, $50m.

At the same time we launched our new power and infotech groups, which were $1bn, $2bn, $3bn initiatives.

So this has been happening continuously over the last decade. In the past 18 months we have sold four or five small businesses, and we have acquired three companies: two very small ones and one mid-sized.

They were necessary acquisitions because what we want to focus on needs a lot of international integration or design and development to make it a truly large business.

Our definition of a large business is a value of $2bn by 2016. Today it is almost $1bn so we are well on our way.

Are there any changes to how, or any initiatives you've launched to develop the leadership pipeline from the perspective of succession planning?

I think we have come a long way in the last seven to eight years in building up the leadership pipeline.

We have a seven-step development plan which starts with the executive development programme for employees below the age of 32 internally and externally.

We send people who have been with the company for 10 years to other management institutes to complete their management qualifications externally. At the same time, we run internal programmes.

The second stage is a leadership development programme which we started with McKinsey and have now taken in-house, with an internal faculty from the various groups and from our central training institute.

The third stage is a senior management programme, in conjunction with the Ross School of Management from Michigan.

The fourth stage looks at how to create a global organisation that is run by Indian top management and above.

The fifth stage, which I have just inaugurated, is conducted by Harvard Business School and focuses on creating the global CEOs.

The sixth step is where I personally select senior managers and send them to the London School of Business or to NCR, Harvard, Wharton or IMD.

The seventh step is mentoring by senior colleagues.

I normally mentor about 12 people at any given time and those are the people who will become the future IC heads, subsidiary CEOs and maybe CEO of the company someday.

To what extent does the L&T culture percolate down through your partners and the supply chain, or is there a concerted effort towards that?

We have a very strong focus on quality. We are a stickler for making sure that safety, security and quality are not compromised and, obviously, that includes timely delivery.

That cannot happen unless you have a robust supply chain and that, in turn, depends on having an outstanding relationship with each supplier.
Image: A M Naik | Photograph, courtesy: Business Standard