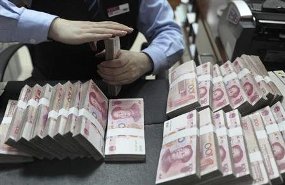 For India to achieve a higher rate of growth, it is important to develop infrastructure, says Hiroshi Watanabe, president and chief executive of the Japan Bank for International Cooperation, an agency of the Japanese government, in an interview with Nayanima Basu on the sidelines of the ADB annual meeting.

Edited excerpts:

It seems Japan has finally started looking at India seriously from an investment point of view.

India now ranks at number two in terms of where Japanese investors are interested.

China is number one. Now, the government is committed to promote industrial corridors in India.

Japanese companies are looking at the southeastern part of the country to develop another corridor.

Japanese investors, traditionally, had been using the US and Europe as their manufacturing base but in the case of the Indian continent, they are looking at producing here for consumption here -- India is a very big consumption market.

JBIC is very interested in supporting their activities.

JBIC has started expanding its area of operation in India; you seem to be financing and supporting a large number of sectors.

Our lending to India stands at $1.6 billion, which is rising. So far, we are lending to create manufacturing capacity.

We are lending to the steel and electricity sectors and also to automobiles.

We have also made considerable lending to the infrastructure sector, such as the Delhi Mumbai Industrial Corridor.

Your core area of operation remains infrastructure development?

I think the present government understands the importance of infrastructure development.

Earlier governments did not realise its importance, when we said we are facing difficulties here compared to China, due to infrastructure.

At the current level of infrastructure, you can have an annual growth rate of a maximum of six-seven per cent.

To achieve nine per cent growth, the level of infrastructure has to be much better.

India's potential is very high, which Japanese companies have realised.

But the DMIC has failed to take off, compared to what it was supposed to when launched with huge fanfare around 6 years before.

It has, indeed, taken some time to come up; it is not easy for a project of that size to come up soon.

And, as I said, we need some coordination on acquiring land, which has some problem because of the involvement of the state governments.

We are now planning to bring in some new design.

Moreover, in past two years, the pace had gone slower because of the global economic environment, which slowed down India as well. Now, all we need is more coordination.

We are now looking to develop another corridor, between Chennai and Bengaluru.

They will come up one by one.

Recently, Japanese investors have shown some grave concerns over India. During his recent visit to Tokyo, finance minister P Chidambaram had to face some tough questions. What are investors' main concerns?

The main problem is the tighter regulation you follow for foreign capital to come to India.

In many areas, majority shareholding cannot be taken.

The transaction to real estate is somewhat limited.

Also, in the banking sector, some of the regulations, especially with reference to currency operations.

We have been in discussion with the Reserve Bank for some years on this.

We have also been in discussion with some of these things with the ministry of finance and ministry of commerce and industry.

There has to be some flexibility if you want foreign capital to come.

I understand Japanese investors have issues with some of the recently announced tax proposals with relation to General Anti-Avoidance Rules and retrospective amendments.

Now that government has put the issue to rest, albeit temporarily, has that soothed them? Every country has some concerns regarding their taxation system.

At the same time, there has to be some fiscal soundness.

I am sure your finance minister will have better control over tax management and enforcement and will also make some harmonisation to make it easier for foreign capital to come in, with the creation of a better environment.
Image: An employee counts 100 Chinese yuan banknotes at a bank in Hefei | Photograph: Reuters