The French government has appointed Paul Hermelin, chairman and chief executive of Capgemini Group, as special representative for Indo-French economic relations. In an interview with Nayanima Basu, Hermelin says the Indian federal system poses a significant challenge for French firms to do business in India. Excerpts:
As you take up the role of France's special representative for economic relations with India, what would be your specific functions and focus areas?
French companies have a big presence in India. I have reasons to be optimistic about this country. The French-Indian relationship is, I wouldn't say at a turning point, but in a good moment. If I am right, since the creation of India, there were only six state visits by French presidents. Three of these took place in the last three to four years, which means half the state visits happened in the last few years. This shows renewed signs of interest in France for India.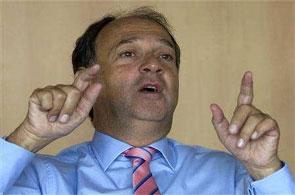 The question is where can I bring value? First, I would help organise some French dialogue. When I say to Indian businessmen that France is quite a civilised country where you can do business, it's probably more credible than when a French politician or a civil servant says the same. Basically, I will meet people in France and try to show them India is a great market. And vice-versa, I would ask Indian investors not to fear the tax situation in France because it is relatively average. I would tell them how they can settle and succeed in France.
Do you think the current French interest in India is at its peak, considering the large-scale deals and agreements taking place across sectors, especially in the sensitive segments of defence and civil nuclear cooperation?
With the ongoing negotiations in the aerospace and defence, energy and nuclear sectors, it's clear that this is a moment in which there are some strategic alignments between France and India on very sensitive industries. India emerged in the French understanding of Asia five years ago. Before that, people were mesmerised by China.
There is a new understanding of the importance of India in the emergence of Asia as a continent of tomorrow. On the other side, India acknowledges the fact that France could be a long-term partner and could provide strategic support, as France has always developed autonomous, sensitive industries such as energy and defence. Considering this, I would try to bring in some business logic.
During his visit to India, the French president clearly stated there was huge potential waiting to be unleashed, as far as bilateral trade and foreign direct investment was concerned...
There is a strong imbalance in terms of trade and foreign investments between the two countries. And, apparently, both the countries are willing to work with the other party as strategic partners. We will see from Paris how we can mitigate the imbalance of trade flows and investments. There is common willingness and high-level thinking that for France, India is a key emerging power in Asia; we want to build on the relationship.
How do you plan to address the issues of increasing two-way trade and French investment inflows into India?
I don't plan. First, I don't think anybody needs me on the two big areas of energy and aerospace. Negotiations in those segments are going on pretty well. A lot of industries are well represented here. The total French investments in India now stand at $17 billion and about 2,50,000 people work here. So, there are extremely structured French investments here.
I am a member of the CEO Forum and I see companies such as Lafarge Cement and Schneider are here. Those absent, such as our retail players, might also come. They may look at India in the same way they looked at China. I will see how they can come and develop jobs here and how can they bring some of their partners along with them.
I will also see how some small and medium companies piggyback on the big ones. There is a major focus on urban development and structuring the anarchic development of big cities. France can help here, too, as we have some large companies in this segment.
Is the French industry keen to invest in India, considering India's image as a credible investment destination has taken a beating due to controversial tax proposals made by the government, including retrospective tax amendments?
The retrospective tax issue led to a lot of emotions. I would say these have somewhat settled down. The temptation could be there. We also play with new ideas. I don't think many people have heard of it, in terms of new investors. The difficulty is that France is a centralised country and businesses are accustomed to work with a relatively powerful administration. So, adopting the federal nature of India is something the French people don't comprehend easily.
In China, when you get a political agreement, it's applicable everywhere. There are questions on some levels of protectionism. The primary concern about India is probably the time needed to finalise everything. Here, people find things are slow, which is true. It's a country where things take time.
Would you say for French businessmen, the ease of doing business in China is more than in India?
In China, a lot still happens at the administrative and political levels and once it's agreed upon, the business is aligned behind it. India is a democratic country and here, you see more independence between businesses and political circles. For me, the main question is that of federal structure. At the end, if you want to settle in India, you must address different state situations, which is quite different. It's always very easy if you want to settle in China, to export from there.
But if you want to address Chinese customers, that's a different story. You should not think China is open in that case. What is relatively easy is to get the support of Chinese authorities to settle and build a platform. But when you try to sell to Chinese consumers, it's difficult.
What are your views on the ongoing negotiations between India and the European Union for a free trade agreement? Several hurdles have been seen since the talks began in 2007.
I am not part of the negotiations. I am here to facilitate and help the relationship (between India and France) and volunteer to eliminate any misunderstanding. I have no mandate. I can help the dialogue and clear misunderstandings between France and India. The logic of a packaged deal is when there are concessions on both sides, overall, you win. International agreements fail when these are sliced into thin layers. Concluding the agreement in 2013-14 is probably more demanding than it was before.
Image: Capgemini CEO Paul Hamerlin. | Photograph: Mal Langsdon/Reuters