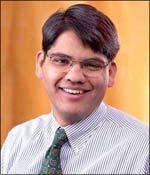 Francisco D' Souza, president and chief executive of Cognizant Technology Solutions (earlier called Dun and Bradstreet Satyam Software), believes Asia and Latin America would be the nearly $3-billion New Jersey-based offshore IT service major's focus areas of growth.
And sees significant potential from servicing retail and consumer goods segments, which have started taking advantage of the global delivery model. In an interview with K Rajani Kanth, he speaks on Cognizant's strategies for entering newer places, partnerships and mergers and acquisitions. Edited excerpts:
Has there been any adverse impact on Cognizant's revenues due to the global meltdown?
Growth till the end of the first quarter of the 2009 calendar year is well. Our guidance (expectation) for 2009 is 10 per cent. I cannot make any forecasts, as we are currently passing through a silent period.
How do you plan to leverage the partnership with Invensys Operations Management?
The overriding vision of this multi-dimensional partnership is to together create a marketplace which doesn't exist -- integrating technology systems sitting on the shop floor with ERP (Enterprise Resource Planning).
We have three focus areas within the manufacturing segment – discrete manufacturing, the core strength of Invensys; consumer packaged goods, a joint strength; and life sciences, where Cognizant is strong.
The marketplace is very large. It is a $35-billion opportunity across many different categories and we plan to capture a big chunk of that, together.
Cognizant had a similar tie-up with Germany-based T-Systems last year. . .
We fundamentally believe that partnerships and alliances are powerful and so are making carefully-thought out partnerships that make sense and generate value for our clients.
We will continue to do so, looking at the client perspective and opportunities where 2+2 is greater than 4.
But you could as well acquire companies to gain competencies. . .
I believe alliances, and mergers and acquisitions (M&As), are mutually exclusive. We have used alliances and partnerships as innovation drivers, but not growth drivers.
What's your acquisition strategy?
I reiterate that we are very selective in M&A transactions. We have done some earlier and will continue to do so in future.
At any given point of time, we have a large number of companies that we are talking to, assessing and screening, that includes financials and cultural issues.
As on Q1 of 2009, we have over $900 million of cash and short and long-term equivalents, and there is no debt on our balance sheet. We have the wherewithal to do any transaction.
Which new geographies will you be looking at?
Geographical-wise, 79 per cent of our revenue comes from North America, and 18 per cent from Europe and the United Kingdom, while 2 per cent flows in from the rest of the world, with a majority of it coming from Asia.
Today, if you see our footprint, we are relatively under-penetrated in Asia and Latin America. We are now beginning to plant seeds in West Asia and Latin America, which now are our areas of focus for growth.
What strategies do you intend to adopt while entering new geographies?
By and large, we follow the verticals we are already strong at, but on a case-by-case basis.
For instance, we are strong in health insurance in the US, and that model doesn't exist in other markets in the rest of the world. We go by the verticals we are strong at and use those as our market entries.
What potential do you see in the retail and consumer goods space?
Today, retail and consumer goods segments contribute 16 per cent to our overall revenues. I would not like to characteristically say that these are good spenders on IT.
However, in the last year, or may be18 months, we have seen significant growth in our portfolio as these industries started taking advantage of the global delivery model, not only from IT but infrastructure management and BPO services.
We have started creating practice areas for these industries -- in an offshoring standpoint -- and are expanding the set of services we are offering to them. We are now doing a lot of BPO work for retail.
Image: Francisco D' Souza, president and chief executive of Cognizant Technology Solutions.
Photograph: Rediff Archives