'As a bank we will have a much more rounded approach despite retail being a large piece of the total.'
'In corporate banking, working capital, trade, forex, CMS will certainly be focus.'
Illustration: Uttam Ghosh/Rediff.com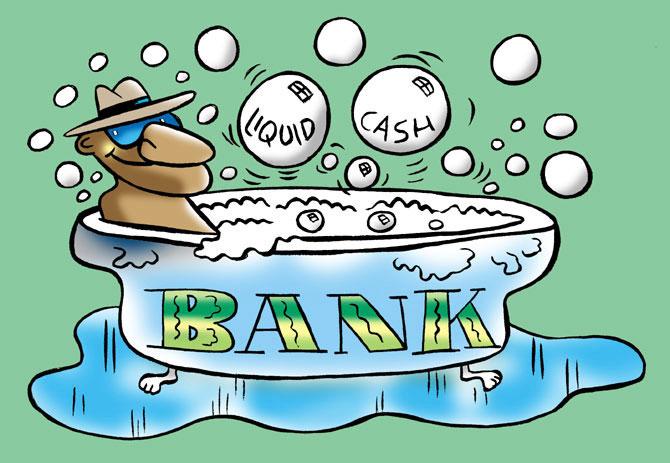 V Vaidyanathan, bottom, left, former executive director at ICICI Bank who turned entrepreneur to run Capital First, an NBFC that caters to smaller businesses, tells Pavan Lall in an exclusive interview that his new entity post the merger of Capital First and IDFC Bank which will be called IDFC First will launch by January and cater to a new India with value services.
Vaidyanathan shares strategy and the takeaways from his career that he's implementing now. Edited Excerpts:
Capital First and IDFC are very different institutions. How will the two mesh together?
I think the finest properties that IDFC Bank has are its banking license, super people, and a perennial source of liabilities that make it durable as a business.
The bank has a strong wholesale team and very good products and has launched retail as well.
As far as retail lending is concerned, Capital First has built a loan book of Rs 30,000 crore (Rs 300 billion) diversified over seven million customers and with very low net NPAs of less than one per cent across cycles.
Current capital adequacy is at around 16 per cent. So, when we combine these models and put it on a banking platform it can indeed be scaled up.
Don't forget about the immense opportunity that awaits.
What's the new culture with the merger turning out to be like?
The culture at both the institutions is very forward-looking.
People are energetic and looking to positive growth and that is a unifying as well as a defining purpose and this isn't just marketing spiel -- I really mean it.
Personally, I would like the organisation's culture to be one that is with unity of purpose, a bias for action and with energy, and I think that seen in today's context also should have integrity of personal conduct across the entire employee base.
Your exposure to IL&FS...
Capital First -Nil. IDFC Bank - their management can answer that, but to the best of my knowledge, also nil.
What are your thoughts on NBFCs, especially given the current meltdown?
The need for taking financing to the relative bottom of the pyramid is a crying one and NBFCS' can and are specializing in that.
The second is that as India continues to grow at 7 per cent plus and becomes a five trillion dollar economy by 2025 as projected, the opportunities will only multiply.
I understand that both the government and the RBI wish for such sort of penetration to grow.
So put the three pieces together: opportunity, regulatory environment and consumer base and the picture is clear.
The current testing times therefore will pass and I'm expecting certain norms with regards to liquidity management, asset liability management which should set further guard rails in the days to come.
What can we expect from the new entity's product suite?
We believe that as a bank we will have a much more rounded approach despite retail being a large piece of the total.
In corporate banking, working capital, trade, forex, CMS will certainly be focus.
Your overall strategy for it in terms of its positioning...
I'll talk about it after the merger is complete - it's a little over a month away probably. But broadly, the theme is to be able to offer quality banking for the new India.
When do you get the new entity going?
The big focus now of course is on how to integrate both banks and build a quality institution so pre-merger integration is underway and key facets such as technology and people are being worked out.
We expect everything to be done by end December and the new bank in all probability should take off by this year-end.
One mistake you learned from at Capital First?
I would say leaving ICICI before securely stitching up equity backers for the NBFC.
Equity capital is very very hard to come by once you are out, and shouldn't be taken lightly.
A smarter guy may have secured funding first and then ventured out. But that phase is over, I learned from it.
Of course I could evaluate multiple funding sources only when I quit.