'The fundamentals look strong, but we will have to see if they translate into actual demand.'
'Because the April-May marriage season didn't see much sales due to the lockdown.'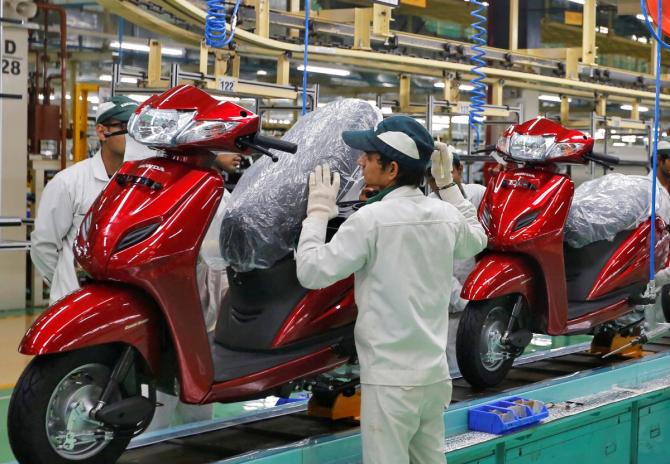 May has been one of the most difficult months for auto makers in a long time.
While hope was coming back with an increase in sales during the first three months of the year, the second wave has thrown the sector in reverse gear with sales down by almost 80 per cent.
India's second largest two-wheeler company Honda Motorcycle and Scooter India (HMSI), like others, has also been hit badly.
However, Yadvinder Singh Guleria, director-sales and marketing, HMSI, says with Covid-19 cases declining, good monsoon and bumper harvest, the sector might recover soon.
There has been a decline of almost 80 per cent for all manufacturers. How soon do you expect to recover?
The numbers are proportional to how much the market is open for business and on the overall economy.
May was bad as we had more regions under lockdown.
These extensions of lockdown had 90 per cent of our dealerships under lockdown.
There was also little production as oxygen was diverted for medical purposes.
Now there have been some relaxation in terms of timing.
Twenty percent of the network was operational by the end of May.
We expect to reopen another 15-20 per cent with new relaxations.
With the overall number of cases coming down, we expect greater easing.
The factories have now become operational. But since a large number of networks are yet to be operational, the plants are working in a single shift now.
The dynamics are changing every week, so it is very difficult to give a forecast.
Considering rural areas have been hit by the wave, if we take out artificial barriers like the lockdown, how long will it take demand to bounce back in an open economy?
What is your forward order book looking like?
The rural areas have also been impacted by the pandemic this time. But one positive aspect is that there has been a record agricultural output and we can expect a normal monsoon.
We can clearly see it from the trend of tractor sales which have fared well in the last two seasons.
The fundamentals look strong, but we will have to see if they translate into actual demand. Because the April-May marriage season didn't see much sales due to the lockdown.
That's one of the best periods for us. The next marriage season comes during September and October.
So, how much demand will come from this segment will be very crucial.
The crops are good, the monsoon is normal, there was no buying last time. Whether they will come back to buy we will have to see.
It is like crystal gazing. We are on a week to week business planning.
ow is the mood among the lending institutions considering the economy has taken a bad hit?
Unfortunately because of the lockdown we have less representatives available on ground.
This is crucial because retail financing in semi urban or rural parts happens on a day to day personal basis.
So the retail financing in May has dropped by close to 10 percent compared to previous month.
For that to take off again, unlock needs to happen because unlike urban areas, it doesn't happen digitally in rural areas.
With the new guidelines released by RBI on restructuring of loans, most of the banks have given moratoriums or longer repayment periods.
In terms of availability of capital, there is no issue. In fact, it seems like there were less takers. Lending institutions are keen to lend as they have surplus funds.
I am sure they will be looking to start this wheel of economy and business cycle.
Will you relook at your product mix, considering the medium and premium segments which are expected to be the growth drivers?
We have made two separate verticals for premium and mix segments.
Within HMSI, we have a dedicated organisation only to take care of the premium bike business.
There will be no change in plan in terms of product planning or launches.
We already launched the CB 350 RS. Unfortunately, after the launch, we had to face the lockdown. It will take its own time for its foundation to build.
Even our dealer partners have made exclusive investments to grow this business. There are around 50 BigWing showrooms (catering to the premium segment).
The competition is increasing for the premium segment. Hero MotoCorp has made a foray with the Harley partnership, Bajaj with Triumph. What is your view about that segment?
We launched the Highness last year and started the production of this 350 cc bike in India.
We are confident that the mid-size segment. Everybody is looking towards some sort of relaxation during their weekend.
During the weekdays, they want to ride the same bike to their workplace. This segment holds a lot of promise.
So if more OEMs also enter, it will only hep the segment to grow.
Competition is not new to Honda. This will lead to creation of sub segments within this segment.
Feature Presentation: Rajesh Alva/Rediff.com