'The government is not ready to talk to us. They have their own agenda.'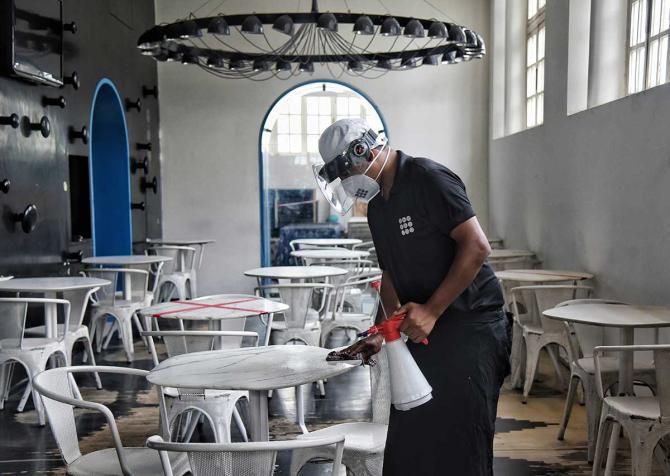 The pandemic just didn't affect our health. It has affected our economy. And our social life.
Among the businesses that were sucker punched by COVID were restaurants. Many shut down; there were huge job losses.
With restrictions easing post the slowing down of the second wave, restaurants have opened, but in limited capacity and with limited hours. They are struggling to restore their business.
Riyaz Amlani& operates a chain of restaurants -- Social, Mocha, Salt Water Grill -- in Mumbai.
Amlani -- a trustee and past president of the National Restaurant Association of India -- tells A Ganesh Nadar/Rediff.com about the crisis facing the restaurant industry in India.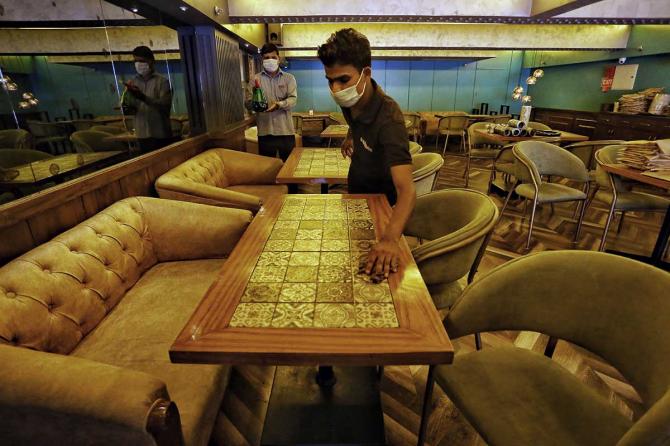 You are upset about the restricted working hours restaurants have to follow at present. What changes would you like to see?
We have to pay rent, electricity bills and salaries, among other expenses.
We are only allowed 50 per cent seating.
We do most of our business on weekends; you have cut that down (in many places, following COVID restrictions, restaurants are allowed in-house dining for limited hours and cannot seat in-house customers on weekends). Faced with these circumstances, it is better to close down.
People are losing their jobs.
The middle seat in an aircraft can be occupied, but we don't have that option.
Five star hotels are working normally.
It is an elitist rule. Restricted timing leads to crowding.
What are the safety measures you are taking to keep your customers safe?
Our premises are sanitised regularly.
We do a temperature check when the customer enters.
These checks are in place since the first wave. It has become a regular practice now.
What measures are you taking to keep your staff safe?
Most of the staff is fully vaccinated. They wear masks and follow all safety protocols. We conduct temperature checks frequently.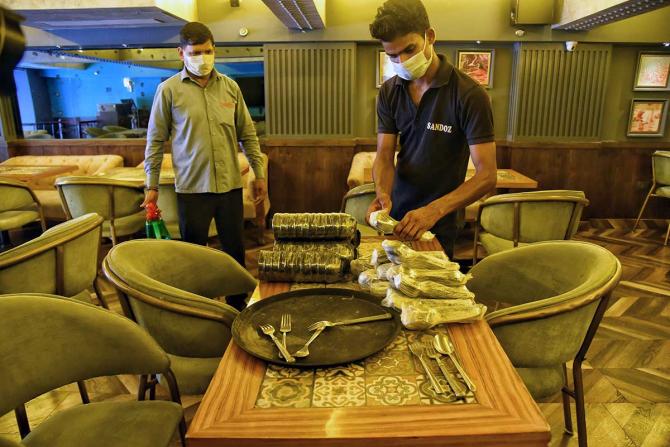 Have your migrant workers come back?
Some of the migrant workers have returned.
We cannot provide jobs for all, as our backbone has been broken.
How many restaurants have opened up after the pandemic and how many have permanently shut down?
45 per cent have not opened up as they have faced lots of financial losses during the second lockdown.
How many workers do you think have permanently lost their jobs?
In Maharashtra alone, 22 lakh (2.2 million) workers will lose their jobs if the economy does not open up.
Have banks been helpful during the pandemic?
Banks have not been helpful.
They have not been giving loans to our members even though the government is encouraging them to give us loans through the credit guarantee scheme.
What help do you expect from the government?
We have no expectations from the government.
The government does not care about the restaurant industry or people's jobs.
Many restaurant owners don't want to continue in this industry.
Has the industry shared its concerns with the government? How did the government respond?
The government is not ready to talk to us. They have their own agenda.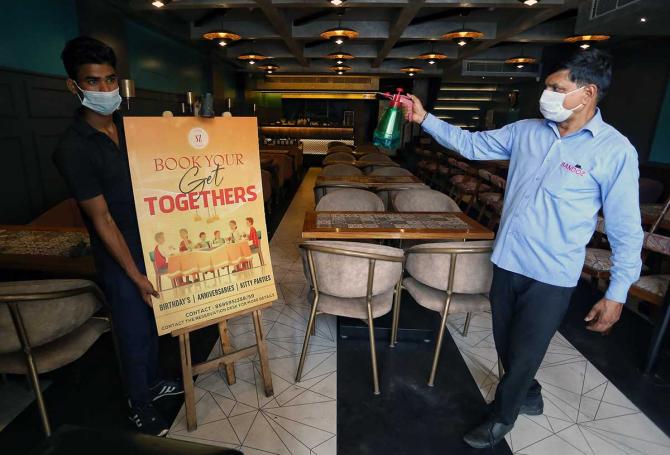 Do you think your industry will survive this crisis?
We have been dealt a severe blow. Half of the industry has closed down. Now, employers are looking for jobs.
What steps does the industry need to take to survive?
Restaurants should be allowed to open at their normal times. That is the only way to survive.
How much business are you actually doing now?
We are doing about 15 to 20 per cent of our normal business.
Have landlords given any concessions on rent to restaurants during the pandemic?
Most have given concessions, but they are also facing difficulties.
They are also waiting for business to normalise so that they can collect their regular rent.
When do you see normalcy returning to the hospitality industry?
Only the government and God know when it will return to normalcy.
The government is being cautious that people don't do revenge eating-out if the lockdown is lifted, thus causing the dreaded third wave. Is that wrong?
When you can eat together on a flight, why can't you eat in a restaurant?
We are taking all precautions.
What has the customer response been to the reduced timings and occupancy? Do you find them nervous about venturing out? The takeaway segment seems to be booming.
Customers are coming happily. They are not nervous. Families like to go out.
10 to 15 per cent of the business is takeaway. It is not enough.
Feature Presentation: Ashish Narsale/Rediff.com