'Now Aadhaar can be used on a voluntary basis for opening bank account, mutual fund account, demat account and obtaining mobile SIMs.'
'With Aadhaar you can get many of the services online sitting at home.'
'Rural India is using Aadhaar-enabled Payment System in a big way and we are moving leaps and bound towards economic digitalisation.'
Illustration: Dominic Xavier/Rediff.com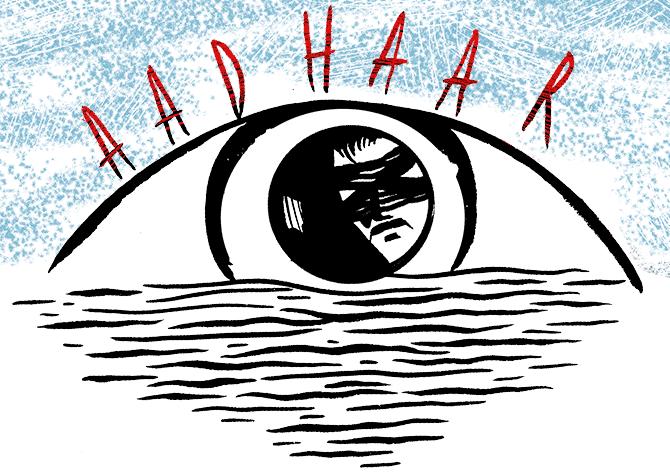 Aadhaar can be useful to weed out fake voter IDs and for streamlining the update of voter database, Ajay Bhushan Pandey, bottom, chief executive officer (CEO) of the Unique Identification Authority of India (UIDAI) told Neha Alawadhi in an interview.
The authority, which administers Aadhaar, is working towards bringing more people under its fold. Edited excerpts:
What are the plans around Aadhaar, going forward?
With almost the entire country enrolled, we are now focusing more on update, data security and plan to extend voluntary use of Aadhaar which is backed by proportionate law with adequate safeguards.
The Supreme Court judgment had mandated that to use Aadhaar voluntarily to obtain various day-to-day services, one should have a law which should authorise the use of Aadhaar and that law should have adequate safeguards.
Also, such a law should also be proportionate.
Keeping all these in mind and Justice Srikrishna Committee's recommendations, certain amendments have been made in the Aadhaar Act, PMLA (Prevention of Money Laundering Act) and the Telegraph Act.
So, now Aadhaar can be used on a voluntary basis for opening bank account, mutual fund account, demat account and obtaining mobile SIMs.
Aadhaar provides ease of life and convenience.
Earlier, people had to carry onerous proof, mostly multiple proxy IDs which could not be verified or authenticated.
Also, earlier a person couldn't be sure that the ID proof he or she is carrying is going to be accepted by the service provider.
You mean a variety of documents used as proof of ID created a problem?
Everybody did not have the luxury of having multiple ID documents.
If you give one ID document, say voter ID, they would demand another one, say electricity bill.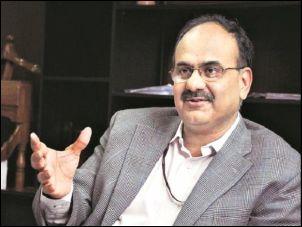 However, Aadhaar has become more or less a standard ID document, which is secure and verifiable.
This is an identity that can be authenticated and verified instantly even offline and fake claimants can be eliminated.
So, Aadhaar brings a lot of trust into the ecosystem - person to person and person to system.
It is also adding lot of convenience and ease of living.
Now, with Aadhaar you can get many of the services online sitting at home.
So with more than 1,240,000,000 residents getting Aadhaar, what's next?
If you see, almost 2,00,00,000 children will be born every year, another 20,000,000 will reach the age of 5 and yet another 20,000,000 will cross the age of 15.
So, approximately not less than 60,000,000 people will either have to enrol for Aadhaar or their biometrics will have to be captured or updated.
Also, in a population of 125,00,00,000 people, suppose they change their name or address or photo or mobile in Aadhaar even once in five years, it means there will be approximately 25,00,00,000 people making changes in their Aadhaar cards every year, making it almost 10,00,000 updates per day.
This means, we need to have that kind of infrastructure to cater to that requirement and will have to establish and also upscale it.
Today, we have 12,000 Aadhaar centres in post offices, 11,000 in banks and almost a similar number of enrolments and update centres in government offices/premises.
Now, we are opening 114 Aadhaar Seva Kendras in 53 cities on the lines of Passport Seva Kendras across the country so that the people don't face any difficulty in obtaining Aadhaar updates or enrolment services.
The Election Commission has written to the law ministry seeking to link electors' photo identity card with Aadhaar. Your comment?
So far, Aadhaar uses are voluntary except where it has been mandatory by the law.
As far as the proposal of the voter ID verification with Aadhaar is concerned, as recently reported in the media, it needs to be understood that there has to be a law which satisfies all the touchstone parameters set by the Supreme Court in its Aadhaar judgment.
In my view, it will be permissible to have a law which can allow voters to voluntarily use Aadhaar, instead of giving ration card or electricity bill to apply for voter ID.
Of course, Aadhaar cannot be a sufficient condition for voter registration because Aadhaar is a proof of resident's identity but not a proof of citizenship.
Therefore, after one has applied for voter registration through Aadhaar, the election officials can do other due diligence to verify the citizenship of such an applicant.
If people are moving from one city to another, then it requires the deletion of one's name from one voter list and addition has to be made at some other place where the person has migrated to.
This can be done very easily through Aadhaar technology.
One can do it online with Aadhaar linked voter ID on the website of the Election Commission.
But for all that, there has to be a law to use Aadhaar voluntarily for this purpose.
Whenever such law is made, we will be fully supportive in such an exercise.
Are you helping certain groups of people, like denotified nomadic tribes, to come into the fold of Aadhaar?
Yes, Aadhaar is a verifiable identity and people have the basic right to acquire it and use it voluntarily for anything where they need to prove their identity to access benefits of inclusive growth.
How is the Aadhaar-enabled Payment System (AePS) progressing?
It is progressing exponentially. Today, AePS has crossed more than 200,000,000 transactions per month.
Last July, with more than 206,000,000 transactions through AePS, it has gone up by 11 per cent from 18,50,00,000 in June.
It has shown envious growth.
When started in FY14, AePS transactions were about 2,800,000 in the year which was approximately 230,000 per month.
Today, it has crossed 200,000,000 a month.
Today AePS is the most secure, free of cost, and easy mode to avail basic banking with some 5,00,000 banking correspondents in the field.
This shows that rural India is using AePS in a big way and we are moving leaps and bound towards economic digitalisation.