'What Siddhartha's life teaches us is something very true about life; that life is a circle, and what goes up will come down. What is on top today will come down tomorrow, and what is down will go back to the top.'
Illustration: Dominic Xavier/Rediff.com.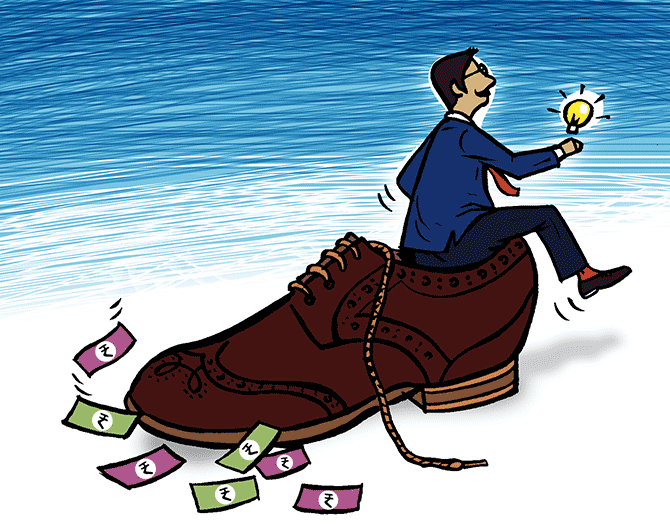 Journalist turned entrepreneur AVIS Viswanathan and his wife Vaani Anand set up Asia's first reputation management firm, imagequity+, in 1996. In just seven years, they had expanded across India and South East Asia.
In 2007, they were bankrupt and till today, they are fighting the bankruptcy battle.
But they decided not to be 'failed entrepreneurs' but be 'Happynesswalahs'. Reflecting on their journey, AVIS wrote the book Fall Like A Rose Petal.
Today, they curate and host live, reflective, non-commercial 'Conversations on Happiness' in public spaces in Chennai.
They also share lessons on 'Life and Happiness' based on their experiences with the managers in the corporate world through the new venture, a v initiatives.
While V G Siddhartha, the founder of Café Coffee Day, chose to end his life when harassed by money-lenders and IT officials, AVIS and Vaani chose to face the dark reality, and be happy so that they could spread happiness around.
In this interview to Rediff.com's Shobha Warrier, AVIS Viswanathan, below, talks about their journey from failed entrepreneurs to 'Happyness coaches'.
In the letter written by Siddhartha to his workers, he said, 'I've failed as an entrepreneur. Please forgive and pardon me.' Did the tragedy and what he wrote bring any bitter memories to you?
Yes, memories came flowing back, but they are no longer bitter. The primary reason for that could be that we don't see failure as a stigma anymore; we see it only as a label society sticks on you.
When we saw the first signs that things were not right and when we realised that we were in a grave situation, the initial response was fear and insecurity. Though we crossed the stage of denial much earlier, questions like, why are these things happening to me, keep coming. At the same time, we were groping in the darkness with fear. That was 2007.
By 2008, we had a clear understanding that what we were facing was a serious situation and it would take time to fix it. We told ourselves that there was a problem and we would deal with it. That understanding helped us deal with rejection and the failure label that came to us later.
Siddhartha also wrote, 'I could not take any more pressure from private equity partners, lenders...' You also faced a similar situation when people from whom you had borrowed, started harassing you. How did you cope with that pressure?
Anybody who had given you money on whatever terms, whether it is the private equity partners or the banks or the family member or the open market financier, would ask you to return it as money is money.
It is not necessarily understood that somebody who was going through a crisis needed time to recover to give the money back. They also have to run their business.
In our case, the pressure was extremely enormous. We had 179 creditors to repay; even today we have.
The world expects people going through a financial trouble to be in a certain way. They expect you to be heartbroken, they expect you to be in a very low self-esteem mode and they expect you to be defeatist.
Siddhartha was an epitome of all these…
Yes, he was the epitome of all that the world what wanted him to be.
The world wants you to be completely beaten and down especially in bankruptcy. Of course, I am not equating our story with Siddhartha's at all. Our story was complete bankruptcy; abject penury and pennilessness.
The world also expects you to run away. But we contacted all the 179 creditors and continue to be in touch with them.
A display of positive attitude is actually questioned.
But we decided that we were not going to be bog down by these expectations of the world.
We chose to be positive, as only if you are positive, you can repay your debt. We faced the world with all humility but not with a defeatist attitude. And it was this positivity that helped us sail through.
How much time did it take you to travel from despair and helplessness to hope and happiness?
It was an evolutionary process, travelling from despair to happiness. It was helped by a meditative process which helped us understand the true meaning of life.
It helped us realise that there is no stigma attached to failure, and happiness is not sinful. Happiness to us, is the ability to be non-worrying, non-frustrated and non-suffering. And it is not that every effort of yours will get you the result you want.
But it took us 3-4 years to reach where we are now.
It is said that 8 out of 10 entrepreneurs fail. We heard about what happened to Siddhartha but there may be many unknown Siddhartha's out there… What will you tell you those eight people who fail?
Yes, there may be many stories out there.
I would tell them to be non-frustrating, and they should never ask the question, why is the problem coming to me? The fact is, the problem has arrived and it is part of your life. There is no point in asking, why. Accept that it is your normal.
I would tell them that being happy is not having a buoyant feeling or going out or shopping or partying. To be happy is to accept your new normal. Life is a continuous process of accepting the new normal.
There was once a normal when you ran a successful business, you were profitable and employing people with offices all over the country. The new normal is, you owe people money and you are dealing with worklessness and penury. Be accepting and face your new normal.
Today, when people invite us to talk about entrepreneurship, I always tell them that entrepreneurship is not about self-employment, it is not about creating jobs though that is the worldly definition. I would say, entrepreneurship is about ownership.
True ownership is taking the ownership of your life. When you bring that ownership of life to entrepreneurship, you have to accept the risks that come with life too.
Even when an entrepreneur realises that his venture is sinking and debt mounting, why is it that he goes on borrowing? Is it with the hope that one day, he will be successful?
It is because of their high sense of ownership of their vision. Entrepreneurs typically come with a different wiring. The entire system of an entrepreneur's thought process is wired towards belief, conviction, confidence and courage. These factors make an entrepreneur think, let me try one more time.
Is it not like gambling?
Yes, there is a streak but it doesn't have the negative greed-based approach. It is not about amassing wealth. It was not true in our case, and I don't think it was true in the case of Siddhartha as well, at least from what we hear.
Yes, it is about that tendency to take a huge risk.
Debt is not a bad instrument but if you use debt wrongly, it will bite you, it will consume you. That is why greed for scaling up must be avoided.
What starts with belief and conviction, goes to risk taking and then, it is playing the balancing act. After a point, you get tired of playing the balancing act and you will collapse. It was then that you need someone to hold you up.
How important is the role of the family then?
I wouldn't put the context only as family. We must have a community that is willing to listen to you. As an entrepreneur, you must have somebody to talk to, he can be a stranger, a close friend or somebody from the family or a mentor.
What you need is reflection, resilience and resourcefulness to come out of the problem.
Reflection is a deep spiritual, meditative process where you try to find answers to why you are going through what you are going through.
Resilience is how you are going to face it. In our case, we found our resilience grew when we shared.
And, resourcefulness is the ability to manage with what you have. In an entrepreneur's life, when you get into a crisis, you are always going to be in a deficit situation. So, resourcefulness is the ability to accept the new normal.
One day, Siddhartha was the coffee king and the next day, he was a failed entrepreneur. How do you think his story will affect young entrepreneurs?
I wouldn't want it to affect young entrepreneurs in terms of seeing it as a way to get out of a problem. That is not an example we must talk about.
But what Siddhartha's life teaches us is something very true about life; that life is a circle, and what goes up will come down. What is on top today will come down tomorrow, and what is down will go back to the top.
It is like the Wheel of Fortune or Rota Fortunae of Roman mythology. (It is said that the wheel belongs to the goddess Fortuna who spins it at random, changing the positions of those on the wheel: some suffer great misfortune while others gain.) When the wheel rotates, if you are in the periphery, you are thrown out. So, it is important to find your centre.