Even in ruin, Jet retained its one essential brand quality: Dignity, says brand guru Sandeep Goyal.
Illustration: Dominic Xavier/Rediff.com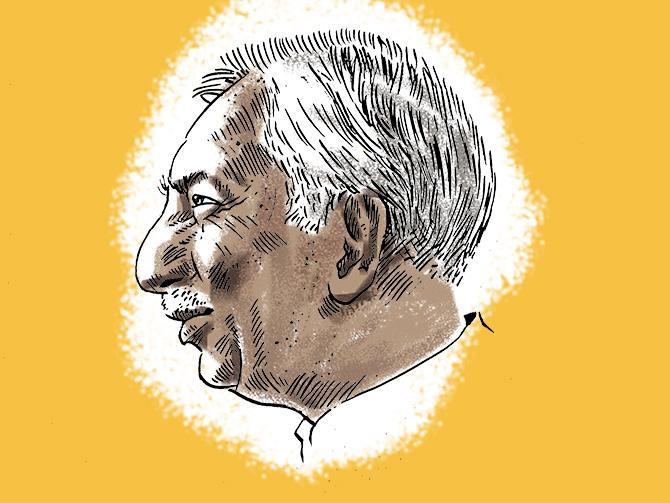 Jet Airways may be gone, but I remain a loyal fan of the brand and the airline.
It was, without doubt, one of the best Indian brands to have been born, and built, after liberalisation in the 1990s.
If I were to describe Jet Airways in just one word, I would choose to describe it as 'dignified'. And that is saying a lot.
I was one of the passengers on Jet Airways's first ever flight, 9W 321, from Bombay to Ahmedabad on May 5, 1993.
On that hot summer day, as the first Jet aircraft with a distinct blue and ochre livery and an oblong serrated sun denoting speed, slowly taxied for take-off, it ignited my love affair with an airline that I flew as my first choice for well over 25 years, logging a few million Jet Privilege miles, criss-crossing India and the world.
Naresh Goyal, Jet's promoter, a genial, mild-mannered Punjabi from Patiala, was almost unknown in corporate circles back then.
Not very many folks took him seriously when he promised that Jet Airways would deliver 'a new and superior air travel experience on the ground and in the air'.
The core values of the brand were even back then built into the brand colours: Blue for professionalism and yellow representing warmth.
Similarly, the chosen corporate symbol -- the Flying Sun -- was conceptualised as a graphic representation of an aircraft's tail-wing speeding past the sun.
Jet, without doubt, built a world-class airline. At least for me as an Indian, the professionalism and customer friendliness matched, in fact most times exceeded, the best in the world.
Jet was not just about a professional, elegant and friendly cabin crew or efficient ground staff.
Or about on-time arrivals and punctuality. Or clean aircraft with clean loos. Or good food and good wine. It was just a flying experience you were comfortable with.
The piping hot masala chai served at the Jet lounge in Brussels (their European hub at one time), for example, was just a small joy that made you feel good after hours of travel.
I would look forward to a pot-full of the chai before embarking on the next leg of the flight.
Yes, a small touch, but a very relevant, very endearing one. Similarly, the dal served with the Indian meal choice on every flight was just right.
The aam panna welcome drink too always had the right taste, the right consistency.
The imli goli digestive was a unique, and very welcome, Jet introduction.
Jet was Indian. Quintessentially Indian. Classy Indian.
On Singapore Airlines the rotis served with the Indian meal choice, even in business class, are always refrigerator-cold.
I have mentioned that to my friend Chef Sanjeev Kapoor, who curates their Indian menu, many many times, without any change or improvement.
In the years I used to fly Lufthansa frequently, my enduring image of the stewardess in first class was that of a stern, superannuated school teacher.
On Emirates, honestly, I always have this feeling that the staff are very condescending, maybe because of the colour of my skin.
On Jet, somehow, I always felt very much at ease.
I remember once checking in at Delhi airport, only to discover that the 4-voucher business ticket I was carrying had no more flight coupons!
The girl at the counter just smiled at me, handed me my boarding card, and just asked me for my secretary's number so that she could co-ordinate to pick up the voucher from my office while I took the flight!
I would credit Mr Goyal, despite all his current troubles, for all that Brand Jet stood for: Top-class service deliveries, a charming crew, a nice, friendly airline.
Better still, he never imposed his own personal brand, his own personality, on the airline brand.
Kingfisher was a spitting image of Vijay Mallya: Loud, garrulous, opulent.
Virgin is what Richard Branson is.
Vistara is in many ways Ratan Tata... genial, up-market.
I have met Mr Goyal a few times. He always comes across as someone earthy, somewhat middle class, surely nowhere as classy as the airline he built.
His sartorial style too is pretty ordinary; he speaks chaste Punjabi and he has no airs that characterise the rich-and-famous.
The Jet brand was, however, in no way tied down, or held back by the personal brand of the promoter.
It happens often enough -- owner-promoters or trophy CEOs invariably bring their own personality traits to bear upon the corporate brand they helm.
Mr Goyal thankfully let Jet flourish as a brand independent of what he personally stood for or represented.
Jet may no longer fly again. It may have got grounded for various business reasons ... bad management, bad loans, bad karma.
But bad service, no. Even in ruin, Jet retained its one essential brand quality: Dignity.