India has achieved 100 per cent electrical connectivity, but 100 per cent electrification remains a long-drawn task, says Shreya Jai.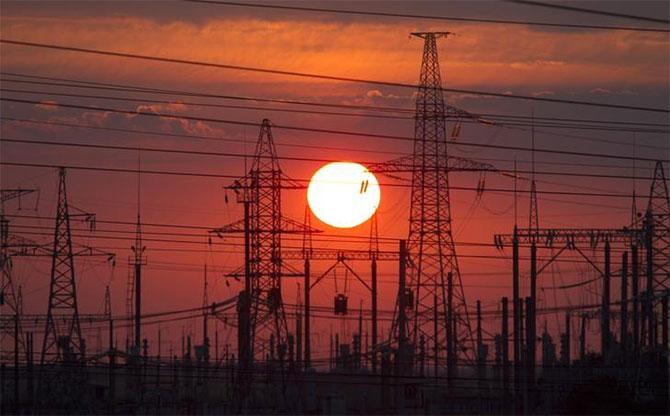 The first time since Independence, all villages and households (99.9 per cent) across the country have got electricity connections.
While the Narendra Modi-led Bharatiya Janata Party (BJP) government has concluded the task, going on for two decades, this might have come at a huge cost.
Also, though the central agencies have been successful in creating infrastructure, all might not go very well as they pass on the baton to states.
How's the power?
In the past five years under the Modi rule, among all infra ministries, power has seen the most number of schemes, dashboards and mobile apps.
While some of those were to take forward the task already going on, the others were aimed at reforming the existing systems.
Under its two flagship energy access schemes -- the Deen Dayal Upadhayay Gram Jyoti Yojana (DDUGJY) and SAUBHAGYA -- the government targeted 100 per cent electrification.
Another ambitious programme, the Integrated Power Development Scheme (IPDS), was rolled out to overhaul power supply systems at the city level.
The target of electrifying the remaining 18,000 villages has been achieved, and household electrification is near the finish line.
Under IPDS, 24 per cent of the sanctioned funding has been disbursed, with no state declaring 100 per cent success yet.
There were several others, too.
UJALA for energy-efficient equipment, TARANG for transmission project bidding, DEEP for medium-term power contracts, URJA for tracking power outages, PRAAPTI for tracking payment to power units, and Vidyut Pravah for power prices across the country.
The key to success for most of these reforms was Ujwal Discoms Assurance Yojana (UDAY).
In UDAY, the Centre initiated the fourth such programme to turn around debt-ridden state-owned power distribution companies (discoms).
It was different this time because there were strict operational targets linked to financial restructuring.
Touted as a game-changer, UDAY has been declared a failure by several agencies.
And this is where the problems begin.
Where's the money?
Infrastructure creation took place at a pace faster than discoms' reform.
The discoms that will cater to increased demand and execute multiple power schemes are sick, again.
UDAY facilitated states' takeover of discoms' debt, which would be converted into bonds.
This cleared the books of discoms when UDAY was launched in 2016-17.
However, now close to a dozen states, including Uttar Pradesh, Madhya Pradesh, Bihar, Haryana, Jharkhand and Tamil Nadu, are back in the red.
These were also the biggest defaulters before UDAY.
Bonds totalling Rs 2,107.6 billion were issued by 15 states in FY16 and FY17.
The redemption of these started in FY18 and will extend up to FY32.
More than three-fourths of these bonds were issued by five states -- Rajasthan, UP, Haryana, TN and Punjab.
In a recent report, rating agency Icra estimated that more than 70 per cent of the Rs 2,039.1-billion UDAY outstanding bonds as in March 2018 would mature from FY20 to FY27, with redemptions peaking in FY27.
"In Icra's view, the repayment of UDAY bonds would exacerbate the redemption pressure and the gross rollover requirements in these years, assuming that the states would resort to market borrowing to repay UDAY bonds.
"This may necessitate a larger gross annual borrowing limit to be permitted to the state governments by the Centre," Icra said in its report.
The repayment of UDAY bonds would create additional pressure on the financials of discoms, which are already running several power schemes.
Most of these discoms have also taken loans to execute energy-access schemes.
Matters on the operational front are even worse.
By FY19, the aggregate technical & commercial loss (AT&C) -- operational metric -- was targeted at 15 per cent.
The country's average currently stands at 21.8 per cent.
Some of the large states and the biggest defaulters have high AT&C loss levels.
Discoms recoiling to their sick financial status means harm for all other reforms and also the dream of supplying uninterrupted power supply.
This is when power demand is touching new records.
In the past five years, the average power demand of the country has jumped 39.16 per cent.
During the last summer, India saw the highest ever power demand of 175,000 Mw.
Barring Rajasthan, every state that clocked a rise in power demand is suffering financial losses.
The states also have high AT&C losses.
While Rajasthan's discoms are making profits, the AT&C losses of the state remain high at 25 per cent.
Bihar had a record power demand increase of 116 per cent in the past five financial years.
Its AT&C loss stands at 33.2 per cent and financial loss at Rs 108.9 crore (nine months of FY19).
During the same period, UP, which saw a 35 per cent increase in power demand in five years, has an AT&C loss of 27.7 per cent.
It is facing losses worth Rs 317.11 crore (9MFY19).
Along similar lines are other large states such as Tamil Nadu, Jharkhand, Madhya Pradesh and Andhra Pradesh.
"While the scheme addresses the issue of debt and partial takeover of future losses in graded manner of discoms, it did not spell out any stringent provisions if the set targets are not met, for example, change in management, other PPP options or even taking over by centralised agency, etc," Vivek Sharma of Crisil said, adding that an efficient direct subsidy scheme with a regular tariff hike would have helped cover future losses.
What's the future?
IPDS, which aims to improve the infrastructure and operations of discoms, has barely touched the one-fourth mark of progress.
At 60 per cent, it has one of the highest central grant portions.
The scheme, with an estimated outlay of Rs 32,612 crore, aims to strengthen and meter sub-transmission and distribution networks in urban areas, meter 100 per cent households, provide IT enablement, do underground cabling, and bring smart metering solutions.
This would reduce AT&C losses, energy theft and improve efficiency of discoms.
A slow progress in discoms reforming themselves will create ripples in the whole supply chain.
The pain has already crept in.
The dues of discoms to power-generating companies zoomed to Rs 41,240 crore as on January 2019.
Reports estimate that private investments of up to Rs 3 trillion are at risk over delayed payments by discoms.
Power demand is estimated to cross last year's record, with all households connected and industrial demand showing a rebound.
"The addition of new households has worsened discoms' health.
"The cost of supply is higher for low-tension, or agricultural and domestic consumers, compared with high-tension, or industrial and commercial consumers.
"The ability to charge tariffs and ensure 100 per cent billing and collection for such consumers is challenging.
"Revenue recovery is expectedly poor, and that further stretches the already precarious financial position of discoms," Sharma said.
Apart from Madhya Pradesh, no state is planning any new thermal power capacity.
It has been seven years since a state signed a long-term power purchase agreement with any generator.
Private investment in the power sector has taken a beating, with close to Rs 2-trillion assets becoming non-performing.
Apart from those in Odisha, Jharkhand and Bihar, none of the high loss-making discoms is investing in strengthening their intra-state transmission systems.
No state, apart from Rajasthan, has tied up with a private franchise to improve operations.
A mass-scale energy access is laudable, but can states sustain this? It remains to be seen.
India has achieved 100 per cent electrical connectivity, but 100 per cent electrification remains a long-drawn task.
Power Play