'We are doing away with human interface in metering, billing, and collection.'
'That in itself will bring down losses by 50 to 60 per cent.'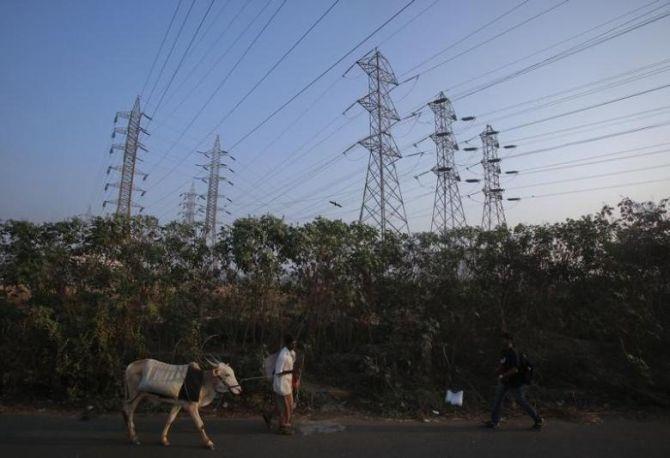 India's Power Minister R K Singh, bottom, left, speaks to Shreya Jai and Jyoti Mukul.
Has UDAY (the scheme to revamp distribution companies or discoms) been a success? What needs to be done by the laggard states?
We have set January 2019 as the deadline by when (transmission and distribution or T&D) losses should be capped at 15 per cent. Many states will be less than that and we are confident we will achieve it.
In any case, any loss beyond 15 per cent will not be allowed while fixing the tariff (rate). The tariff policy will be amended to provide this.
There are 16 states where losses have gone up from 20 to 56 per cent. We discussed a road map to reduce these.
It includes 100 per cent metering, mostly prepaid, except for large customers, where it could be smart meters or remotely readable meters.
Prepaid meters are a step in favour of poor people. They don't need to pay for 30 days. They can recharge whenever they have money.
We are doing away with human interface in metering, billing, and collection. That in itself will bring down losses by 50 to 60 per cent.
If, despite this, some feeders are still incurring losses, you can use central funds to replace it with aerial bunched cables, which cannot be hooked for stealing power.
If it still does not work, give it to franchisees.
Using these methods, losses can come down to less than 10 per cent.
Special police stations and courts can be designated for power theft.
How will the direct benefit transfer of subsidy work?
We are saying if states want to give subsidy, they should do so through direct transfer but the power (supplied) should be metered and valued, so that the consumer is more responsible and there is a tendency to save.
The other thing we are doing under tariff reforms is to limit cross-subsidy to 20 per cent and reduce the number of (rate) slabs.
The Electricity Act says cross-subsidy should be phased out. The tariff policy, under it, says it should be brought to less than 20 per cent.
We want to rationalise rate slabs; there are 80 to 90 in some states and we want to bring these down to 13 to 14. Electricity will be affordable.
When will the Electricity Act be amended and what will be its focus? Will open access be easier?
Amendments will make a tariff policy mandatory. RPO (renewable power purchase obligation) will be mandatory and there will be penalties.
The system of penalties would be implemented by a central regulator.
Once you rationalise tariffs, open access will become redundant.
It works right now because of cross-subsidy of 200 to 300 per cent.
Power for industry comes to Rs 7 to Rs 8 a unit and they find it cheaper to get into an 'arrangement' with the generator.
Once power from the distribution company becomes rational, there will be no need for an industry to do this.
Waiver of inter-state transmission system (ISTS) charge levied on renewable power sold directly to consumers, as in the case of the Rewa solar park selling to Delhi Metro Rail, was taken away. Will that be restored?
In the case of renewables, waiver of ISTS charge was allowed up to 2019; we are extending it to 2022.
RE projects which come online by 2022 will get the waiver.
Basically, the objective of this policy is to ensure our country moves to a more renewable energy mix, so that we leave behind a greener planet for our great-great grandchildren.
We want to encourage renewables and, hence, their free transmission. This gives us strategic autonomy.
Right now, we are dependent on imports. With increased renewables in our energy mix, that dependence will go away.
As far as DMRC or Rewa is concerned, any decision or law will be prospective.
If the case of DMRC falls in current law, their case will be so governed.
We have to see the reference date in their power purchase agreement.
What was your message to state ministers on non-signing and honouring of PPAs?
We are very clear that any tariff which has been arrived at through an open bid has to be honoured, even by the regulator.
The law is clear, which says they shall adopt the tariff that is arrived at through an open bid.
Also, if they had announced a feed-in-tariff, and this was applicable when this unit came up, it has to be honoured.
You cannot go back and say the tariff that applied then does not now.
You cannot change it retrospectively. The regulator promulgates feed-in tariff and that will apply.
When will states start floating new PPAs to boost power demand?
Every discom must be able to show to the regulator that they have tied up sources of power to meet the requirements of their licensed area.
That is common sense. We are now going to make this more stringent.
Currently, discoms file a plan with the regulator regarding their power procurement to serve the area.
We are going to ask them to stipulate how much power will come from long, medium and short-term sources, with a bit of flexibility.
We will also stipulate that the licence would be redeemed only when the regulator is satisfied that the power demand of the area can be met and power has been tied up.
This will ensure PPAs happen.
Would you push for more private participation in last-mile T&D?
There is already a provision for tariff-based bidding in transmission projects and some states are doing it.
So, there is no reason for any gap in transmission as you don't have to put any capital upfront.
In any case, we are giving money for feeders under both the IPDS and DDUGJY (schemes), 33 kv and 66 kv lines, for LT lines and others.
There is no reason there should be any weak area now. And there is some carryforward money from the rural electrification programme. We keep pushing for fast execution.
State-level reforms also depend on last-mile infrastructure, but the pace of projects under IPDS has been slow. How is investment being directed there?
The pace of implementation of projects sanctioned by the Union government is slow.
We discussed this with states and asked them to increase the speed of projects the Centre has approved.
On DDUGJY and IPDS, the progress will be faster.
Your view on the (government's) push for electric vehicles by 2030.
That needs to happen. It is part of our effort to seek strategic autonomy and reduce our dependence on imported petroleum products.
Gradually, we need to move towards electric mobility. Its cleaner, greener and gives us this autonomy from import.
On e-charging, we will bring an amendment to the Electricity Act; we will give a deemed distribution licence to whoever sets up a charging station.
This can be anybody -- discoms, public, anyone.
What are the recommendations from the power sector for the Budget?
I am going to have consultations with the industry. There are a couple of issues. One being hydro power projects and the other on accelerated depreciation for renewables which needs to be restored.
Photograph: Vivek Prakash/Reuters