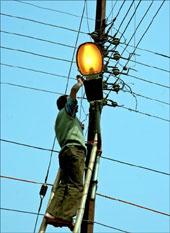 Now is the time to take some bold steps to structure a unified power market, notes Vinayak Chatterjee
At an energy conclave recently, Power Minister Piyush Goyal said, ". . . the government's mission is to have one nation, one grid, one price".
He could not have put this issue in perspective more succinctly.
Echoing a similar call, Chief Economic Advisor Arvind Subramanian, in a well-argued chapter titled 'Powering One India' in the 2015-16 Economic Survey, outlined seven ground realities that suggest prioritising this task.
One, in 2014-15, the addition to generation capacity was 26,500 Mw, much higher than the average annual addition of around 19,000 Mw over the previous five years.
However, this ability to produce more power has not been matched with the ability to lift more power.
Power plant load factors are at historic lows of around 60 per cent because of the stressed financial situation of discoms.
Two, it is for the first time in the country that transmission grid expansion, grid-linking and grid upgrade are allowing power to be transmitted across the country.
The ES makes the point that on December 29, 2015, "no congestion was observed in the electricity grid and a single price (Rs 2.30/kwh) was discovered on the power exchange IEX".
Three, recalcitrant discoms are being pushed and persuaded to significantly reduce AT&C (aggregate technical and commercial losses) from their current embarrassing highs to a relatively more acceptable level of 15 per cent by 2019, under the Ujwal Discom Assurance Yojana scheme.
Four, the Open Access policy introduced under the Electricity Act, 2003, allows consumers with electricity load above 1 Mw to procure electricity directly from electricity markets.
The ES observes that ". . . at its core, OA provides an aggregation of the countrywide supply and demand on the same platform. Therefore, this constitutes a first step towards discovery of a single market price for power around the country".
It goes on then to ruefully observe that 'some states, however, have imposed significant barriers to OA'.
Five, already, limited moves are underway to shape a national market for power. Indian Railways, the country's largest single customer of electricity, has been allowed to shift its purchases to an OA regime.
Six, according to the ES, the complexity of tariff schedules prevents economic actors from responding sufficiently to price signals.
(In fact, the ES points out with barely restrained humour, that tariff segmentation has reached hilarious levels in some states — specific tariffs for poultry farms, pisciculture, wetland farms, mushroom cultivation and rabbit farms to name a few segments off a much longer list).
Seven, the growth rate of captive power generation between 2006-07 and 2014-15 is 9.3 per cent compared to 4.6 per cent for electricity procured from utilities.
This trend could be exacerbated in the coming years, as the decline in oil prices and the cost of renewable energy alternatives may prompt a further shift to captive power.
Most important, the ES underlines the political challenge noting that ". . . it must be borne in mind that reforms in this sector are more challenging than in many others due to the clear demarcation in the roles and responsibilities of the states and Centre under the Constitution".
So, the message from both the power minister and the chief economic advisor is the same.
If there was a right time for some bold political moves to fashion a national market for power, it is now.
And this is not just necessary for a neater power sector architecture, but crucial if the three powerful ambitions of the National Democratic Alliance government are to see fruition through the following: power for all by 2021; Make In India, enabled by competitive and reliable power supply; employment generation, where the availability of quality and affordable power creates opportunities for self-employment and growth of small and medium enterprises.
Indeed, it is clear now that having 29 separate markets for power, as in each state, is a hugely debilitating and dysfunctional system. Contrast this with petrol and diesel where there is a national price, tampered with by local taxes only.
Also, if there is unanimity that India needs to be yanked to a common national market by a goods and services tax regime, surely there is an even more compelling case for the power market.
It also needs to be borne in mind that the structure of the distribution market itself will be changing with "carriage and content" geared for a split.
A recent report by the Forum of Regulators has laid out a three-stage implementation plan, which is likely to take five to seven years to roll out.
Indian industry, a long sufferer, has been over the years calling for a national power market.
Members of the Confederation of Indian Industry have submitted several representations to various governments at the Centre urging the following:
A new legal architecture for making independent regulators truly independent (including the Central Electricity Regulatory Commission).
Examining the concept of state regulators being replaced by a smaller number of effective regional regulators.
Setting up of a National Power Distribution Company that begins to effectively challenge the hegemony of state-owned discoms.
The NPDC can equally well fulfil other pressing objectives of picking up stranded capacities, price-pooling across diversified sources of supply (for energy security, plus encouragement to renewables), providing a national pricing benchmark as well as facilitating a rapid move towards effective OA.
We wish Piyush Goyal well in taking up this challenge in mission mode.
Vinayak Chatterjee is chairman, Feedback Infra. He can be reached at vinayak.chatterjee@feedbackinfra.com; Twitter: @Infra_VinayakCh