'I suggest Rahul Bajaj come out in the open and give us his own white paper on the perceived sense of fear that he thinks haunts corporate India,' says Dr Sudhir Bisht.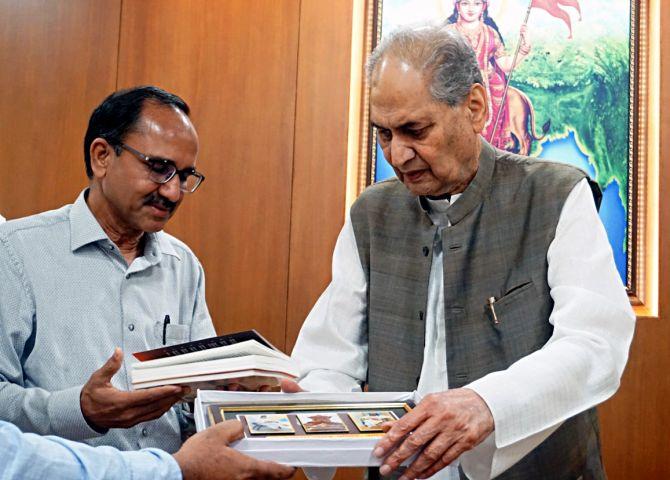 Recently, at a newspaper sponsored event where top industrialists, media moguls and the most powerful ministers of the Union government were gathered, 81-year-old Rahul Bajaj, former MD of Bajaj Auto, tried to raise a storm.
With Amit Anilchandra Shah, unarguably the second most important political personality in the country, on the dais, Rahul Bajaj complained that a sense of fear prevailed in the country.
Bajaj was critical of the Union government for not taking drastic and exemplary action against lynching(s).
He also lashed out at the Bhopal MP, Pragya Singh Thakur, for praising Nathuram Godse in Parliament.
Bajaj also didn't forget to preface his criticism that he was grandson to the Jamnalal Bajaj, who was referred to as the foster son of Mahatma Gandhi, and he was very proud that the name Rahul was given to him by Jawaharlal Nehru, the first prime minister of India.
Incidentally, Rahul Bajaj has this habit of showing off his late grandfather's proximity to Gandhiji. I have attended his speeches on at least six occasions and on all six occasions he chose to inform his audience of how big a freedom-fighter his grandad was.
It is a well-known fact that Gandhiji, leader of the yet-to-be-free India, was a master fundraiser. He could get the poorest of poor to donate ten paise or two to the Congress funds and he could woo the rulers of undivided India and its prosperous businessmen to part with a portion of their capital to the cause of the Indian National Congress.
Gandhiji had this unmatched ability to motivate the guilt-ridden and guilt-free men and women of India to divert a part of their disposable income to the cause of nation-building, which at the time meant fighting the British empire in India.
Rahul Bajaj fearlessly spoke of the element of fear that plagues Indian business leaders. I find it ironical that he said so in the presence of the home minister of India who sat alongside the finance minister and the commerce minister.
If indeed there was so much fear around him, then how was that a Rambo-like spirit overtook Rahul Bajaj and he was able to heap criticism, laced with lampoon and satire, upon the very people he thinks were part of the establishment that is responsible for spreading fear?
What does Rahul Bajaj wish to tell the world? That he is the only brave man in Indian industry and the rest of them are cowards?
Does he mean to say that the Kotaks, Mahindras, Narayana Murthys, Azim Premjis, Birlas and Rahejas of this world are all chicken?
That only Rahul Bajaj has the muscularity to take on the government that has cut the corporate income tax rate from 30% to 25%?
Is he eyeing to become the first man who would be able to amalgamate CII, FICCI and ASSOCHAM into one entity to take on the Government of India and re-establish the old Bombay Club that was set up to oppose the reforms started by the P V Narasimha Rao government in the early 1990s?
To the younger set of readers, I would like to quote from an article published in Outlook magazine on January 10, 2011. The writer of the piece Pragya Singh quotes Sucheta Dalal who first coined the term Bombay Club as under:
'Dalal says she coined the phrase Bombay Club as a "short-hand way" to describe the informal grouping. "It wasn't a Bombay 'club' in the sense that there was no constitution nor a clubhouse. Also, some industrialists such as the late Lalit Thapar who attended its meetings were from Delhi. But those meetings did take place and their agenda really was stalling or slowing reforms.'
Pragya Singh further writes, 'The Bombay Club's unofficial spokesperson turned out to be Bajaj Auto's Rahul Bajaj.'
So the Bombay Club sums up the brief history of Rahul Bajaj. He manufactured petrol guzzling scooters that were as heavy as oxen and lopsided too, and which were sold at a premium in the parallel market or else one had to wait for many months. The Bajaj scooter's market share was close to 100% for several decades post-Independence.
Successive Congress governments perpetuated monopolies by restricting production capacities and it is believed that Bajaj scooters's waiting period was as high as one decade for many years.
Those were also times when industrialists who had to expand capacity had to apply for licences. They had to use a combination of means to get the licences.
Contributing to the ruling party's funds, cultivating ministers and bribing them through their PAs and chosen bureaucrats was commonplace, and Rahul Bajaj's empire flourished in this atmosphere.
When it finally dawned upon the Bajajs that the days of monopoly would eventually end, the second generation of Bajajs took over from Rahul Bajaj.
It is to the credit of Rahul Bajaj's sons that they diversified into the motorcycles segment and even closed down the scooter business more than a decade ago.
Rahul Bajaj had tried to raise a banner of revolt against his sons when they decided to abandon the scooter business. Did his own children listen to him then, that he now keeps demanding that the Union government listen to his stories of phantoms of fear?
Rahul Bajaj's problem is that he still lives in his old world where in the palatial meeting halls of five star hotels, his old friends gather around him and they together thought of ways of working on the industrial policy of India.
I am sure Rahul Bajaj would want to prevent new players from entering the motorcycle industry and he would want non-MNC companies to access working capital at 3% per annum.
And if his wishes don't come true, he would bombard us with his phantoms of fear.
I recently learnt that Rahul Bajaj's elder son plans to manufacture the Bajaj scooter again, but in a new, electric avatar. Bajaj may want the government to announce that buying an e-scooter would get tax exemption under Section 80CCC of the Income Tax 1961 Act. This is, of course, absurd, but with Rahuls of this world you never know really!
The Atal Bihari Vajpayee government in 2001 had conferred the Padma Bhushan upon Rahul Bajaj. It was wholly unnecessary and uncalled for.
And I would like to sum up by asking a few questions to Rahul Bajaj.
If indeed there is widespread lynching in India, why does he not take this up with the respective state governments?
What has the Union government to do with the law and order issue in a federal form of government?
The mighty men of the yore, now languishing in jails, get full access to the highest courts of the land. Does their present state of affairs make Bajaj fearful?
Lawyers are going to court against the establishment every other day. The honourable judges are being woken up at night by lawyers and the judges are pronouncing judgments on Sundays with such judgements on several occasions going against the ruling dispensation.
In Parliament Opposition leaders still jump into the well of the House without any sense of responsibility or remorse.
In the run-up to the 2019 general election, the leader of the Indian National Congress called the prime minister a 'thief' and he said so ad nauseum. The Opposition parties initiated the impeachment of a chief justice of India last year.
Do these instances remind you of an atmosphere of fear?
There are many Web sites, newspapers and television channels that are blatantly anti-establishment, or give larger space to anti-government points of view. If indeed there is a sense of fear, how come these media units appear happy?
And if there is fear all around, then how is it that tobacco companies in collaboration with newspaper organisations are able to successfully organise so many literary festivals where government-bashing is the order of the day?
And if one happens to live in south Delhi, one can have his life disrupted by JNU students who are not ready to pay for the cost of food they eat and the electricity they consume.
Does anyone sense any apprehension among the jholawallas of JNUs or the fashionista crowd of Khan market?
Or is it that Rahul Bajaj has an inherent disdain for the non-Congress government that is devoid of any elitism and is largely egalitarian?
I remember that right from 2015 Rahul Bajaj has been condemning the Modi government. He criticised the Black Money (undisclosed foreign income and assets) and Imposition of Tax Act 2015 without rhyme or reason. Perhaps he wanted all the black money to be bought back into the mainstream at zero tax rate.
I suggest that Rahul Bajaj come out in the open and give us his own white paper on the perceived sense of fear that he thinks haunts corporate India.
He is a Padma Bhushan awardee and has friends in high places. So it wouldn't be easy for anyone to persecute the grandson of the foster son of Mahatma Gandhi.
So I request Rahul Bajaj to show us what he has got to support his 'sense of fear', or else he should keep quiet for a few months at least.
---
Dr Sudhir Bisht, author and columnist, tweets at @sudhir_bisht.