'There is no senior bureaucracy functioning now; these people only obey.'
'This is only a command and control kind of governance.'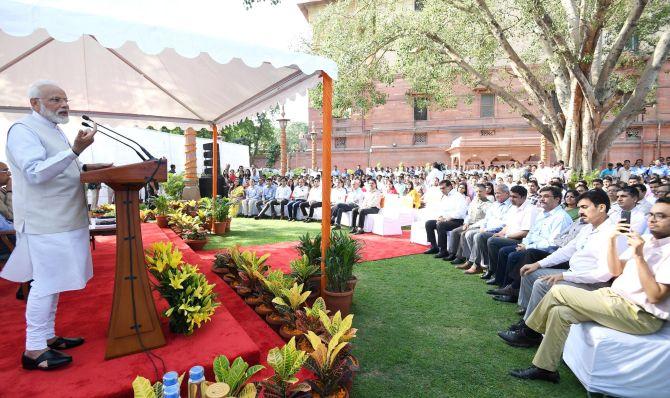 Seventy-one retired bureaucrats recently wrote a letter to Prime Minister Narendra Damodardas Modi expressing concern over the prosecution of four retired finance ministry officials in the INX Media case.
One of the signatories to the letter is former IAS officer M G Devasahayam .
"You cannot target somebody because you want to kill somebody else. That's why this delayed sanctioning of prosecution is not the right way of combating corruption," Devasahayam tells Rediff.com's Shobha Warrier.
Why did you write a letter to the prime minister expressing concern over sanctioning the prosecution of four retired officials in the INX Media case?
Yes, two of them are our colleagues from the IAS and the other two, non-IAS.
The reason why we chose to write a letter was, first, the INX Media case is a total mess. I do not want to go into the merit of the case as I do not know the inner details.
Based on the investigation of the alleged murder of her own daughter by this woman (Indrani Mukerjea), the INX Media case came out.
Then they suddenly arrest former finance minister P Chidambaram. The arrest of the four officials was because of the public outcry that they had arrested only Chidambaram, and not taken any action against the officials.
It doesn't appear to be on merit. If it was on merit, the names of these officials would have been there from the very beginning. If they were part of the conspiracy, why were they not named in the beginning?
You feel they are not part of the conspiracy?
Obviously, they are not. Had they been part of it, action should have been taken simultaneously.
After putting Chidambaram in prison for two months, they gave approval for these four people to be charge-sheeted. The objective seems to be suspect. That's why we decided to write a letter to the PM.
The letter says this action will de-motivate diligent and honest officers. But what if they are found guilty?
As far as the guilty part is concerned, the Prevention of Corruption Act is very clear. For any offence to be committed, there must be a presumption of mens rea (intention to commit a crime).
Mens rea is the cardinal principle of law. The person must have an intention to commit an offence and intentionally s/he must be benefitted from the crime. There must be a quid pro quo. That is, s/he had an intention to commit the offence, and s/he did it.
Here, I don't think these officials have any case of mens rea. Whatever they have done, it was part of their duty. Nobody has said that they have intentionally done it. Nobody has said they have got huge amounts of money.
Many of the people in our group have worked with these two IAS officers and they are of the opinion that they are not corrupt. We know who the corrupt people are.
The record so far is not punishing the corrupt, but rewarding them.
You mean, like the letter says, 'selective targeting for gaining narrow political advantages'?
Looks like it. Because why are they doing it after the public outcry? Why are they doing it based on the statement issued by an alleged murderer? Why do they suddenly give permission to chargesheet these officials?
If this is about corruption, why did they not act against the real corrupt officials? In fact, they are rewarding the corrupt officials. What is the record?
That's the reason why we decided to write.
In cases like these, generally, are politicians responsible and officials just victims?
Even officials also become corrupt. They become joint venture partners with politicians. But such people are not being punished. We have no problem if they punish those who are proven corrupt, but that's not being done.
This is attacking people who are not in line with your thinking and targeting them to put a sense of fear and terror among the decision makers.
How do you view the Modi government asking around 64 employees to compulsorily retire on charges of corruption?
That's a different exercise. The service rule provides that. After 15 years of service, a review can be made, and if an officer is proven to be corrupt or performing her/his duties not as per the requirement, there is a provision for compulsory retirement. They will get their pension too.
You cannot club that with this. What they are doing to the four former officials, is criminal prosecution. They can be arrested and put behind bars. In criminal action, you have to be extremely careful.
Why did you say in the letter that a file should not be opened after a reasonable period of time? Do you see it as vendetta when they open old files?
Selective opening of files is vendetta. There is nothing wrong in opening a file if there is a proven case of corruption. But it must be even-handed.
You cannot target somebody because you want to kill somebody else. That's why this delayed sanctioning of prosecution is not the right way of combating corruption. It is only sending fear down the spine.
Anyway, there is no senior bureaucracy functioning now. Every order comes from the prime minister's office only; these people only obey. This is only a command and control kind of governance.
And we see corrupt people going from strength to strength. If you really want to take action against the corrupt, do that. That's what disturbs us.
Will writing a letter have any impact?
It may not. In the present set-up, they may not be bothered. It will not have an impact. But we have to speak up. We have to blow the trumpet.
At least we have registered a protest. We are not hopeful that they are going to drop everything and go, but the investigating agencies will be more cautious now. They know that they are being watched. No, we are not expecting miracles out of this.
See, our entire investigation system is faulty. Our institutions have become absolutely imbecile and impotent.
Look at what the British supreme court did. Boris Johnson suspended parliament and within 10 days, the supreme court heard the case and overruled him. That was because it was of huge importance to democracy.
Here, what is the Supreme Court doing on Kashmir where violation of all Constitutional rights of India is happening?
Will what is happening in the INX Media case affect the morale of India's bureaucracy?
There will be a psychological barrier in taking decisions. These kinds of things only will put fear in the minds of people. Anyway, decision making process is extremely screwed up recently. Public oriented decisions are hardly being made.
This particular case appears to be political vendetta.
Have you encountered anything like this earlier?
Of course, this has been going on. At a lesser scale. There is nothing new in what is happening. Previous governments also used to do these kinds of things. The BJP government did not invent this. But these people are doing it with more finesse.
We call ourselves a democracy, but what we had was autocracy. Look at the kind of calibre the political leadership had after India won independence. I don't see a single political leader with any kind of calibre today.
Does it not reflect our society itself?
Yes, a hundred percent. See, Indians are unfit for democracy. Except perhaps 5% of people, Indians do not have the spirit. 90% of the people don't care; they are not bothered.
Are we proving Winston Churchill right who is believed to have said 'All Indian leaders will be of low calibre and men of straw'?
Yes. Why Churchill? Our own Chakravarthi Rajagopalachari said so in much more harsh words. (In 1921 Rajagopalachari wrote in his Vellore jail diary: 'Elections and their corruptions, injustice, and the power and tyranny of wealth, and inefficiency of administration, will make a hell of life as soon as freedom is given to us.')
Indians are proving Rajagopalachari right, to the last word.