'The focus for IT companies will shift from adding scale to building a smaller, more specialised, talent pool with specific domain expertise,' says Shyamal Majumdar.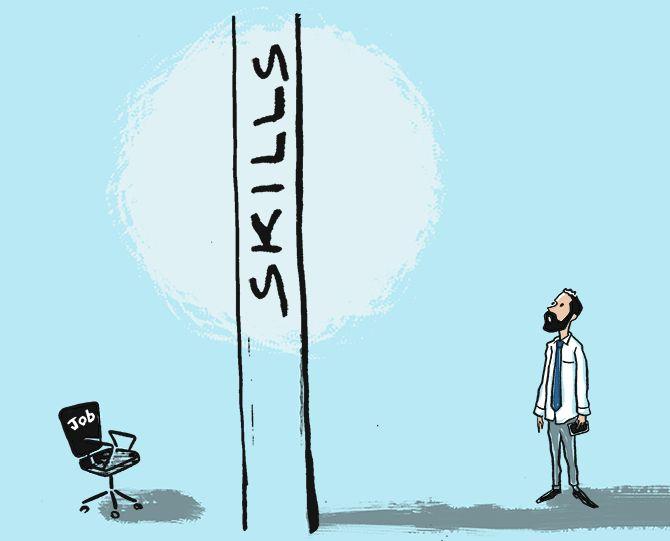 Mohandas Pai, the former chief financial officer of Infosys, created a flutter recently when he said the Indian information technology industry could be staring at 30,000 to 40,000 mid-level job losses.
In fact, this will become a regular phenomenon in line with the maturing of the industry.
Pai, who is currently chairman of Manipal Global Education Services, is bang on, as it is inevitable that people who are not adding value to the salary they get will have to look elsewhere as companies will have no option but to periodically reset their pyramids, and shed people.
Technological unemployment is a term one has to be ready for at a time when technological progress will increasingly have deep consequences for skills, wages and jobs.
So repetitive coding jobs, for example, would be increasingly irrelevant in many IT companies.
Unfortunately, humans and organisations aren't keeping up with the pace of technology.
For example, the computer processor doubles in power every 18 months, 10 times greater every five years.
Faster, cheaper computers and more 'intelligent' software are giving machines capabilities that were once thought to be distinctively human-like -- understanding speech, translating from one language to another and recognising patterns.
As the industry now pivots towards delivering high-end services, the focus for IT companies will also shift from adding scale to building a smaller, more specialised talent pool with specific domain expertise.
There is no surprise therefore that yesterday's ubiquitous call centre operators are gradually being replaced by question-answering, automated systems.
Vishal Sikka, former Infosys managing director, had talked about this danger long ago.
The biggest disruption that is taking place, he had said, is the 'tidal wave' of automation and artificial intelligence that can easily replace tech jobs.
So in order to stay ahead, they must bring 'greater value' to customers, instead of just mechanically executing the jobs.
Indian IT companies, Sikka said, will not survive if they remain in the constricted space of doing as they are told, depending solely on cost arbitrage, and working as reactive problem solvers.
Many studies have in fact said AI techniques of today can automate half the jobs that exist in the US now within a couple of decades.
This means a vast number of employment in production occupations is likely to diminish.
Boston Consulting Group has estimated that in the US, a human welder is about three times more expensive per hour of employment than a robotic welder.
So, companies will recruit, but only those who have the required skill for a higher-end job.
In their report, The Future of Jobs, World Economic Forum said in 2018, an average of 71% of total task hours across 12 industries covered in the report were performed by humans, compared to 29% by machines.
By 2022, this average is expected to shift to 58% task hours performed by humans and 42% by machines.
For example, by 2022, as much as 62% of an organisation's information and data processing and information search and transmission tasks will be performed by machines compared to 46% in 2018.
Many experts, however, say these fears are misplaced, because technology adoption will also free people from performing menial and repetitive tasks.
There have always been fears of mass destitution with each sudden shift in technology, but the so-called losers have eventually been absorbed back into new industries.
While this debate will go on, the simple fact is that there is no option but to go in for a dramatic shift in skilling and retooling the job aspirants.
Experts have suggested that by 2022, more than half the global workforce will require significant upskilling.
The likelihood of hiring new permanent staff with relevant skills is nearly twice the likelihood of strategic redundancies of staff lagging behind in new skills adoption.
Imagine the consequences for countries like India where more than 10 million people (mostly unemployable) enter the job market every year.
The irony is that while more than half the top management in Indian companies believe that traditional job descriptions will become obsolete, less than a quarter have taken any initiative to redesign jobs in their organisations, which is a must to identify the exact skill gaps and the specific training required.