Quick fix recipe: How to make Masaale Bhaat
Divya Nair
If you like your rice spicy, you will love this recipe.
Given the lack of time in the morning, I always end up experimenting with rice and different veggies in the kitchen.
As against rotis and parathas that consume more kitchen time, I prefer trying out variations of assorted rice because then my dabba lunch is ready and packed in less than 30 minutes.
Remember the last time I had shared the recipe of Beetroot Rice with you? Did you try it?
Well, this week I experimented with potatoes and tuar dal (Arhar Dal) )and the outcome was simply delicious.
I shared it with my neighbour who named it 'Masaale Bhaat'
Presenting the recipe:
Ingredients
1 cup rice
1 large onion finely chopped
1 tomato finely chopped
1 large potato diced
1 tbsp tuar dal
2 green chillis finely chopped
1 tsp ginger finely chopped
4-5 curry leaves
1 tsp mustard seeds
1 tsp cumin seeds
1 tsp turmeric powder
1 tsp chilli powder
1 tsp garam masala powder
1 tsp coriander powder
1 tbsp oil/ghee
Salt to taste
1 tbsp coriander finely chopped
Method
In a pressure cooker, heat the oil/ghee.
Add mustard and cumin seeds.
When it begins to pop, add curry leaves, onion and ginger.
Add tuar dal, salt and saute.
When onions turn golden brown, add tomatoes and stir.
Add potatoes, turmeric powder and coriander powder.
Lower the flame and add chilli powder and garam masala powder.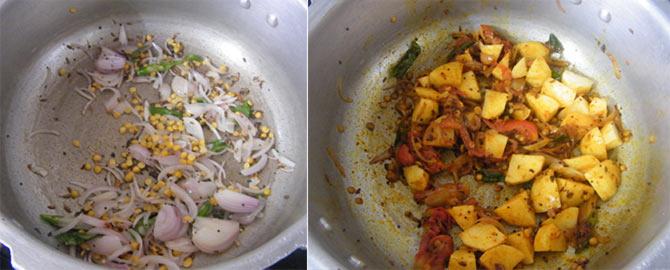 After a minute, add two cups of water and rice.
Mix the ingredients well and check for salt.
Pressure-cook for five to seven minutes on medium to high flame and switch off the gas.
After about 10-15 minutes open the lid. Garnish with coriander and serve hot with papad, curd or pickle.
Cooking Tip: Whenever you steam cook rice or veggies in a pressure cooker or otherwise, never open the lid soon after you switch it off. Fifty per cent of the cooking takes place after you've switched off the flame. The food continues to cook in the steam generated in the vessel. Hence it is important that you open the lid only after 10-15 minutes, preferably after tapping open the steam whistle to relieve any trapped steam.
Liked this recipe? Click here for more food recipes and features!
Also read:
Reader invite: Dear Reader, do you have an interesting quick-fix breakfast/lunch recipe that you'd like to share with us?
Email us your recipe along with a photograph, if possible, to getahead@rediff.co.in (Subject line: Quick fix recipes) and we'll publish the best ones right here!
Image:
Masala Bhaat
Photographs:
Divya Nair/Rediff.com