Quick-fix recipe: Pidi Kozhukkatai
Divya Nair
An interesting recipe made from rice that you can also carry in your dabba. You can share yours too!
The last time, I told you how upmas and idlis serve as the perfect breakfast recipes particularly when you're cooking for a huge audience. (Click here for the recipe of Idli Upma)
Last week, I was in Udupi at my in-laws' ancestral home when I saw my mother-in-law and her cousins frantically trying to ready the breakfast in the kitchen amidst attending to countless requests of tea and coffee from the men and other guests of the house.
Sensing the need to volunteer, I stepped in and found that the recipe was quite similar to what my maternal grandmother would make in Kerala.
The pidi kozhukattai (hand-pressed dumplings) also known as the kaara kozhukattai is an excellent breakfast/snack recipe that can also translate into your lunch.
When we were kids, even before they were placed on the table, it would disappear in a jiffy -- such was it popularity. The recipe
It's easy to cook, uses minimum oil and is quite filling!
Here's the recipe for Pidi Kozhukattai:
Ingredients
4 cups finely ground rice powder
10-15 curry leaves
4-5 dried red chillies
4-5 green chillies finely chopped
½ cup sliced/grated coconut
1 tsp mustard seeds
Salt to taste
2 tsp oil
Method
In a deep bottom pan, heat some oil.
Add mustard seeds and when they begin to pop, add curry leaves, chillies and coconut.
Saute well by adding a pinch of salt.
When the coconut begins to change its colour, add three cups of water.
When it comes to a boil, add salt and mix well.
Simmer the flame and gradually empty the rice powder into the mixture while stirring continuously to avoid lumps. The mix will resemble rava upma.
Take it off the flame and while it is still warm, make small dumplings of 1-inch diameter.
Meanwhile, heat a pressure cooker or idli cooker with some water and place these dumplings on an idli pan one above the other.
While doing so, please ensure you do not overstuff the pan or cooker and allow ample space for the steam to circulate.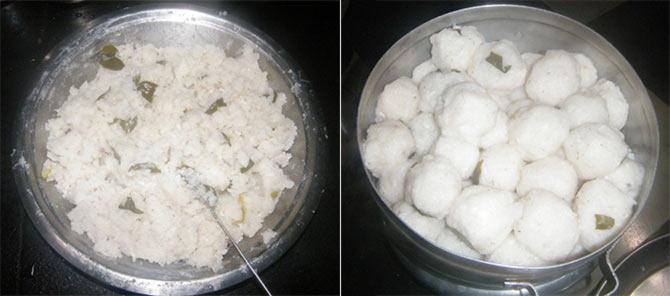 Shut the cooker and cook on slow to medium flame for about five minutes.
After 10 minutes, open the cooker and empty the dumplings one by one a plate using a fork or spoon.
Kozhukattais are traditionally eaten as a snack or for breakfast with tea or coffee.
You may serve it hot with sambaar, coconut chutney or any curry.
Also read:
Recipe: How to make Italian Panzanella salad
How to make Green Apple Pasta Salad
Super salads: 7 tasty vegetarian recipes
How to make Pachai Mochai Vadai
How to make Kaara Kuzhi Paniyaaram
Reader invite: Dear reader, do you have an interesting quick-fix breakfast/lunch recipe that you'd like to share with us?
Email us your recipe along with a photograph, if possible, to getahead@rediff.co.in (Subject line: Quick fix recipes) and we'll publish the best ones right here!
Image:
Pidi Kozhukkatai
Photographs:
Divya Nair/Rediff.com