Quick fix recipe: Kaara Kuzhi Paniyaaram
Divya Nair
Presenting an easy-to-prepare lunch recipe that you can carry in your dabba. Have you tried beetroot rice yet? Maybe you should!
The scorching summer is here and just like most of you reading this, I have my share of embarrassing lunch-time moments in office like when the green chutney in my dabba turned out to be sour because of the sweltering heat. :(
At home too, sometimes the curd has a mind of its own and so does the idli and dosa batter.
I remember how a few years ago, my Amma had faced a similar situation when she forgot to keep the idli batter in the refrigerator before leaving home in the morning and by the time we returned a few hours later, it had turned sour.
Since Amma did not have the heart to throw it away, she came up with a clever idea that her mom had taught her. That was the first time I tasted the Kaara Kuzhi Paniyaaram (kaara meaning spicy, kuzhi is pit and paniyaaram is a form of dumpling like appam) and it has stayed with me since as a favourite breakfast and dabba menu.
It's easy to make, is innovative in itself and is healthy because it needs minimum oil for cooking.
Having spent a large part of her childhood in Coimbatore and Madurai, most of my Amma's quick fix recipes are a fine blend of Kerala and Tamil Nadu, thus offering the best of both states.
This week, I present to you my Amma's recipe of the Kaara Kuzhi Paniyaaram.
Ingredients
For the batter
1 cup rice
¼ cup urad dal
1 tbsp fenugreek seeds
For cooking
1 tsp urad dal
1 tsp mustard seeds
1 large onion, finely chopped
1 tomato, finely chopped (optional)
2-3 green chilli, finely chopped
1/2 tbsp ginger, finely chopped
5-6 curry leaves, finely chopped
1 tbsp coriander leaves, finely chopped
Salt to taste
Coconut oil
Method
Preparing the idli batter
Clean the rice, urad dal and fenugreek seeds and soak them in water for eight hours. Drain the excess water and grind into a fine paste. Store it in a warm place and leave it for a minimum of 6-8 hours to ferment.
Please do not refrigerate the batter until the fermentation process is complete.
How to make paniyaaram
In a frying pan, heat some oil. Lower the flame and add urad dal. Keep tossing so that it doesn't turn brown or burn.
Add mustard seeds. When they begin to pop, add curry leaves, ginger, onion and green chilli. Add some salt and sauté till onion changes colour.
Add tomato, toss for a bit and then add coriander leaves. Turn off heat.

In a vessel, take two cups of idli batter. Add the sautéed mixture. Mix well to avoid lumps. The batter has to be of pouring consistency. Do not make it too thick or watery.
Place an appam skillet on medium flame. Add one teaspoon coconut oil in each pit. Grease it well. If it's a non stick skillet, you may avoid oil.
When the oil heats up, pour one scoop of the batter in each of the pit till it fills ¾ th of the pit.
After a minute or so, when the batter begins to leave the sides of the pit, use a spoon to flip it over. Ensure you don't cook on a high flame else you will end up with burned appams or stick to the sides. The perfect ones should be light/ golden brown in colour.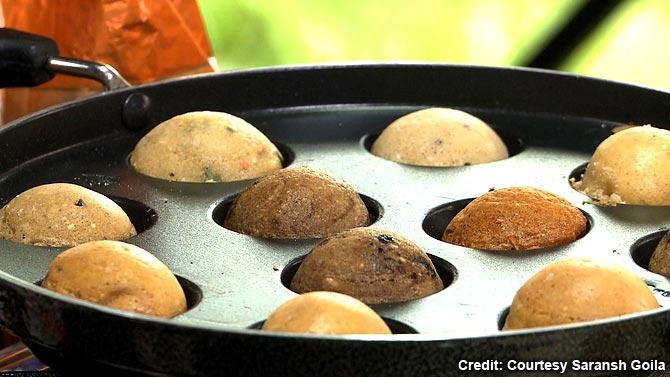 Flip the appams until they are cooked well. If you're a first timer, use a knife or spoon to check whether it is cooked. If the batter sticks to the spoon, you must be more patient and let it cook for some more time.
Garnish with coriander (optional) and your Kaara Kuzhi Paniyaaram is ready.
Serve it hot with green or red chutney. It also tastes well with saambaar.
Reader invite: Dear reader, do you have an interesting quick-fix breakfast/lunch recipes that you'd like to share with us?
Email us your recipes along with a photograph if possible to getahead@rediff.co.in (Subject line: Quick fix recipes) and we'll publish the best ones right here!
Image:
Kaara kuzhi paniyaaram
Photographs:
Divya Kudua/Wikimedia Commons