'The Vatican should take them to court for blasphemy and using a crucifix as a sex ornament,' says designer Wendell Rodricks.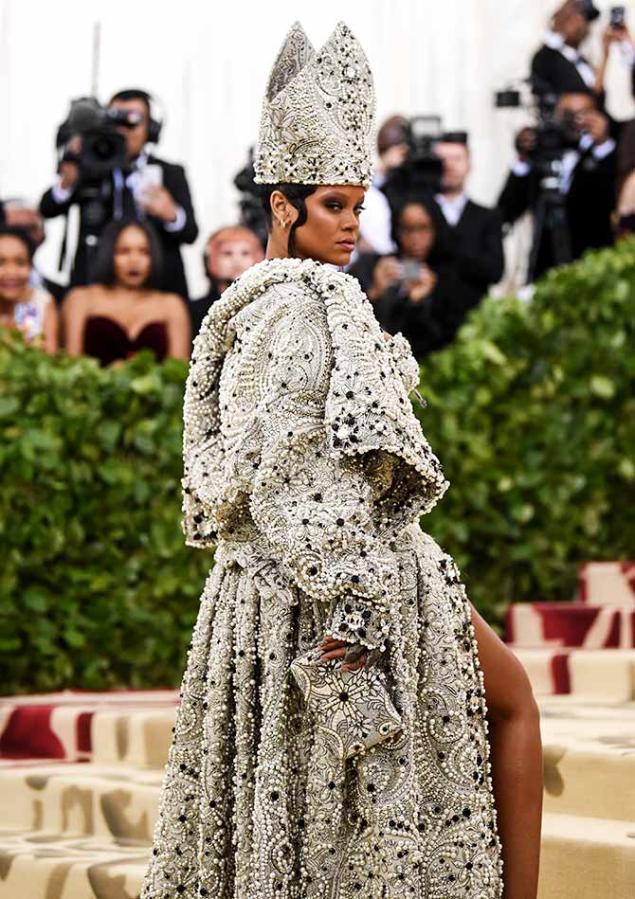 Wendell Rodricks, the Goa-based fashion designer, has lashed out at the 2018 Met Gala organisers for their theme, Heavenly Bodies: Fashion and the Catholic Imagination, saying it disrespected Christianity.
The 57-year-old couturier took to social media to blast the annual charity event, which saw personalities like Sarah Jessica Parker, Katy Perry, Amal-George Clooney and Indian stars Priyanka Chopra and Deepika Padukone walk the red carpet.
The gala was hosted by Rihanna, Amal and Donatella Versace alongside Vogue magazine's Editor-in-Chief Anna Wintour.
'As a Catholic, I am sickened by this years @metmuseum gala which has become @annawintour__official ego massage @vogue. The Vatican should take them to court for blasphemy and using a crucifix as a sex ornament,' Rodricks wrote.
The designer also targeted Rihanna, for donning a Pope-like hat. He labelled her as an 'insult' to Christianity.
'Hey @metmuseum @AnnaWintour_ #Rihanna @rihanna you ain't no Bishop. Take off that mitre and sit on it. You are an #insult to #Christianity' Rodricks tweeted.
'I guess carrying the Nativity scene on your head @sarahjessicaparkerofficial @themetgala deservedly makes one look #biblical #ancient,' Rodricks commented on Parker's headgear.
Rodricks is not the only one who was hurt by the theme.
British television personality Piers Morgan, other Catholics and conservatives also accused the organisers of religious appropriation.
'As a Catholic, well I'm not a snowflake, but it's a bit odd isn't it? Imagine if it had been an Islamic theme, what people would have felt. A Jewish theme, what people would have felt?' Morgan asked on his television show.
'Explain to me why, as a Catholic I shouldn't be slightly perturbed that a load of celebrities have waltzed up nativity play headgear and dressed like my Pope? I've got to say if it was any other religion, all hell would be breaking loose,' Morgan said.
'My religion is not your costume,' one users posted on Twitter.
'These are the Met Gala's best and worst outfits. Among the worst things I've ever seen in my life. Heresy at its finest,' tweeted another.
Some people suggested there would have been a bigger outcry if other religions had been chosen as the event's theme.
'Surprised people aren't calling out the #MetGala #MetHeavenlyBodies for being offensive to Catholics. But if it was another religion everyone would be up in arms,' a user wrote.
According to The Independent Web site, the Vatican not only gave the permission for the theme, but also provided clothes and other items for the accompanying exhibition.
The Met and the Vatican worked together for over a year to procure more than 40 items for the event.
Curator Andrew Bolton was given access to the hidden chambers where nuns look after the Pope's clothes.
It is not the first time the Met Gala has been accused of cultural appropriation.
Two years ago, China: Through the Looking Glass was criticised for sexualising traditional Chinese clothing.