Bring heavenly fragrances to your kitchen with Maharaj Bhanwar Singh's classic winter recipes.
Everyone will love the traditional Gajar Halwa that celebrates carrots. It has everything you want in a rich, desi dessert -- ghee, milk, sugar, nuts and mawa.
The easy-to-make Haldi Nu Saag combines the nutrition of amba haldi with veggies and yoghurt.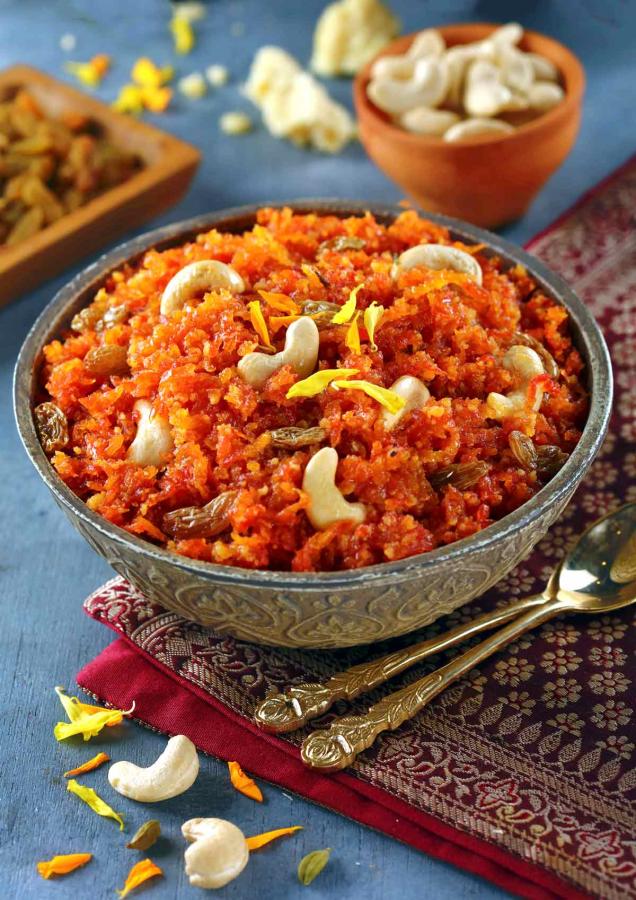 Gajar Halwa
Serves: 3-4
Ingredients
3 cups grated carrots
1 cup sugar
½ cup grated mawa or khoya or milk solids + 1 tbsp for the garnish
½ cup milk
2 tbsp ghee
1 tbsp chopped cashews + few whole cashews for garnish
1 tbsp chopped pistachios
1 tbsp chopped almonds
1 tbs raisins
½ tsp green elaichi or cardamom powder
Method
Heat 1 tbsp of the ghee in a large heavy-bottomed saucepan or large kadhai.
Add the grated carrots.
Saute till the carrots start giving off water.
Add the sugar and stir.
Keep cooking for 10 minutes.
Add the remaining ghee, stir and cook for about 5 minutes more.
Add the milk to the halwa and let it reduce.
Add the grated mawa, chopped nuts, cardamom powder and stir.
Take off heat and let the halwa cool.
Serve warm, garnished with a few cashews and a sprinkling of grated mawa.
---
Haldi Nu Saag
Serves: 3-4
Ingredients
200 gm amba haldi or mango ginger, grated
50 gm ghee
50 gm green peas
50 gm cauliflower, chopped
10 gm jeera or cumin seeds
10 gm ginger paste
1½ cup finely chopped onion
3 cups yoghurt, whisked
1 cup hot water
10 gm green chilly, finely chopped
20 gm garlic, finely chopped
30 gm tomato, chopped
2-3 tbsp red chilly powder
½ cup chopped green dhania or coriander or cilantro leaves
Salt to taste
Method
Heat the ghee in a heavy-bottomed pan over medium heat.
Add the cumin seeds and let it saute a few seconds.
Add the amba haldi, onions, garlic, tomato, green chillies, ginger paste.
Cook for 5-7 minutes.
Add the cauliflower, green peas and stir.
Cook for a minute more.
Add the hot water and simmer for a few minutes.
Gradually stir in the whisked yoghurt, salt, red chilly powder.
Turn the heat to low and simmer, while stirring occasionally for about 10 minutes or until a thick consistency is obtained.
Take off heat and garnish with freshly chopped coriander leaves.
Serve hot with hot phulkas.
Maharaj Bhanwar Singh is the corporate chef at Khandani Rajdhani.