Santosh Kaveri, a young inventor from Karnataka, is a sterling example of the 'Made In India' initiative.
Find out why his dreams of being an innovator-enterpreneur shattered.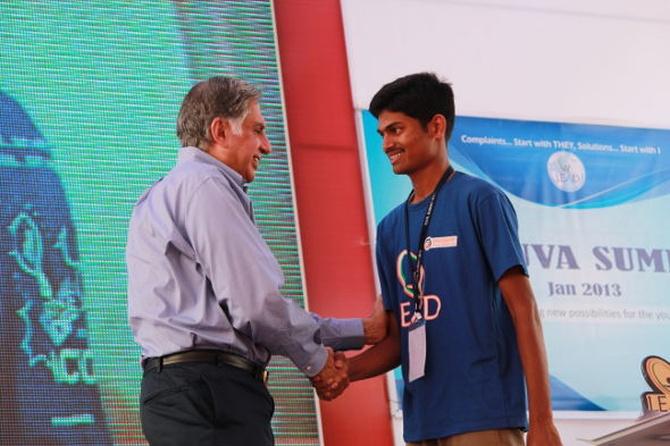 Santosh Kaveri, 25, who hails from rural Karnataka, has won many awards, but he has not been able to realise his dream of becoming a full-time social entrepreneur.
After trying unsuccessfully for a year to start his own enterprise, he decided to join the Karnataka government as an employee.
Who is to be blamed for clipping the dreams of an innovator?
Even when he had not heard of terms like innovator and entrepreneur, his dream was to be both. And he did become an innovator and an entrepreneur, but not on the scale he wanted to.
His bitter experience taught him it was just impossible to get investors interested in rural innovations as the target customers were poor and there was not much profit to expect from such innovations.
Still, Santosh dreams of being a full-time social entrepreneur one day.
Shobha Warrier/Rediff.com recounts Santosh Kaveri's story.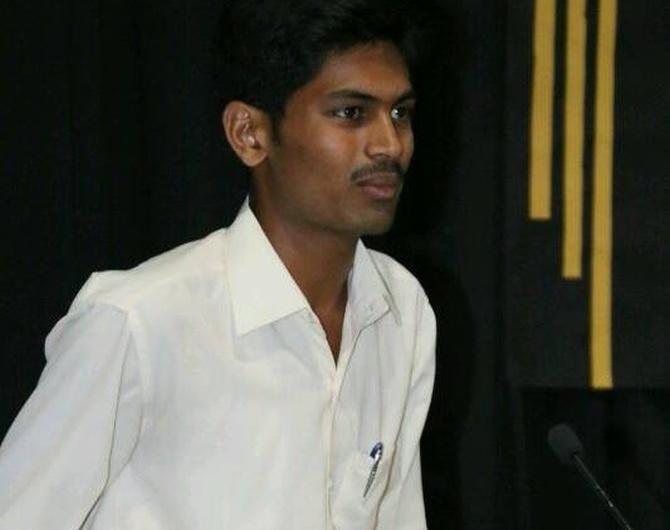 Growing up as a poor farmer's son
I grew up in a village called Shedval in Belgaum district in Karnataka.
We lived in a hut that had a thatched roof. It was easier for my parents to work on somebody else's farm as labourers and earn some extra money.
Our parents were very clear that both my brother and me should study and not become farm labourers. But the nearest school was 10 km away and it meant we had to walk 20 km every day to study, and we did.
I still remember when I was a child, my mother used to earn only Rs 4 for half a day's work and Rs 15 for a full day's work, which we considered a very big amount.
We always had enough food to eat as our parents worked in the field and also because we could buy rice and other items from the ration shop at a very cheap price. But there was always a shortage of cash.
Tata, the idol
It is common in schools to ask students what they want to become and it is also common for children to say they want to become doctors, engineers, lawyers, IAS officers etc.
I was totally bored of hearing these answers. I wondered why they could not think differently. I also wondered why nobody wanted to be a politician or a farmer.
I thought if everybody wanted to work for others, who would create jobs for them? So, I decided to be someone who would create jobs for others.
And the person I was inspired by was Tata, but I had no idea who the person or what the company was.
In my village, wherever I looked around, I saw only agricultural products and vehicles made by Tata.
I was curious to know how Tata knew what farmers and villagers wanted, and how he supplied them to all the villages.
I could not but idolise Tata the visionary, Tata who understood villages.
I wanted to be somebody like Tata!
When my father carried the vegetables from his farm to our village market, I used to ask him, "Why don't you sell them in other villages and cities like Tata does?"
My father used to reply, "You need a lot of money to operate like Tata. I am a very small farmer."
Remember I was asking my father who used to earn Rs 35 a day!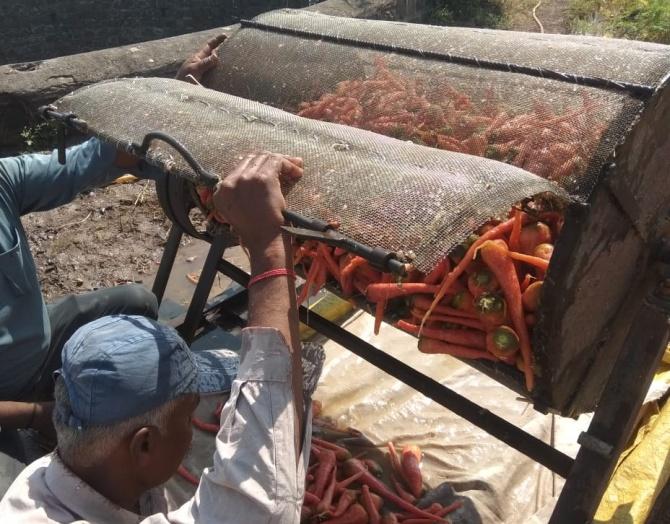 Text books talked only about cities and not villages
When I was in the 5th standard, we had to study environmental science that taught us about air pollution, noise pollution, etc.
The funniest thing was we had not seen more than a handful of vehicles in our villages and we were taught about noise and air pollution!
What the textbook talked about was about what was happening in the cities which we had not seen or experienced.
None of us students could understand what kind of air pollution and noise pollution these books were talking about.
I again thought of Tata. When my books talked only about cities, Tata made things that were needed in the villages.
I thought why I couldn't make things like Tata. After all, I lived in a village and I knew what villagers needed.
But I didn't know how to express my thoughts. If I had said, I wanted to be on my own, people would infer it as, selling vegetables or starting a kirana store.
The words entrepreneurship or entrepreneur were unheard of when I was small.
I waant to work in the agricultural sector
I always knew it was in the agricultural sector that I wanted to work.
In 2008, when I was in the 8th standard, I decided to stay with my grandfather in his village Mole, which was around 100 km away from my home.
Our village had mainly barren land and we used to cultivate only one crop in a year.
On the other hand, there was a river in my grandfather's village and because of the water resource, he could cultivate more crops.
I wanted to work on his farm and understand the problems faced by a farmer. So, before and after school, I worked on his farm and also managed 20, 30 bulls and buffaloes my grandfather owned.
In the morning, my job was to wash all the buffaloes, bulls and cows, clean their sheds and then bring grass for them.
After that, I would jump into the well, have a bath and run to school, which was 8 km away.
In the evening, when I came back from school, my grandfather would still be at the farm. I would change and join him.
Working on the farm never made me tired; in fact, it energised me. I felt one with nature. Even the smell of mud invigorated me.
Even today, I experience the same feeling when I am on the farm. I felt blessed by God that I got the opportunity to work as a farmer.
The experience made me understand why our farmers always remained poor despite working so hard.
I also used to wonder why all the farmers cultivated the same crop and flooded the market with the same produce.
If one farmer cultivated sugarcane, all the others followed suit. And the result was, plenty of one thing and nobody got good money from the produce.
I felt our farmers had no knowledge about marketing techniques.
I told my grandfather that there should be an understanding between the nearby villages so that they cultivated different things so that all got value for money.
He used to laugh and tell me, "You finish your school and then think about these things."
I used to sit alone and think a lot as a child. I loved solitude and my hobby was thinking.
First innovation a success, but only the 13th time
In 2010, I passed the 10th standard and joined college to study commerce. That was when my father bought one more acre of land, but it was also arid land.
Water was available only 2 km away. So, before going to college, my job was to connect a pipe for water to reach our land. In the evening, we would remove it and pass it onto the other farmer who needed water.
This was because we could not afford 2 km long pipes. The arrangement was that when somebody gave us water, we would give him 20% of our produce.
My father cultivated carrots on the farm. The problem we faced was when you take out carrots from the soil, they are not as clean or red as you see in the shops.
We had to clean them before selling it in the market. Cleaning each carrot one by one took a lot of time, labour and a lot of water too.
Moreover, cleaning by hand never gave the carrots real sheen.
That was when I thought why we could not make a machine which could clean all the carrots in one go, like washing machines.
I designed a machine and took it to a welder. But the initial problem I encountered was, carrots used to get cut in the machine.
I continued to make a lot of modifications in the design and tested whether they worked. My parents got exasperated as they felt I was wasting carrots.
But I was sure my design would work eventually.
Finally, my 13th design became a success.
The final machine worked like this: We loaded the machine with carrots and rotated it for 15 minutes while spraying water with a hose on the surface.
I connected an old Bajaj M80 scooter to my machine and with one kick, it would rotate the machine.
When we took out the carrots from the machines, they were not only devoid of dirt, but were shining.
My father was not only so excited, but felt quite proud of his son!
But it took one whole year of experimentation for me, from 2012 to 2013, to come up with the successful model.
By then, I had completed pre-university and had joined the SSS Samiti College of Business Administration in Belgaum for an BBA.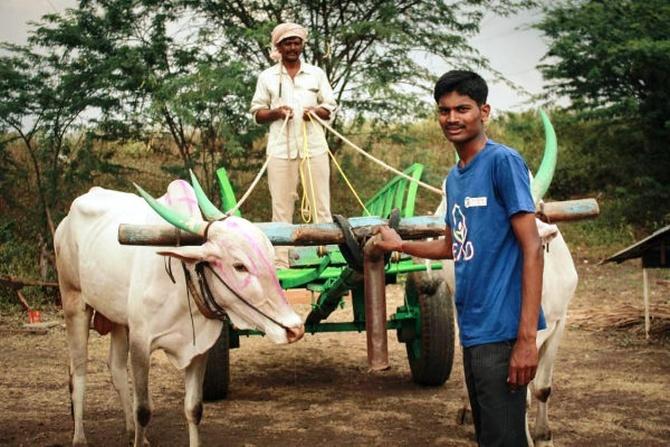 The Deshpande Foundation comes to college looking for innovators
When I was a first year BBA student, some people from the Deshpande Foundation (founded by Gururaj 'Desh' Deshpande and Jayashree Deshpande in the US to 'accelerate the creation of sustainable and scalable enterprises that have significant social and economic impact') came to our college looking for innovative ideas under their LEAD programme.
I was chosen for my innovation of the carrot cleaning machine as the Best LEADer by the foundation that year (2013).
Accepting the award from Ratan Tata
I consider it as a miracle that Ratan Tata gave away the awards. After giving me the award, he patted on my back and said, "Well done, my boy. Well done!"
I wanted to ask him how he managed so many businesses successfully for so many decades.
I wanted to know how Tata remained so successful and yet so employee friendly. Unfortunately, I could not ask him anything.
The event took place in Hubli and it was like a dream for me. It was shown on TV, it was written about in all the newspapers; it was like all of Karnataka knew I won the award. It was hugely motivational.
In my village, there was a huge celebration and my parents were very proud that their son won an award and it appeared on TV!
Getting orders for the carrot cleaning machine
I started getting orders for the machine because of my father. When he took carrots to the market, people asked him how he managed to clean them so well.
He then told them about the machine his son had invented. Many people asked him whether they could also buy such a machine.
I took an advance from customers so that I could buy all the material as I didn't have any capital with me to do so.
I charged Rs 20,000 for each machine with a profit margin of Rs 8,000.
As I had the design and also the welder with me, I could make one machine in one day.
I do not have a factory though the Deshpande Foundation asked me to start my own factory.
When I calculated, I found it was not feasible for me. It was not that I did not try; I tried getting people to invest in the machine. What happened was I spent hours visiting people with a power point presentation, but with no result.
In the first year, we sold 50 to 60 machines. In the last 5 years, we must have sold 200 machines.
Now, there is no demand for it in my village or the nearby villages as most farmers have bought it from me. I am sure each machine will have a life span of 15 years.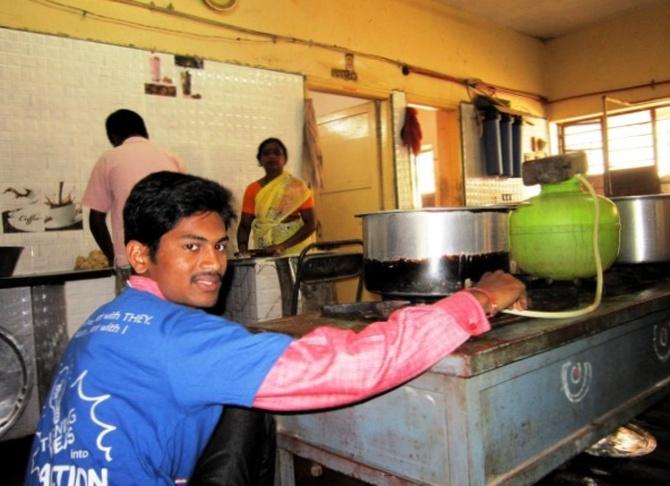 Second innovation and one more LEADer award
In 2014, I won my second Best LEADer award from the Deshpande Foundation for innovating a brake system for bullock carts.
This time, the award was presented by N R Narayana Murthy. Along with him, scientist R A Mashelkar and Sudha Murty were present at the function.
Our area grew a lot of sugarcane which was transported to various factories located quite far from the village.
As ours was a hilly area full of ups and downs, and the bullock carts were overloaded with sugarcane, it was traumatic to see bulls struggling when the bullock cart went down at high speed.
Some people made the carts go in reverse which again was a lot of strain to the bulls. I saw pain in their eyes and so many accidents used to happen.
I felt these bullock carts needed brakes very badly. I attached a drum brake to both the wheels. The liner was connected to the bull and also attached to the reins in the driver's hands.
So, when he pulled the liner, it helped the bull slow down.
Those factory owners who owned the bullock carts were not keen on investing in the brake system (external link).
I spent one year meeting factory owners, but nothing happened. It was again a learning experience.
I understood that only if someone invested in an innovation and marketed the product well, would we be able to convince the customers to buy a product.
Many awards, but no investors for a rural product
In 2015, I won the state award for the carrot cleaning machine from the then chief minister Siddharamaiah.
Then, in 2018, I won the INK Rural Innovation award from the Vellore Institute of Technology.
From my experience, I can say that politicians would like to say they help innovators, but the reality is different.
There are thousands of innovators in various parts of rural India and they remain where they are without any support from anyone.
After passing out of college, I tried for one year to be an entrepreneur, but I was not successful. I realised I could not sustain myself with small orders.
So, I decided to accept the job I got with the Karnataka health department. I felt I had to earn some money for my parents who suffered a lot bringing us up.
Even now, whenever orders for the carrot cleaning machine comes, my parents and younger brother see to it that they are made and supplied to the person.
Generally during the harvest season, we get an order for 50, 60 machines. But we can't sustain our business on such small orders.
I wanted to be an innovator and entrepreneur all my life. So, I was depressed for a year as I could not take my idea any further. Then, I decided to look at it as a learning experience.
I understood from my experience that unless you have money and marketing techniques, you will not succeed as an entrepreneur.