Femina magazine's latest issue salutes the indomitable spirit and selfless service of 15 young women who have contributed to fighting the deadly pandemic.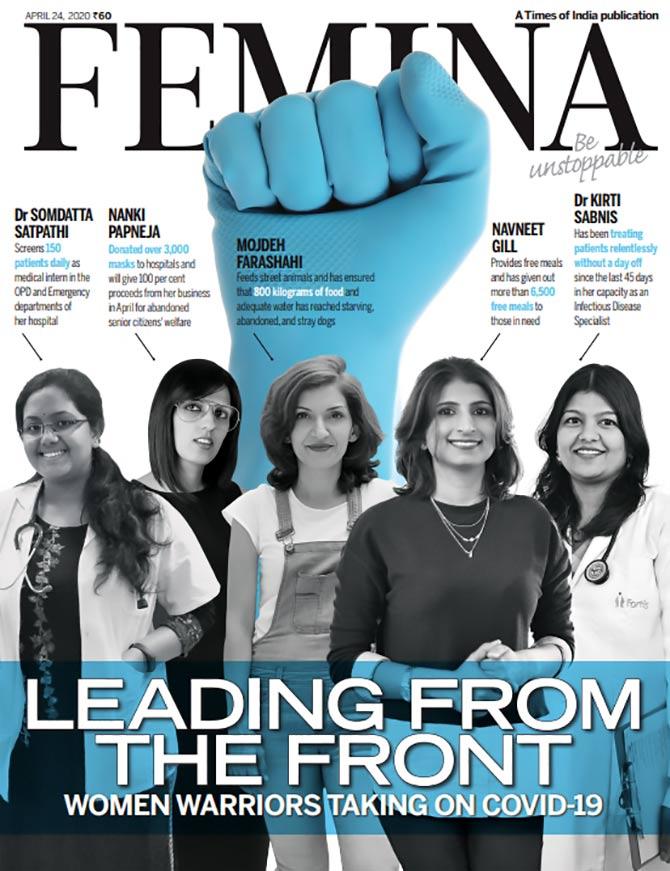 At a time when most entertainment and fashion magazines are promoting covers featuring actors, singers and celebrities, Femina India's April cover is a welcome change.
The magazine's April 2020 issue of profiles 15 young, inspirational personalities who are leading from the front and keeping millions of Indians safe in these times of crises.
The cover page features five extra-ordinary women who have worked tirelessly towards the cause: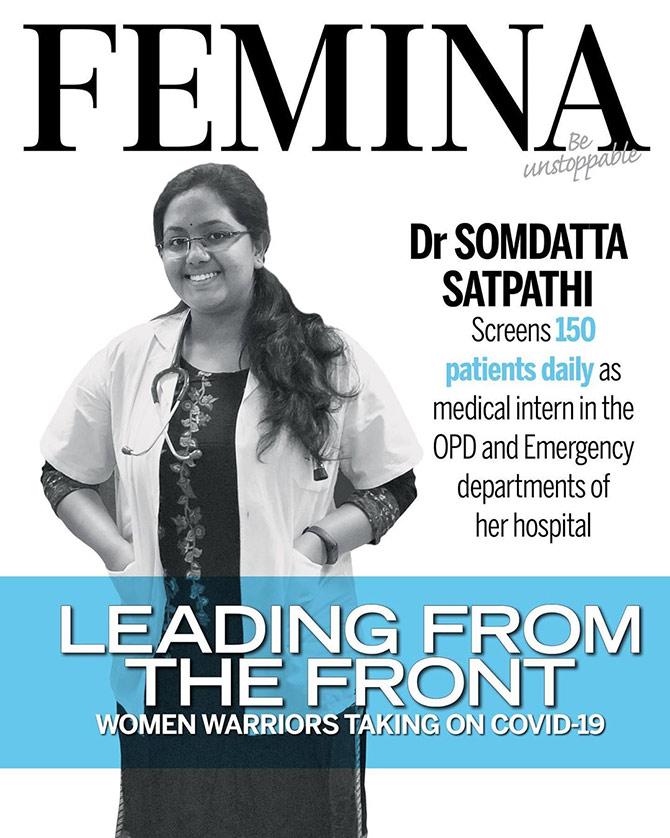 Dr Somdatta Satpathi is a medical intern working in the OPD and emergency department at the ID hospital.
According to Femina, she is among the few interns, helping out seniors in the isolation wards along with handling patients afflicted with other infectious diseases.
Her job involves screening people for travel histories of COVID-19 suspects among other parameters.
She works an average of 12 hours a day between 9 am and 9 pm where she screens as many 150 patients daily.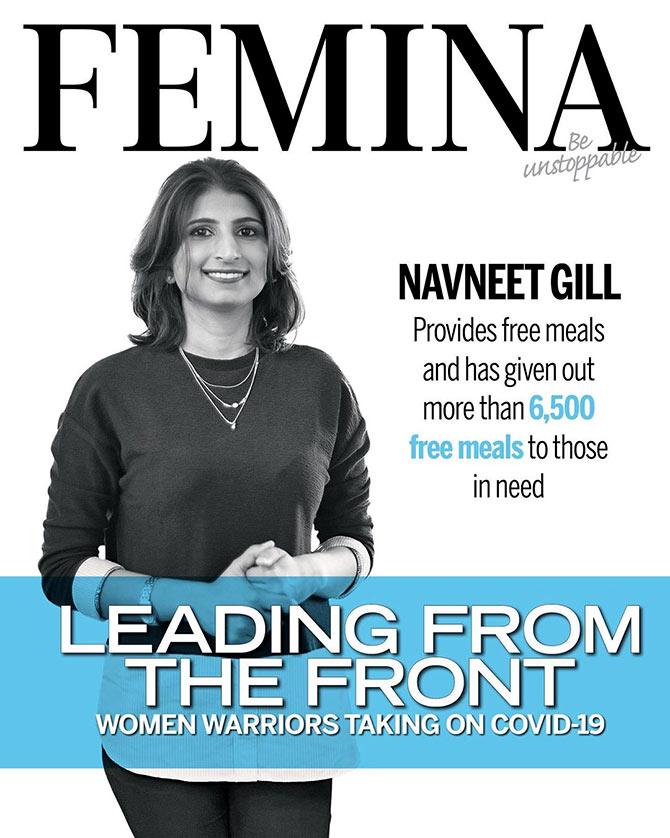 Navneet Gill owns Nini's Kitchen, a chain of casual dine restaurants in Gujarat.
The entrepreneur has ensured the needs of her restaurant staff are met and also helping the needy and homeless.
She has already provided 6,500 free meals.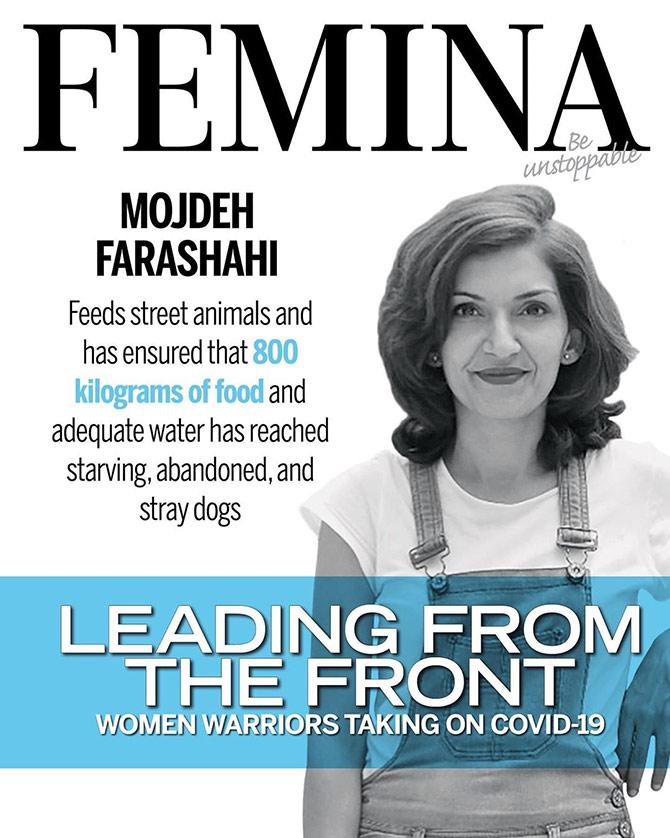 Pune-based Mojdeh Farashahi (39), and her NGO Bodhisattva have always worked for the homeless and destitute, as well as stray animals.
With restaurants and cafes being shut, Mojdeh along with her team of volunteers are working with authorities and supplying food and water to strays through their ambulance. They have so far ensured 800 kg of food and water has reached stray dogs.
Nanki Papneka who owns Limerick, a contemporary label, has donated over 3,000 masks to hospitals.
She has also pledged to give 100 per cent of her business proceeds for the welfare and care of abandoned senior citizens.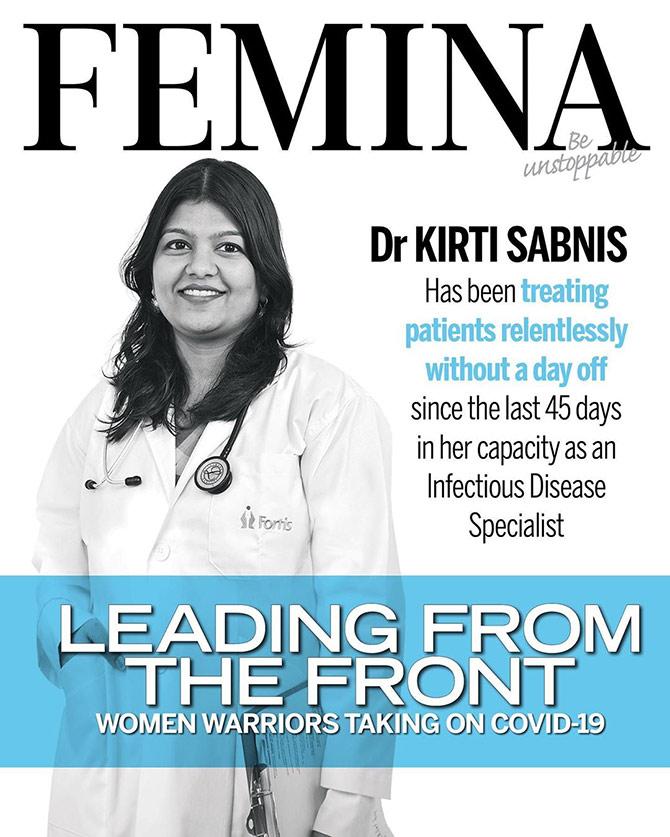 Dr Kirti Sabnis, an infectious disease specialist, trained at Christian Medical College, Vellore is dealing with scores of COVID-19 suspects at the hospital's OPD.
Her job involves convincing and testing patients and relatives for possibility of viral infections.
Dr Sabnis has been working without a break for the past 45 days.
The special issue also features stories of 10 such remarkable women who nursed the patients, aided the elderly, helped the homeless and consoled families in lockdown. These include Anagha Paralikar, Luna Chatterjee, Berryl Sanchis, Ruzan Khambatta, Dr Tanu Singhal, Shobha Tharoor Srinivasan, Toolika Gupta, Kirthi Jayakumar, Dr Swati Rajagopal and Anita Das Basak.