The fashion police fell head over heels for the yellow Emilio Pucci gown the US First Lady wore for Narendra Modi's White House visit.
But then the former Slovenian model rarely gets it wrong.
Photograph: Carlos Barria/Reuters
United States First Lady Melania Trump, who generally sticks to sheath dresses, fit and flare frocks and classic evening wear, chose to don bright yellow floral dress by Emilio Pucci, which retails at $2,160, for Prime Minister Narendra Modi's White House visit.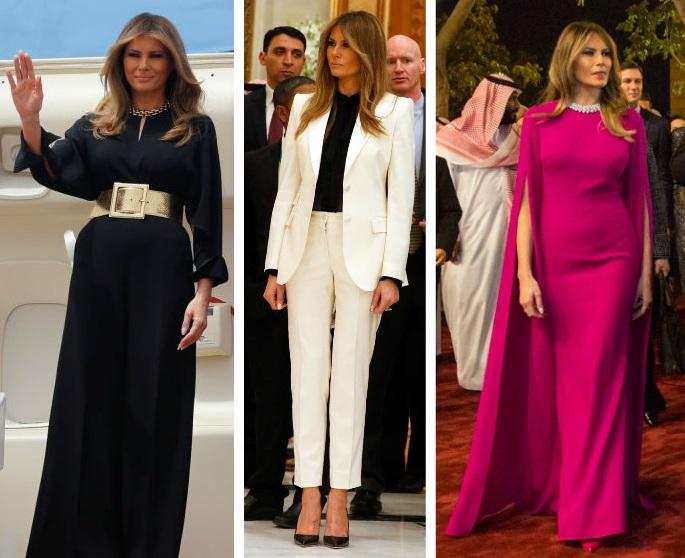 Photographs: Jonathan Ernst/Reuters and Shealah Craighead/White House
Melania donned a black Stella McCartney jumpsuit with an oversize gold belt from Saint Laurent, Dolce & Gabbana's white suit and blouse with Manolo Blahnik snakeskin stilettos, and a Reem Acra caped gown when she accompanied her husband, US President Donald Trump, for his engagements with King Salman bin Abdulaziz Al Saud of Saudi Arabia in Riyadh.
But more than the designers she chose, her wardrobe choices during this visit was defined by the fact that she did not cover her head. The Islamic nation has a very strict dressing code for the women in the country.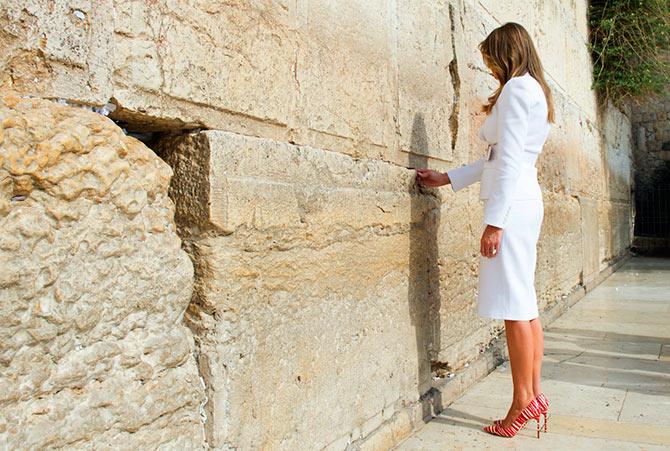 Photograph: Andrea Hanks/White House
Melania places a prayer in-between the stone blocks of the Western Wall in Jerusalem.
She sported the same white Michael Kors Collection suit and Manolo Blahnik's red and white striped stilettos for her meeting with Israel's Prime Minister Benjamin Netanyahu and his wife Sara.
For dinner festivities during the trip she had picked a modified version of a Dolce & Gabbana's lace and tulle dress from Fall 2016.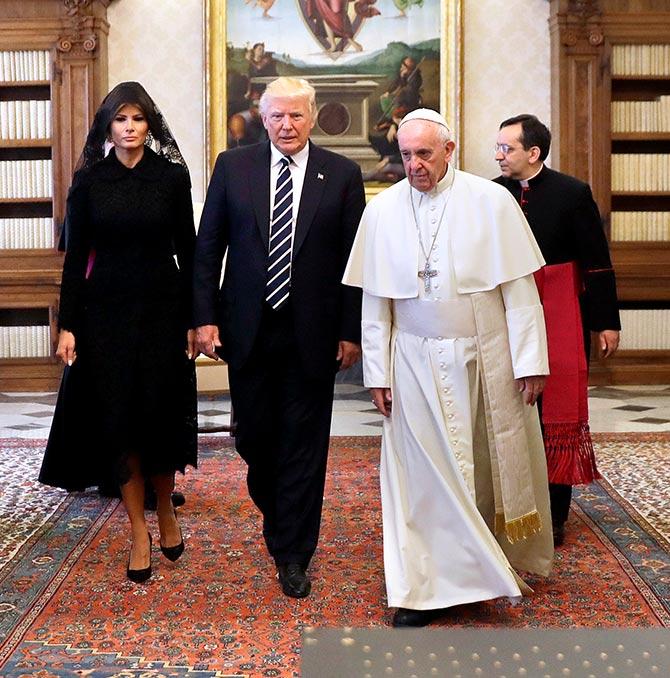 Photograph: Alessandra Tarantino/Reuters
Melania, like Michelle Obama before her, left behind her defiance in Saudi Arabia when she met the Pope at the Vatican.
She wore the traditionally dictated black dress with long sleeves and a black veil. Only hers was a Dolce & Gabana.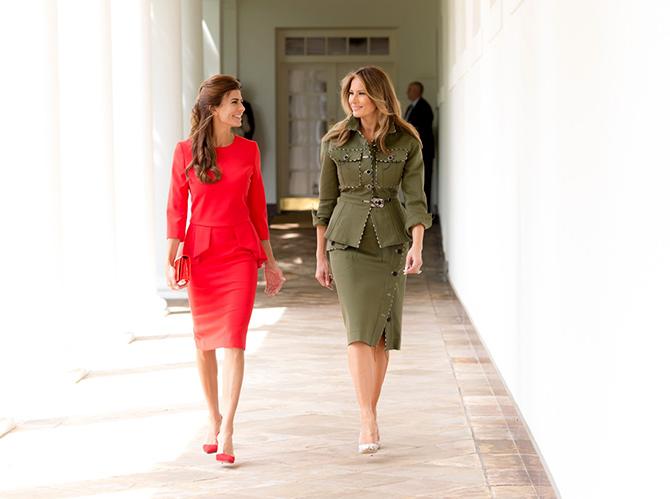 Photograph: Shealah Craighead/White House
FLOTUS picked from the Altuzarra Spring 2017 runway collection for her husband's meeting with Argentine President Mauricio Macri and his wife Juliana Awada.
The 'Feday' gabardine military jacket with python-print piping and the matching 'Curry' skirt cost $4,115.
She paired the outfit with Manolo Blahnik snakeskin BB pumps.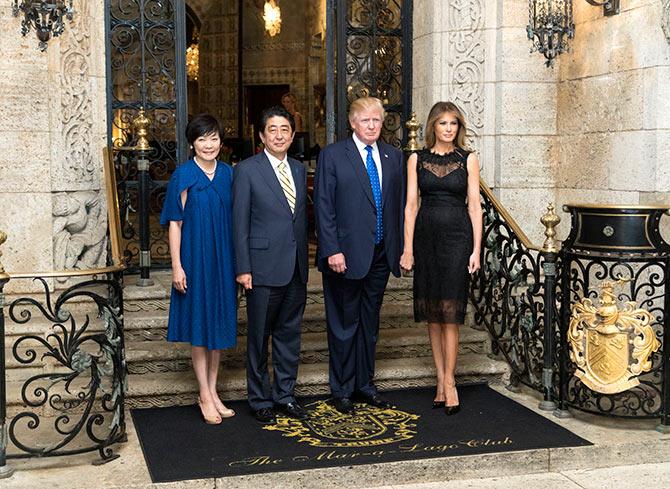 Photograph: Shealah Craighead/White House
Melania joined Donald in a lacy black dress paired with Louboutin pumps for the photo-op with Japanese Prime Minister Shinzo Abe and his wife Akie Abe in Florida.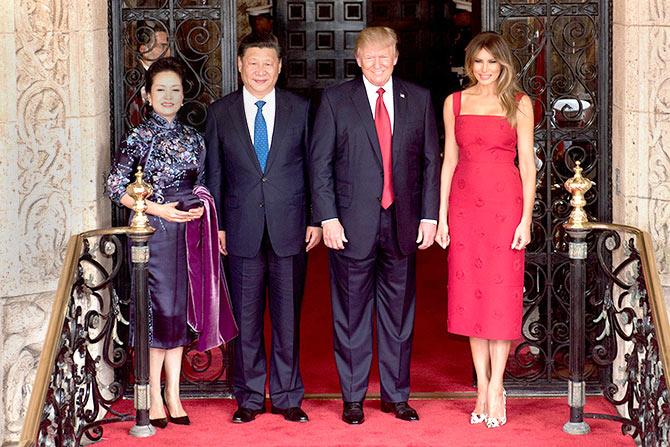 Photograph: D Myles Cullen/White House
Melania's red Valentino dress, which cost a whopping $5,500, was seen as a tribute to China when Chinese President Xi Jinping and his wife Peng Liyuan met her and Donald Trump in Florida.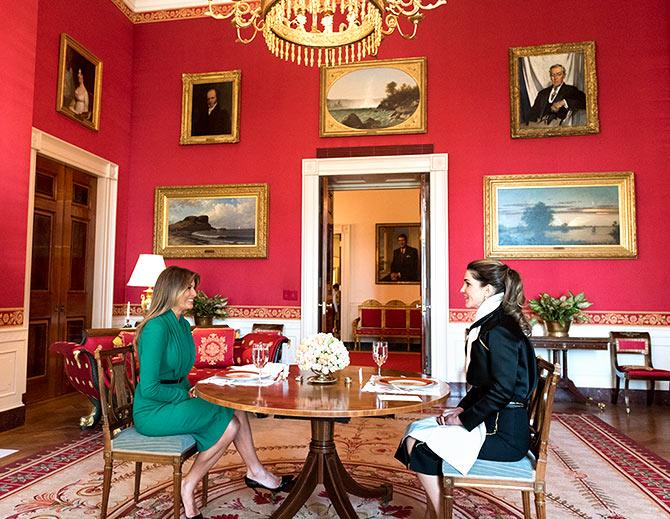 Photograph: Joyce Boghosian/White House
Melania put her faith in Hervé Pierre when she and POTUS hosted King Abdullah and Queen Rania Al-Abdullah of Jordan.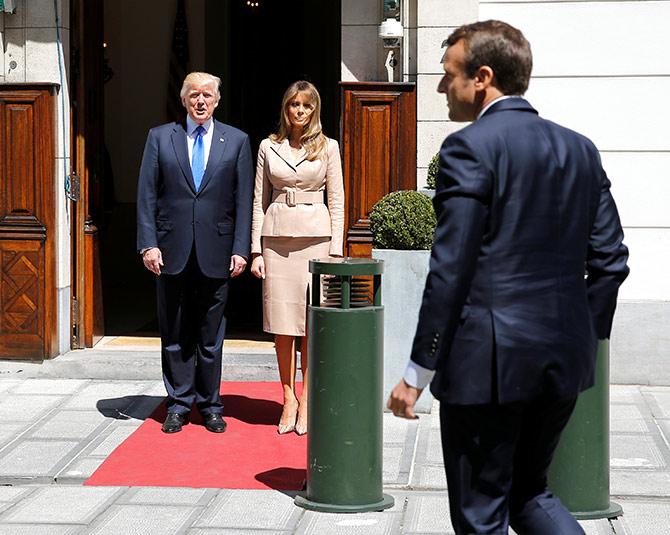 Photograph: Jonathan Ernst/Reuters
On the day Donald Trump met French President Emmanuel Macron on the sidelines of the NATO Summit in Brussels, Melania opted for a beige skirt suit by Belgian designer Maison Ullens and Manolo Blahnik snakeskin heels.