United States President Donald Trump on Wednesday met Pope Francis at the Vatican in a keenly-anticipated first face-to-face encounter between two world leaders.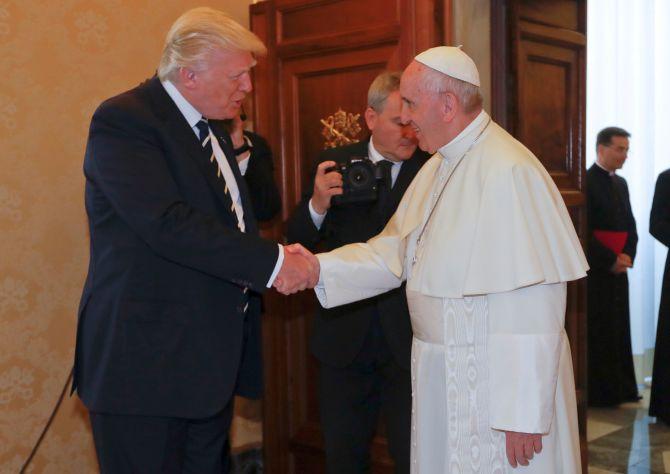 IMAGE: US President Donald Trump shakes hand with Pope Francis during a private audience at the Vatican. Photograph: Alessandra Tarantino/Reuters/Pool
Trump arrived for the meeting along with his wife Melania, daughter Ivanka and son-in-law Jared Kushner.
The private audience with the pontiff was preceded by a cordial handshake for the cameras.
The two leader spoke privately for about 20 minutes.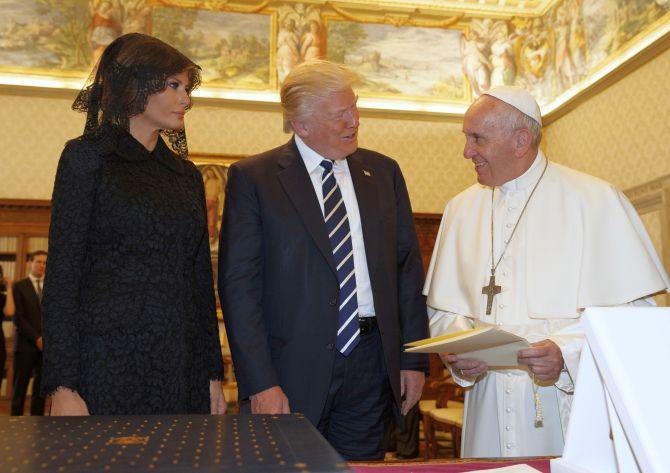 IMAGE: Trump and first lady Melania interact with the Pope. Photograph: Evan Vucci/Reuters/Pool
Journalists who covered the initial greeting said the pair were cordial with each other and Trump told the Pope "it is a great honour".
The meeting came on the third leg of Trump's first overseas trip as president, which has already taken him to Saudi Arabia and to Israel and the Palestinian territories.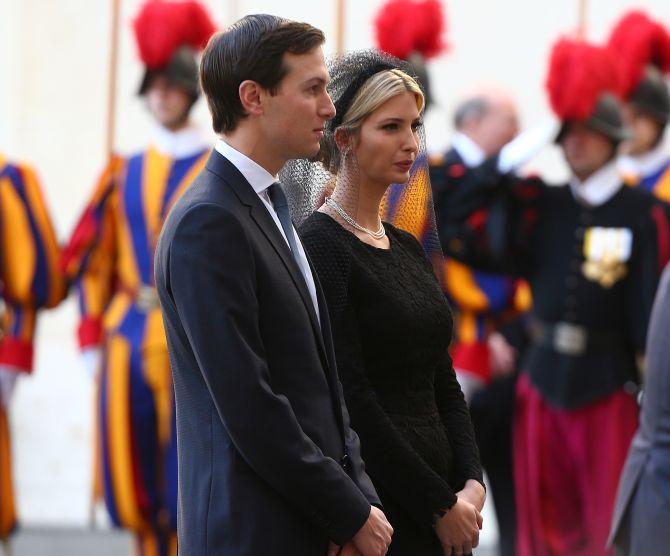 IMAGE: Trump's son-in-law and White House senior advisor Jared Kushner and his wife Ivanka Trump accompanied the US President to meet the Pope. Photograph: Alessandro Bianchi/Reuters/Pool
The two men had never met before Wednesday but they have significant history having clashed publicly over subjects ranging from migration to unbridled capitalism and climate change.
Trump is now due to meet Italy's president and prime minister.
Trump is due to fly to Brussels on Wednesday afternoon for meetings with EU and NATO officials before returning to Italy late Thursday for the G7 summit in Sicily on Friday and Saturday.