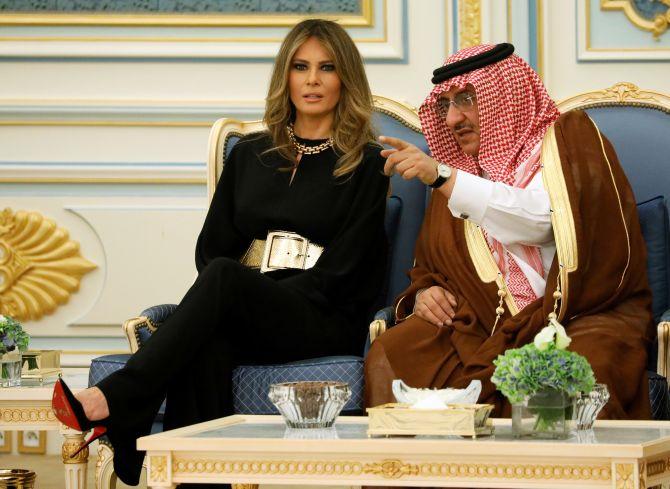 United States First Lady Melania Trump decided not to wear a headscarf while accompanying her husband President Donald Trump on his first state visit to Saudi Arabia.
Her decision, gaining attention on the social media, is consistent with custom for female foreign dignitaries visiting the kingdom.
British Prime Minister Theresa May and German Chancellor Angela Merkel also shunned head coverings during visits this year.
Incidentally, Trump had criticised former first lady Michelle Obama for not wearing a headscarf during her visit to Saudi Arabia in January 2015 with then President Barack Obama.
'Many people are saying it was wonderful that Mrs Obama refused to wear a scarf in Saudi Arabia, but they were insulted. We have enuf enemies (sic),' he had tweeted.
Trump's daughter, Ivanka, a senior White House adviser who is accompanying her father, also did not cover her head.
Under the kingdom's strict dress code for women, Saudi women and most female visitors are required to wear a loose, black robe, known as an abaya, in public.
Most women in Saudi also cover their hair and face with a veil.
But covering one's head is not required for foreigners, and some Western women choose to forego the headscarf while in Saudi Arabia.
As Obama's secretary of state, Hillary Clinton also did not cover her head on visits to Saudi Arabia.
IMAGE: US first lady Melania Trump with Saudi Arabia's Crown Prince Muhammad bin Nayef at the Royal Court in Riyadh on saturday. Photograph: Jonathan Ernst/Reuters