<p">On the occasion of Mother's Day, let's talk about cricketer Irfan Pathan's memories of his mother Shamim Banu's cooking.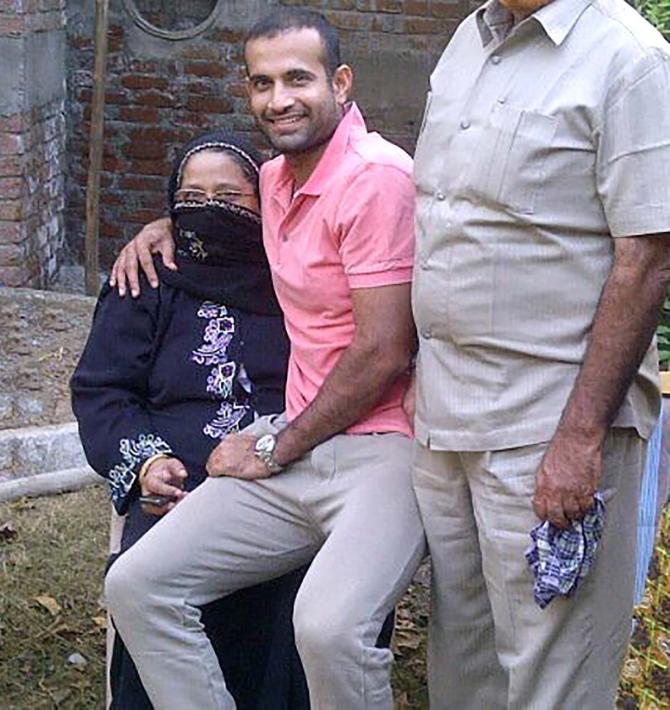 The happiest food-related memory from Irfan Pathan's childhood is that of breakfast and his memories of the super food his Ammi cooked.
The cricketer's mornings would begin with his Ammi's hot rotis, smeared with oil, which would be dipped into cups of steaming hot chai and relished by Irfan and his brother Yusuf before heading off to school.
The family was experiencing financial difficulties during those years and their father worked 12-14 hours a day to get a salary of ₹3,500. Having three meals a day was a big deal for them back then, and so the humble breakfast of hot rotis drizzled with oil was much anticipated.
The family's difficult times have been left far behind, but till date his Ammi's rotis continue to be Irfan's favourite.
The oil has been replaced with ghee, 'but the memories of the family -- my brother, sister, parents and I -- sitting together and enjoying our nashta, in our simple home, still brings happiness to my heart,' he says.
In Sudha Menon's book Recipes For Life, the talented swing and seam bowler from Vadodara gives his fans a glimpse of the meals he ate during his growing up years.
An excerpt from the book along with the recipe of Irfan's mother's Lamb Biryani.
Do check the note below for vegetarian pairings with the biryani.
---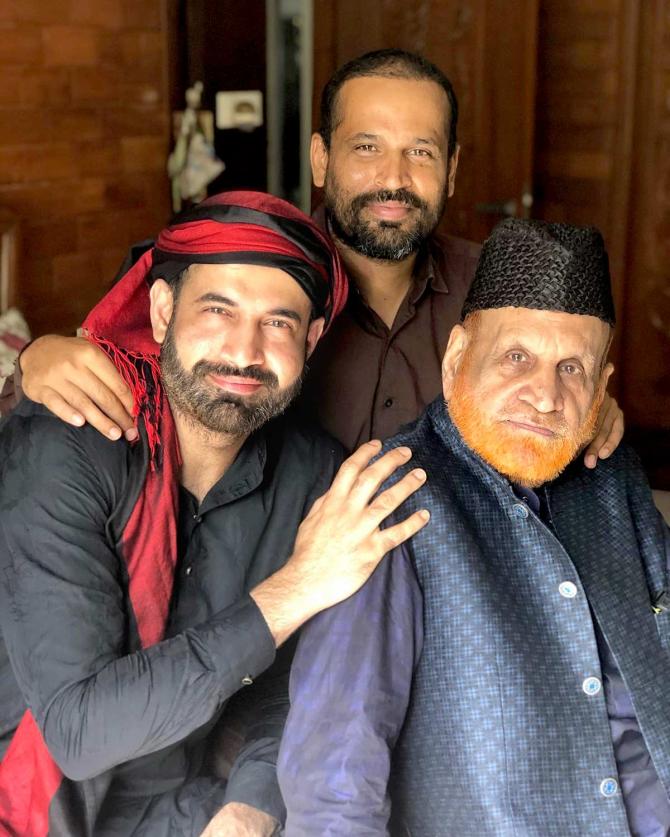 On some days, Ammi would make a green dhaniya (coriander) and chilli chutney, and we would have it for the next couple of days with our rotis and for dinner, with khichdi.
Carrying lunch to school was a luxury for us. We settled for one nashta (snack) daily.
If we were lucky, we got pocket money of 50 paise, with which we would buy a samosa or masala aloo from a vendor outside the school.
If not, the main meal was dinner, and it would mostly be a vegetable salan and bhindi or tinde ki subzi.
Aloo was a regular in our household because it was cheap and also filling, and our meals were often potato subzi with rice and dhaniya chutney.
Ammi was a brilliant cook and used whatever she had in the kitchen to make tasty meals for us. She made this delicious subzi, with potatoes, eggplant, methi leaves, fresh green tuvar (pigeon peas) and green chillies, that I can have every single day even today.
Ammi's biryani was amazing and a rare treat -- a luxury for us because we could not afford to buy meat and other ingredients for it. As kids, we would wait for Eid so that we could enjoy her biryani and sheer khurma.
Eid was a busy, happy day at home because our relatives would come over to greet us; everybody would eat together and go to the mela to have fun.
Ammi would prepare for her feast days in advance, and we kids would help her get the ingredients for the biryani together.
During the 2007 India-Australia series, we were playing a match in Baroda, and Ammi prepared her signature biryani for the team.
Twenty-five members of the team relished her biryani that day. To my great surprise, and to Ammi's great delight, Sachin (Tendulkar) expressed his desire to eat the same biryani the next day too.
He said that biryani always tastes better the day after it is made. Unfortunately, there was no biryani left from the previous day, but Ammi was more than happy to prepare it for Sachin all over again.
---
Shamim Banu Pathan's Lamb Biryani
Serves: 4-5
Ingredients
1 kg basmati rice
3 l water
1½ kg lamb
Ghee/oil for frying the lamb
750 gm onion, sliced
250 gm sour yoghurt
Juice of 3 large lemons
Handful mint
Handful green dhania or coriander or cilantro leaves
100 gm green chillies or depending on how spicy you want the dish to be, pounded to a paste
1 tsp red chilly powder
1 tbsp dhania or coriander powder
½ tsp haldi or turmeric powder
5 long or cloves
4 slightly crushed green elaichi or cardamom pods
1 tsp jeera or cumin seeds
2 tbsp ginger-garlic paste
2-3 tsp ghee for the coal
Few pieces of coal
Oil to fry onions
Salt to taste
Few strands of kesar or saffron
2-3 tsp milk
Method
Wash and chop the lamb.
Heat the ghee or oil in a pressure cooker, toss in the whole spices and roast the lamb along with the ginger-garlic, green chilly paste, red chilly powder, coriander powder, turmeric powder, salt.
When this is well roasted and starts changing colour, pressure cook for 4 whistles.
If you like the lamb to be very tender, a couple of whistles more would be fine.
Check if the meat is tender and allow it to cool.
Separately, fry the onions in hot oil till crisp and golden brown to make the birista or fried onions and reserve oil.
Then add a mixture the yoghurt and the birista to the lamb gravy along with the coriander leaves, mint leaves, lemon juice.
Place a piece of burning coal in the gravy and add a teaspoon of ghee on the coal and immediately cover the utensil to give it a beautiful, smoked flavour.
Preparing the rice for the biryani
Wash and soak the basmati rice for an hour.
Parboil the rice in 3 litres of water along with 2 tbs salt.
Strain the rice.
Add a layer of rice to your non-stick utensil, and then add a layer of the mutton gravy. Make a couple more layers.
Pour the oil leftover from frying the birista on the top of the final layer of rice and place a couple of burning coals on it.
Pour a couple of tsp of ghee or oil on the burning coals and quickly place a lid over it to give the dish a smoky fragrance.
Add the saffron strands mixed with the milk and pour it on the rice to make it aromatic.
Note: Need to cook something vegetarian alongside the Lamb Biryani? Try Manasi Sadarangani's Vegetable Pot Biryani.
If on a diabetic or low carb diet, opt to have the lamb curry of the biryani layered with red rice, millets or quinoa.
Excerpted from Recipes For Life by Sudha Menon with kind permission from the publishers Penguin Random House India.