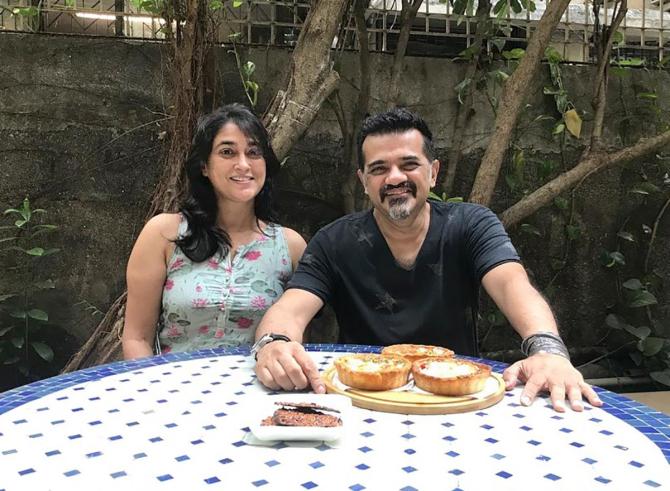 Brownies are hot right now, and so is Aadore Dalmia Sayani who has been baking some of the yummiest, gooiest, tastiest brownies in Mumbai.
Her clients include Ameen Sayani, her grand-uncle, Dolly Thakore, Shazahn Padamsee, Quasar Thakore-Padamsee, Ehsaan Noorani and Kitu Gidwani, to name a few.
Aadore -- whose grandfather is the late broadcaster Hamid Sayani; her mother is film-maker Ayesha 'Pooh' Sayani -- founded Sleight of Hand way back in 1998 with just one brownie -- her famous chocolate brownie.
Loved through generations, her bakery, which is known for its delicious baked goodies, turns 25 next year.
Like almost every next brownie maker, Aadore's story started in her home, where she baked brownies in the only baking tray she owned.
The occasion was her grand-aunt's birthday. "It was a Sunday and we suddenly decided to go out. I didn't have a gift. So I decided to bake her a brownie."
She was unsure if people would like the brownie, but everyone loved it so much that they suggested she sold it.
She initially started off at home and then moved into her mom's old office, which was lying vacant.
"It was a good decision, because then my personal life and business were separate," she says.
"People got to know about my brownies the first Diwali after I started. Because my mom decided to distribute my brownies instead of mithai."
"The first time I made the chocolate chip cookies, it was for a client."
"My neighbour liked it, but wanted more chocolate. That's how my double chocolate chip cookies were created," she reveals.
None of Aadore's parents were into baking. Her family is basically into film, theatre and art.
Her father enjoyed photography, and also taught English for some time. He loved to travel.
Her mother took over her grandfather's business of ad-film making and radio.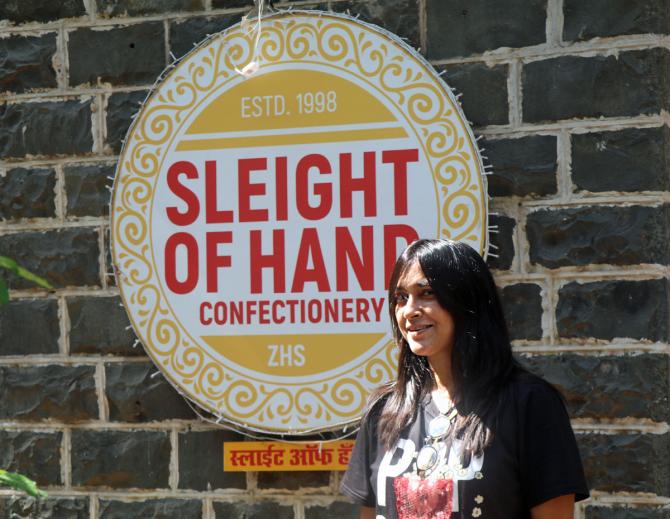 Aadore was very close to her maternal grandmother, who passed away in 1996. At that time, she was studying at HAFT, Mumbai.
Post her nani's demise, Adore continued to bake for her. "When she was alive, my nani loved it when I came home with all baked goodies.
"She really encouraged me and always looked forward to my goodies.
"Whenever I used to bake after my nani's death, I'd keep telling her, 'This is for you.'
Aadore's nani was the chef of the family. "When she was bedridden, to keep herself busy and teach me, nani set up a stove in one end of her room.
"I was in boarding school, so whenever I'd come home, she would say, 'Come, let's bake something.'
"Then from her bed she would guide me. She was so good that just by the sounds and smell she would tell me what to do next."
The two would sometimes make fudge, stews and chocolate desserts, and that's probably from where Aadore inherited her love for baking.
WATCH: Aadore Dalmia Sayani shares her baking journey and tells Rajesh Karkera/Rediff.com what makes her brownies so special.
Aadore's bakery is called Sleight of Hand, because it is from the divine being. "I feel my ancestors are guiding me all the time."
Aadore went to the Blue Mountain School in Ooty. When she came to Bombay, she studied at St Xavier's College.
"While I was in college, I was designing lights on stage. After college, my family needed some focus. So, I was put to work at Lintas (the advertising agency).
"Then I thought I'd be interested in editing. I did production, but didn't enjoy it.
"My family suggested that I do something in food. So, I worked in a kitchen and then went to HAFT.
"I trained at the President in Mumbai, and later went to the French Culinary Institute in New York.
"The course was mainly about food and not baking. I learnt basic things like how to boil water, how to plate, etc."
There was a time when Adore felt she was a big disaster at baking. "I don't know what changed," she laughs. "I was just lousy."
"Also, I was made to think I was not good at baking by certain people, and probably that's why I was not confident of my baking skills."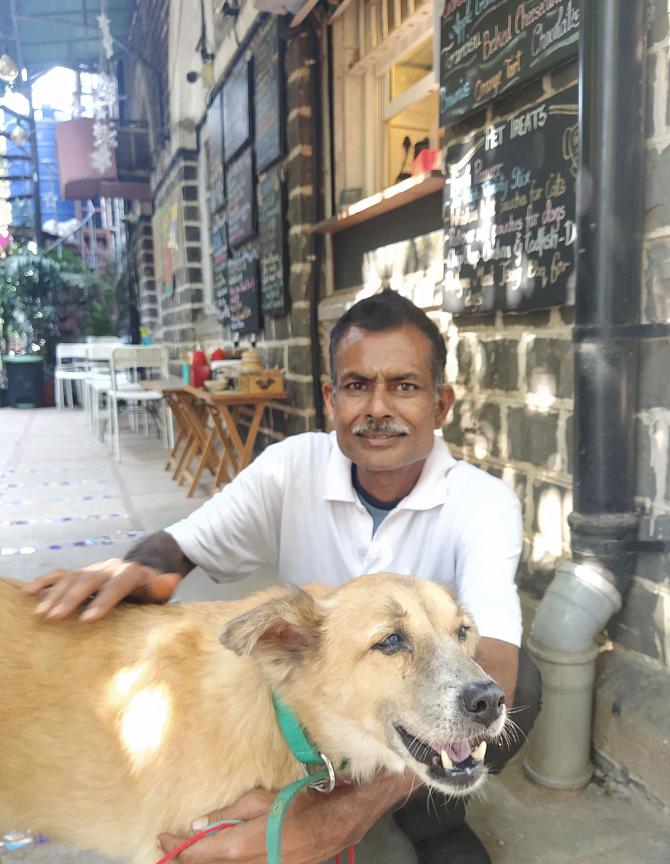 Right now Sleight of Hand has 36 flavours of brownies. You'll find most of them stocked up in the counter.
The seasonal, popular ones offer up a spot of excitement in the form of specials, and customers can also places orders for customized brownies.
The cafe is also whipping up gluten-free and vegan brownies.
When quizzed about her secret of success, Aadore says, "I have remained pretty small. I haven't actually expanded. That keeps me consistent.
"I am enjoying what I do right now -- eating, tasting and baking.
"I am very happy in the kitchen and I love meeting people at the cafe. That's what kept me going."
Those who find themselves at the cafe are greeted by Aadore's pleasant smile.
"I'm quite chilled out," she laughs. "Customers love coming to my cafe as they find me very friendly."
Through the years, the quality of her products has remained the same and that's possibly why people still flock to the cafe, which is pet friendly.
"We have just started savoury stuff that we didn't have before like quiches, sandwiches, salads and burgers.
"Initially I was doing only brownies. Then I got to doing cookies, biscotti, florentine cookies and now, I even have beverages."
The hot chocolate at Sleight of Hand is a favourite, and their salads and sandwiches are fresh out off the kitchen. There's a prawn cocktail for seafood lovers.
WATCH: Aadore takes Rajesh Karkera/Rediff.com around Sleight of Hand.
The lockdown was very tough on Aadore and her team.
"I couldn't let people go. I have three people in the kitchen and three in the cafe."
However, post the lockdown, Aadore opened a little sit out area outside the cafe, which means people can relax and unwind as they enjoy the baked goodies.
Business is slow, but regardless of that the cafe stays committed to making the best products.
"I don't know where I am headed in the next few years," admits Aadore, revealing that she is the kind of person who goes with the flow.
"I'd love to do better, because I have staff to take care of and I have been looking after stray dogs and cats as well.
"Earlier, I used to make food and feed them. Now, I have help to cook the food. I also have a feeder who goes around feeding them."
Sharing her advice for aspiring bakers, the enthusiastic baker says, "You have to see what makes you happy.
"You should be open to experiment. Also I feel that your senses and palate needs to be sensitive to taste, smell and textures."