Ultimately, the choice between no-cost EMI and BNPL depends on an individual's financial situation, preferences, and ability to manage repayments responsibly.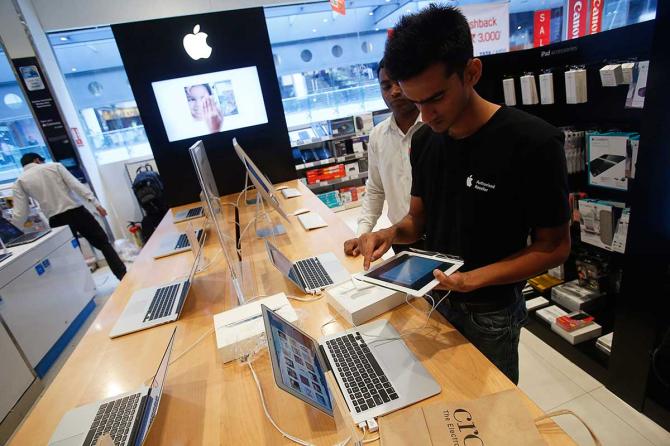 It is festival season, and many retailers are advertising various easy payment options -- no-cost or zero-cost EMI (equated monthly instalment) schemes, buy now, pay later (BNPL), and so on.
But are you sure you fully understand how these work?
Before you avail of these attractive-looking options, there are a few things you should know about them.
No-cost EMI
No-cost EMIs involve an interest subvention between merchants and issuers of payment modes, enabling EMI options for buyers at zero effective interest.
Adhil Shetty, CEO, Bankbazaar, says: "They give customers a double advantage. They get to buy a product in instalments instead of making entire payment upfront. And they do not have to pay any additional interest for this."
For instance, if a customer purchases a TV set worth Rs 50,000 and opts for a repayment tenure of six months, they would have to pay a monthly instalment of Rs 8333.33 under the no-cost EMI option.
So, the total cost over six months here is the same as full upfront payment.
Note, however, that a no-cost EMI does not waive interest costs. This cost is borne by manufacturers and merchants instead of customers.
In other words, they take a hit on their margins (which they hope to recover through higher volumes).
Another important point to note is that you may, at times, not get certain discounts that you would have if you made upfront payment -- cash, after all, is still king.
In some cases, a customer availing of a no-cost EMI loses out on some benefits. Sometimes the interest cost is added to the price and the customer is required to pay this higher amount in six instalments.
Non-cost EMI: Pros and cons
One primary advantage of a no-cost EMI is that it enhances people's convenience. It enables cost-effective purchase of high-value items, with predictable fixed monthly payments.
Bankbazaar's Shetty adds: "Some of the offers tied to no-cost EMIs may reduce the cost of purchase.
"Second, it will also allow you to stagger payments so that your regular expenses are not stressed due to a large purchase, making it easier for you to plan purchases."
Moreover, it can also be used to make emergency purchases without upsetting your monthly budget.
As for cons, Gaurav Chopra, founder & CEO of IndiaLends, says: "No-cost EMI is not universally available, and some options may include processing fees. An important thing to mention here is that making timely payments is crucial to avoid penalties and protect your credit score."
Things to keep in mind
Understand the terms and conditions of the EMI offer. Make sure there are no additional or hidden charges.
Raoul Kapoor, Co-CEO, Andromeda Sales and Distribution, says: "Check if the product you want to purchase is eligible for a no-cost EMI. Ensure you have the necessary credit approval or a compatible credit card."
BNPL
BNPL is a payment option that enables consumers to make a purchase and defer the payment for a specified period.
Kapoor says: "It allows customers to receive the product immediately and pay for it at a later date; either you can pay it lump-sum or with flexible repayment options, including no-cost EMIs."
How BNPL works
What differentiates BNPL from no-cost EMIs is that BNPL payment options can be availed of even when a user does not have a credit or debit card.
Rohit Chhibbar, head of credit cards business, Paisabazaar, says: "Popular e-commerce platforms extend their own BNPL facility. In addition, several other BNPL apps offer credit facilities across multiple online portals and even offline stores.
"On the other hand, no-cost EMIs are often offered through the user's own credit or debit card under a merchant-issuer tie-up.
BNPL: Pros and cons
BNPL loans have gained popularity in the past few years because they allow customers to pay at their convenience while also opting for a BNPL loan through an online and offline channel.
Akshay Mehrotra, co-founder and CEO of Fibe, says: "BNPL often offers no-cost EMI options. BNPL is a good option for new-to-credit consumers who do not have a past credit history."
One disadvantage is the possibility of accumulating debt if not managed responsibly.
Kapoor says: "Some providers may charge late fees or interest if not paid within the agreed timeframe. It may also encourage impulsive spending."
Things to keep in mind
Responsible use is critical in preventing impulsive overspending when utilising BNPL services.
Chopra says: "To maintain control over your finances, it is crucial to monitor due dates, thereby avoiding any late-payment charges that might accrue.
"Besides, it's equally important to be well-informed about any interest or fees associated with your chosen BNPL option, as not all are entirely interest-free."
Kapoor adds, "Choose a reputable BNPL provider with clear terms and conditions."
Set a budget and use BNPL only for essential or planned purchases.
Mehrotra says: "One of the best tips is to avoid overspending and keep track of budgeting in order to avoid an impact on credit score."
Which option, and when?
If you wish to make a big-ticket purchase on EMI without having to pay additional charges, no-cost EMI would be the right choice for you.
A no-cost EMI scheme is better than converting credit card purchases into EMIs, where the interest cost can go as high as 20 to 25 per cent (for a few cards, the cost could be lower).
Down payments are also required sometimes. You should avoid these offers if the seller asks for a down payment and collects 12 instalments over 12 months. The down payment becomes the interest payment.
Both BNPL and no-cost EMIs can be helpful for users who have insufficient funds at hand to make a high-ticket essential purchase, allowing them to defer the cost over a few months.
Chhibbar says: "Before opting for any of these, users must keep in mind certain things like charges applicable to prepayment, foreclosure, late payment charges, GST, etc. Also, these payment options come with varying tenures, such as three, six, nine or 12 months."
Consumers should choose a tenure that makes EMI payments more manageable without putting too much burden on their monthly cash flow.
Also, choosing a BNPL option may prove somewhat cumbersome for the consumer, as it often entails an initial registration and the processing of an application within the BNPL app -- this is in contrast with the straightforward nature of no-cost EMIs, which can be seamlessly linked to your pre-existing credit or debit card.
Chopra says: "BNPL suits those who prioritise immediate product access and flexible payment schedules, although it requires careful financial management to prevent accumulating outstanding payments.
"Consumers can choose the option based on their financial requirements and repayment abilities.
"The BNPL mode of payment is popular among younger generations and Gen Z, besides new-to-credit consumers," says Mehrotra.
Ultimately, the choice between no-cost EMI and BNPL depends on an individual's financial situation, preferences, and ability to manage repayments responsibly.
THE MATHS OF NO-COST EMI
Suppose that you buy a laptop worth Rs 1 lakh and the interest cost is 12 per cent. And then you are offered a 6-month EMI plan where the interest cost comes to Rs 6,000.
In the first scenario, the manufacturer and the merchant take a cut on their margins to pay this amount.
In the second, the merchant would have given you a discount of Rs 6,000 if you had paid lump-sum. Instead, it pays this amount to the bank (with which it has a tie-up for offering this scheme).
Now, there could also be a third scenario, where the interest cost is first added to the price (which becomes Rs 1.06 lakh) and the customer is asked to pay this higher amount in six instalments (of Rs 17,667 each).
---
Disclaimer: This article is meant for information purposes only. This article and information do not constitute a distribution, an endorsement, an investment advice, an offer to buy or sell or the solicitation of an offer to buy or sell any securities/schemes or any other financial products/investment products mentioned in this article to influence the opinion or behaviour of the investors/recipients.
Any use of the information/any investment and investment related decisions of the investors/recipients are at their sole discretion and risk. Any advice herein is made on a general basis and does not take into account the specific investment objectives of the specific person or group of persons. Opinions expressed herein are subject to change without notice.
Feature Presentation: Ashish Narsale/Rediff.com