'A majority of Indian vegetarians consume food items that contain more than 60 per cent of carbohydrates -- which is high.'
'Having refined carbohydrates -- such as maida -- in excess is not really healthy.'
'Vegetarian diets can be healthy only if they are carefully planned to include essential nutrients.'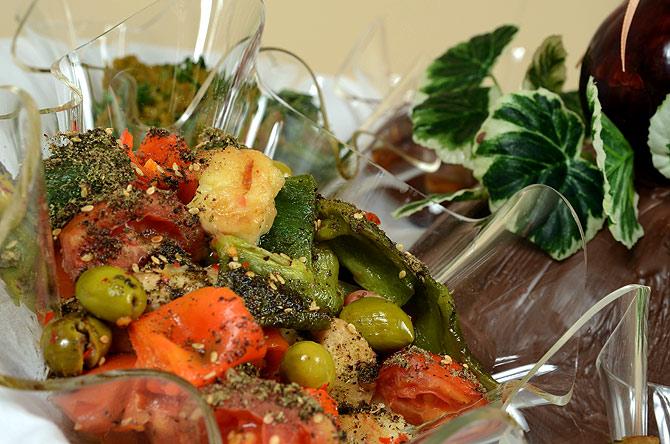 R
ecently, Union Health Minister J P Nadda said that consuming a vegetarian diet prevents health problems. He then went on to list out the benefits of vegetarian food.
He also added that vegetarians lead healthier lives compared to meat eaters.
In an interview, Professor Anoop Misra, chairman, Fortis C-DOC Centre of Excellence for Diabetes, Metabolic Diseases and Endocrinology, tells Shivam Saini how a vegetarian diet fares against meat, especially in processed form.
Health Minister J P Nadda, in a written reply in the Lok Sabha, recently said that vegetarians lead healthier lives compared to meat eaters. So, what kind of health risks do meat eaters face?
A high intake of red meat and processed meat increases the risk of heart diseases, Colorectal cancer and Type-2 diabetes in both men and women.
Besides, sodium used in processed meat may also heighten the risk of cardiovascular diseases through its effect on blood pressure.
In 2015, the World Health Organisation also classified processed meat as 'carcinogenic'.
What do you think of the risks that processed meat available in India poses?
There is no doubt that processed meat contains many harmful chemicals that are not naturally present in fresh meat.
But it's not clear whether Indian meat dishes sold as frozen food would be included in that warning.
It's often pointed out that vegetarians are at lower risk for problems such as diabetes, cardiovascular diseases, hypertension, cancer, etc. What do you think?
There is strong evidence to suggest that vegetarians have lower rates of coronary heart disease (which causes heart attack); lower LDL (low-density lipoprotein) cholesterol; and lower levels of hypertension, diabetes and obesity in controlled trials.
In fact, compared to non-vegetarian diets, vegetarian diets contain lower levels of total fat, saturated fat and cholesterol.
However, it is important to note that very few people, including in India, stick to what is considered a 'healthy vegetarian diet'. Only a few sects -- such as Seventh Day Adventists and Jains in India -- strictly follow a vegan diet.
Are vegetarian diets in India any better than non-vegetarian diets?
Vegetarian diets can be healthy and nutritionally sound only if they are carefully planned to include essential nutrients.
In some situations, however, vegetarian diets are clearly unhealthy. Take, for instance, the carbohydrate content. A majority of Indian vegetarians consume food items that contain more than 60 per cent of carbohydrates -- which is high. Also, having refined carbohydrates -- such as maida -- in excess is not really healthy.
Apart from that, the cooking oil that one uses also matters. Many Indians cook their food in oil that contains high levels of trans fats. Also, it is not advisable to fry your food in oil that is then reheated to cook several times -- a common practice found in most homes, restaurants and among roadside vendors.
Excessive amounts of sugar and salt in a vegetarian diet are not a good idea either.
But most vegetarians in India follow these practices. As a result, many tend to develop diabetes and heart diseases early.
Moreover, vegetarian diets are low in first-class protein (proteins from animals, which provide all the essential amino acids, including those that the body cannot make), omega-3 fatty acids (which helps build nerves and protects the heart) and vitamin B12. Having said that, no one diet could be prescribed for all.
A diet prescription varies from person to person, depending on one's clinical profile, family medical history, weight and so on.
What constitutes a healthy -- and safe -- non-vegetarian diet?
The healthiest non-vegetarian foods include fish and eggs. Fish such as salmon, tuna and mackerel are high in protein and omega-3 fatty acids. Consuming lean chicken meat occasionally is also acceptable.
Lead image: Kind courtesy Fadyatef/Creative Commons