One Chinaman is three time more productive than an Indian at the workplace through his life, observes Virender Kapoor.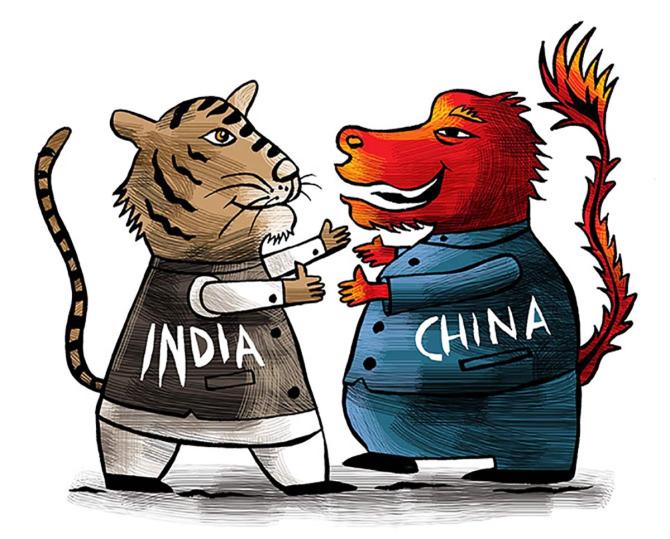 I remember in early 1990s, Chinese products were cheap, but not durable.
If a Chinese pen lasted a few months one would be happy.
While German and European products were built to last, quality and finesse was not the Chinese's cup of green tea.
The Chinese somewhere down the line realised this and to be able to conquer the world, they started improving their quality yet maintaining the low cost.
These things were not achieved overnight and this transition was in 'work in progress' for decades till it became a norm.
They knew that productivity quotient (PQ) of their work force was high and they had a low maintenance, disciplined and hardworking work force offering more bang for the buck.
Cheap hardworking labour and quality consciousness pushed the envelope towards global competitiveness. It was time to gradually diversify and this they did in a big way.
They got into every sector-from sandals to software they made diodes to huge telecom switches, advance 5G technologies and Artificial Intelligence. You name it and they had it. They literally stormed the market.
On the other hand, their closest competitor India -- with a huge workforce -- is yet to succeed in manufacturing.
If we want to beat China and become self sufficient and self sustaining it is a long way to go and first we have to understand them.
The Chinese are a very disciplined and conscientious people. They have a larger population than us, but more disciplined in every sense of the word.
I remember my personal experience with two big Chinese companies (I will not name them) where I was conducting a training programme on value-based leadership and emotional intelligence for senior management. These were two day workshops and were a good learning for me too.
Based on my interaction, my observations and impressions about the Chinese people are as follows:
1. They are very punctual
For them, a fifteen minutes break is 14.5 minutes.
9 am is five minutes to 9.
Similarly, they are very particular about meal timings. At 1 pm, all of them would disappear for lunch and be back 5 minutes before the break was over.
The key is to start early and not be late.
2. They are very hard working
The Chinese and hard working and sincere.
Some of them who attended the training with me carried electronic dictionaries to translate English to Chinese, in case they failed to understand some English word!
Indians in the company would vouch for their sincerity.
3. They are extremely proud of their work
They take pride in being disciplined and pay full attention.
Hard work brings honour and pride to their families.
Besides being punctual, they are well dressed.
4. Confucianism is in their culture
Chinese people believe that 'the Heavens reward diligent people' and 'the result is everything.'
Many famous Chinese tales such as the one about Mr Fool moving two big mountains extols the virtue of hard work with strong determination.
Laziness is regarded a crime. It is almost like a religion that has deeply impacted Chinese in China and overseas.
The Chinese society expects them to succeed in everything they do.
5. Pressure to perform
Blame it on the competition, but traditionally, Chinese parents put pressure on kids to work hard right from childhood.
This value continues at the workplace which explains why they love to toil hard without complaining.
6. Leader and follower relationship is very strong
The Chinese are obedient at what they do and often take notes.
Once told they follow the leader both in letter and spirit. This ability to learn and follow the team leader helps them grow and perform better as a team, delivering better results.
7. They love a '9-9-6' work regimen
Chinese professionals follow the 9 am to 9 pm work culture six days a week.
Most Indian and international coworkers find them uncomfortably hard working and sincere.
8. No nonsense attitude
It is one thing to work long hours; it is another to work sincerely for those many hours, every day.
Unlike professionals in other countries, the Chinese believe in working with a 'no-nonsense' attitude.
You will rarely see them take a smoke or strolling breaks.
Their commitment to work is 100 per cent.
9. Their philosophy is 'Collectivism versus individualism'
The Chinese make decisions depending on how they will be perceived by people around them.
While Americans and Westerners put a strong emphasis on personal goals and achievements, the Chinese think of themselves in a collective manner.
Even if the Chinese economy has taken a great leap over the last 10 years, it does not mean they will work less.
What drives the Chinese to work so hard? It is not only the pursuit of better pay and domestic economy, but also their mentality and the workplace culture.
There's a famous Chinese saying which states, 'It doesn't matter if it's a black cat or white cat as long as it catches mice'.
You must bear this in mind when you are in the middle of China's hard work culture and when dealing with Chinese employees. It's a great thing to learn.
Infosys co-founder N R Narayana Murthy in an interview said Indians need to improve their discipline and punctuality levels in order to compete with countries like China and Vietnam.
Expected Human Capital (EHC) denotes the number of years an individual can work at peak productivity between the ages of 20 and 64.
An average Indian's peak productive period lasts a mere seven years -- almost one third of that of a Chinese worker.
Among the countries ranked ahead of India are China (20 years Expected Human Capital), Russia (19 EHC), and Sri Lanka (13 EHC). Finland topped the list with 28 years.
In a nutshell, one Chinaman is three time more productive than an Indian at the workplace through his life.
To beat China at their game, not only policy, but a cultural shift is also required.
In my opinion, our prime minister should create a separate ministry focusing on work culture, leadership, values and discipline.
This department should start working from schools upwards. It might take a couple of decades to show results, but we must begin now.
Virender Kapoor is the former director of Pune's Symbiosis Institute of Management and the founder of Management Institute for Leadership and Excellence in Pune.