'I was fortunate to have served as India's ambassador to Indonesia and witnessed on several occasions, the incredible performances of the Ramayana and episodes from the Mahabharata in Jogjakarta and in Bali,' recalls former foreign secretary Shyam Saran.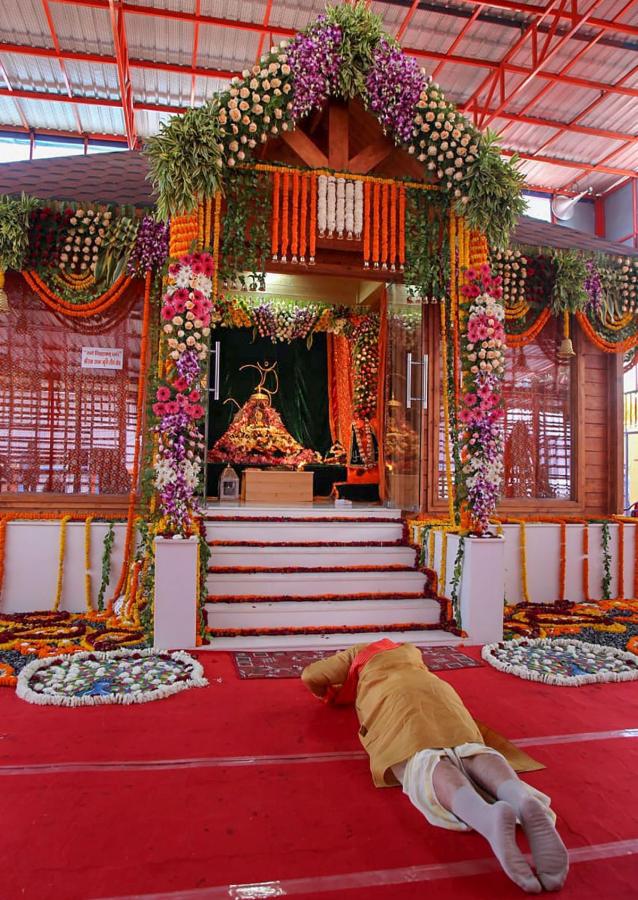 In his speech at the Ram Mandir bhoomi puja at Ayodhya on August 5, Prime Minister Narendra Modi referred to the popularity of the Ramayana in distant lands, in particular the Muslim majority countries of Indonesia and Malaysia and in other countries of South Asia and South East Asia.
The irony was perhaps lost on him that it was on the site of the criminal demolition of a mosque that a temple to celebrate Ram was being built.
Would the countries with adherents of Islam really consider the building of a temple to Ram an occasion to celebrate with the people of Hindu faith in India?
The continued popularity of the Ramayana in distant lands professing different faiths is testimony to the universal and eternal moral and ethical dilemma faced by humanity, which the Indian epics, the Ramayana and the Mahabharata, depict with such poetic eloquence.
They do this through a narrative that is instantly familiar to human beings irrespective of their religious, political or philosophical persuasion.
To trap Ram in a golden and glittering edifice is to shrink his universal appeal as a moral hero -- a Maryada Mahapurusha -- to a local deity who needs a bricks and mortar dwelling to convey his transcendent message.
If the message needs such resplendent props, it loses all spiritual content.
This the prime minister seemed unaware of even as he sought to celebrate the appeal of Ram in different cultures.
I was fortunate to have served as India's ambassador to Indonesia and witnessed on several occasions, the incredible performances of the Ramayana and episodes from the Mahabharata in Jogjakarta and in Bali.
The Ramayana was performed on a stage constructed next to the famous 9th century Prambanan temple in Jogjakarta dedicated to Trimurti or Brahma, Vishnu and Shiva.
I was given the privilege of visiting the green room tent where the artistes performing the Ramayana dance drama were rehearsing their roles and getting their colourful costumes ready.
As I was being introduced to some of the main performers, I became conscious that I was intruding during namaaz time as several artistes were doing their prostrations and invoking the blessings of Allah.
I was finally taken to a small enclosure where the star of the evening, Hanuman, was getting ready.
I stopped at the entrance when I saw that the artiste, a middle aged man, dressed in sarong and jacket, was sitting still in front of a large portrait of Lord Hanuman, depicted as flying against a blue sky, carrying Mount Dronagiri with its life giving Sanjivani buti, all the way to Sri Lanka, to revive the dying Lakshamana.
The artiste seemed to be deep in reverential meditation.
I think he became conscious of his visitors because he concluded his meditation, bowed deeply to Hanuman, and then got up and greeted me with a smile.
As we exchanged pleasantries, I asked him why he was meditating in front of the image of Lord Hanuman.
His answer was simple and direct. He was imploring Hanuman to enter into his being, infuse him with his spirit so that in all humility he could do justice to his performance.
He saw no contradiction as a Muslim, in his ready and uninhibited embrace of what, to more limited minds, may appear as apostasy.
What we in India fail to appreciate is that the awareness of a higher spirituality, the humanistic spirit embedded in the delightful stories of our epics seem better understood and celebrated in these distant lands than our own.
In Indonesia, but also during my assignments in Myanmar and Nepal, what struck me was not that India was the source of civilisational advance of our South Asiaan and South East Asian neighbours, but rather the inspirational spark which led to the profuse cultural efflorescence in these lands, moulding and transforming what they gathered from generations of Indian traders, priests and missionaries and curious travellers.
This they achieved through their own local genius, unique aesthetic sense and above all imagination.
India should take pride in this legacy but with a sense of humility.
The history of the Ramayana and Mahabharata in distant lands holds a lesson for us.
It is not by confining Ram to the narrow rituals of a religious faith that we should celebrate the universal appeal of India's spiritual and cultural legacy, but by learning about its immeasurable and intangible value from its unself-conscious and humble embrace by the Indonesian Hanuman.
Prime Minister Modi sought to equate the movement for the building of the Ram Mandir as a struggle no less significant as the struggle for India's Independence.
This is to demean both Ram and the Independence struggle.
When he said that Ram had always resided in the hearts of his bhakts, he was right.
But then why does Ram need a man-made temple to reside in? Some may say that the temple connects Indians to their past.
That it gives them a sense of continuity and identity.
But Indians have multiple identities not only in terms of faith, but also in terms of ethnic, linguistic and cultural particularities.
What the struggle for Independence did was to transcend these particularities and bind us together in a shared sense of citizenship.
Gandhi's Ram Rajya was an embodiment of this idea of India.
A Ram Rajya which needs a glorious Ram temple as its symbol is a very limiting conception of India.
To put those who struggled for India's freedom under the leadership of Mahatma Gandhi on the same pedestal as those who engaged in a criminal act of demolishing the Babri Masjid is to bring the Independence movement to the level of a violent and vulgar brawl.
History is being rewritten for sure.
But the intent is to lead us to a very different tryst with destiny that seemed possible at the midnight hour of August 14/15 in 1947.
A very diminished idea of India awaits us as these ominous events play out in all their ugly manifestations.
Feature Presentation: Aslam Hunani/Rediff.com