Remember the trees that bend during the storm will survive; the ones that try to defy and stand straight tend to get damaged and uprooted, points out management guru Virender Kapoor.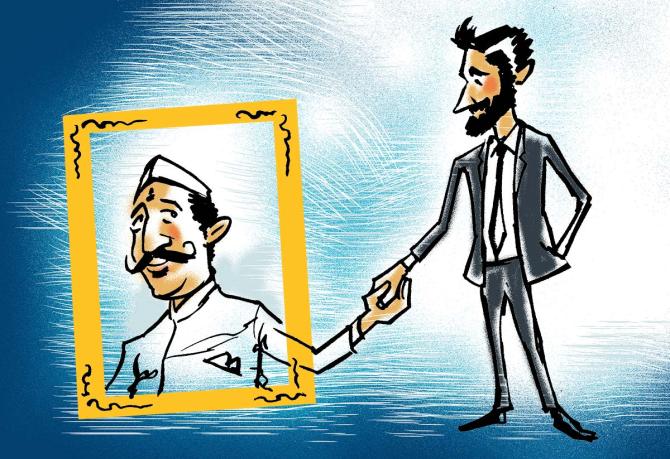 1. This will also pass
You must understand is that there is a problem and a serious one.
Next is to accept it. By now half the battle is won and now let us see what best can be done.
This is not the first time the world has suffered a crisis of this dimension.
There have been calamities in the past too. Now they are long gone and have become a part of history, this will also become a history one day.
But as of now we need to survive the storm, bear the pain and discomfort.
Remember the trees that bend during the storm will survive; the ones that try to defy and stand straight tend to get damaged and uprooted.
So this is the time to lie low, bend a little, tighten your belt and take it on the chin!
In military parlance, it is called 'lie doggo' to avoid detection behind enemy lines.
We all have been driving very fast -- drive of our life -- if you are not using a seat belt and you hit a speed breaker, you will break your neck or break your scull.
Now we are approaching a speed breaker, might as well slow down and wear your seat belt. And let the co driver that is your family also do the same and prepare for the impact.
2. Need to have patience and strong willpower
Now is the time for demonstrating a strong will power and resilience.
Once you accept the problem, it becomes much easier to tolerate and withstand it -- and there is no other choice.
Now is the time to sharpen your Emotional Quotient and handling yourself and able to handle your family -- intrapersonal and interpersonal skills.
The biggest shortcoming we have as humans is not to take a decision. But once we take a firm decision we also have the capacity to accomplish it. So let us move on.
One tip to remain positive is, not to keep watching TV news and debates on Covid-19, they can demoralise you. By now, you know what you should know.
3. Life will change and so must you
Spend time with your family; this is a perk of corona.
Change management is required at home and this message must be conveyed to all, your wife, your parents and your children.
It has to be a joint effort -- remember don't try to do it alone.
Every calamity is an opportunity. Now is the time to train your children to learn to live within means.
They cannot pressurise you with peer pressure as everyone is in the same boat.
You can create parents what's app group to keep everyone on the same page. Make hay while corona shines.
4. Someone has moved your cheese
Change your job/profession now, if required.
Many a times we stick to a boring job or even a bad boss or a lousy company just because we cannot make up our mind to quit and keep procrastinating as we don't want to move out of our comfort zone.
Now you have been pushed, so make it work for you.
Thinking out of the box will not do 'get out of the box, look around and think'.
Let this be an exemplar shift in your life.
Remember in such bad times companies get rid of people they don't like, so people must leave the company they don't like quid pro quo.
Now is the time to follow your heart and follow your passion!
You wanted to desperately do something different, may be this is a god sent opportunity. Time to act now.
5. It could be time to go rural
Urban space is saturated and too cluttered. You can think of moving to smaller Tier 2 or Tier 3 cities or even villages and create opportunities out there.
Lot of migrants have reverted back to their native place and you can use this opportunity to set up work in those areas.
Propose co-operative farming to the state chief ministers and through government, combine small land parcels of farmers to create a 100 acre plus farm or even bigger.
Take soft loan and build a farming business along with milk etc -- you can professionally manage it, use drip irrigation, buy tractors and optimise marketing too.
Two, three of your friends can join hands and make it work.
6. Sanjha choolha -- joint family -- get back to basics
This is the need of the hour.
If instead of two separate house hold establishments, you run one; your living standard can be maintained in just 60% of the expense which can be shared.
Parents and grandchildren staying together has its own charm and advantages.
Yes you have to learn to live together, emotionally and financially. You have to become tolerant.
The whole family can sit together and then take a call. This could be the biggest Win-Win opportunity of a life time. Go for it.
Joint families also help creating family values and teach tolerance.
7. Be Indian. Buy Indian
It is important to understand that corona crisis has impacted geopolitics as well.
The balance of power has changed and is changing.
Be patriotic and travel within the country.
Let Indian business thrive, buy from small grocery shops, they need your support.
Be global, but buy local.
8. Read contemporary history
History repeats itself, but we never learn from history.
Use your free time to read history, the contemporary history, the ups and downs of your society.
The last century was full of such things, the two great wars, Spanish Flu, the great depression in America, the atomic bomb, the Cold War, The Vietnamese war with America, Gulf war and balkanisation of the USSR and th rise of China.
Look at the advancements, affluence, poverty and death all interwoven for us to learn from.
Teach your kids to read books of different type to inculcate reading habits.
Illustration: Dominic Xavier/Rediff.com
---
Virender Kapoor is the former director of Pune's Symbiosis Institute of Management and the founder of Management Institute for Leadership and Excellence in Pune.
You can read an excerpt from his latest book 2020: Planet Reborn here.