With the surge in tourist footfalls to Varanasi in 2022, it almost rivals the arrivals in Agra and puts it way ahead of Prayagraj and Ayodhya.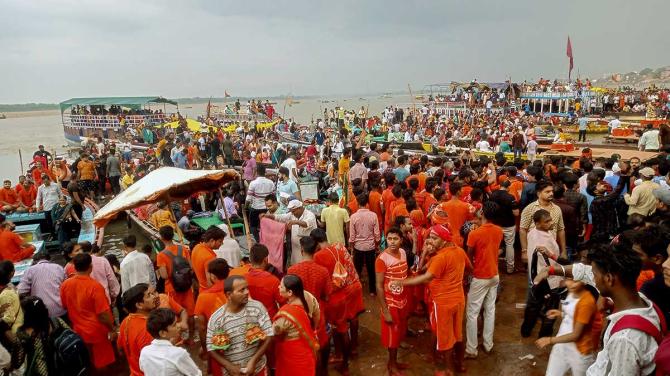 Uttar Pradesh accounted for almost 20 per cent of India's foreign and domestic tourist visits in 2022.
And Varanasi alone had nearly a five per cent share.
Over 318 million people visited UP in 2022 (chart 1). It was 540.6 million in 2019. But the 2019 figure included 240.5 million people who had visited it for the Kumbh Mela, which happens every few years.
This year's number would therefore be higher than the 300 million (after subtracting Kumbh Mela visitors) seen in 2019.
Prime Minister Narendra D Modi acknowledged the increase in tourists to Varanasi in the recent edition of his Mann ki Baat and said that the tourist footfalls to Varanasi had crossed 10 crore or 100 million a year.
He attributed the boost in arrivals to the opening of the Kashi Vishwanath corridor and the Centre's renewed promotion of religious tourism.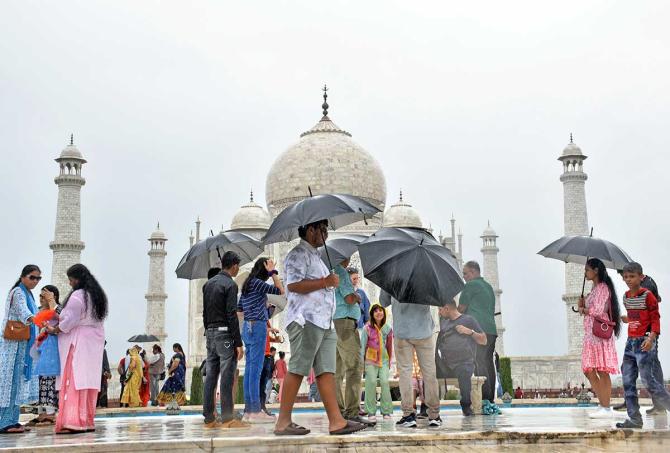 Most of this uptick in tourism to UP is driven by domestic tourists. Foreign tourist arrivals to the state are yet to witness resurgence after the pandemic.
Less than a million foreign tourists visited the state in 2022, a trend ongoing since 2020, compared to about 5 million in 2019 (around 4 million after adjusting for Kumbh Mela visitors).
As a result, while domestic arrivals to UP made up a fourth of all domestic footfalls in India, it accounted for just 7.6 per cent of all foreign arrivals to the country in 2022 compared to over 15 per cent in 2019.
However, tourists prefer flocking to some regions in the state more than others, the UP tourism ministry's data shows.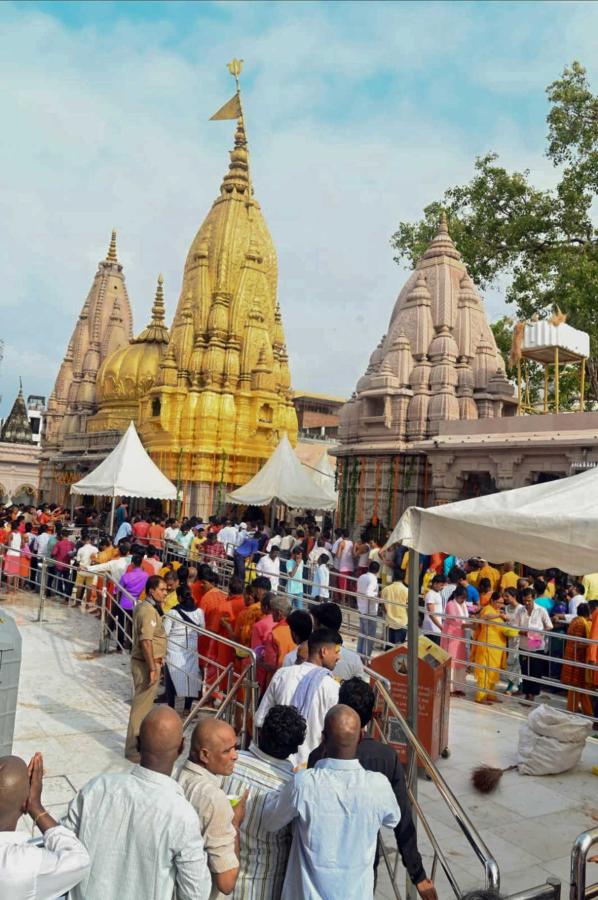 Over 3 million people visited the state's most recognisable monument, the Taj Mahal, in 2021-2022. Between April 2022 and February 2023, another 4.8 million flocked to see the monument.
Overall, nearly 83 million people visited the region of Agra in 2022, just 0.8 per cent less than the arrivals in 2019. No surprise then that Agra accounts for over a quarter of all tourists to the state.
However, with the surge in tourist footfalls to the region of Varanasi in 2022, it almost rivals the arrivals in Agra and puts it way ahead of Prayagraj and Ayodhya.
Varanasi's 82 million visitors in 2022 are nearly four times the tourist footfalls seen in 2019.
Varanasi accounted for nearly 26 per cent of all arrivals in 2022 compared to less than 4 per cent in 2019 (chart 2).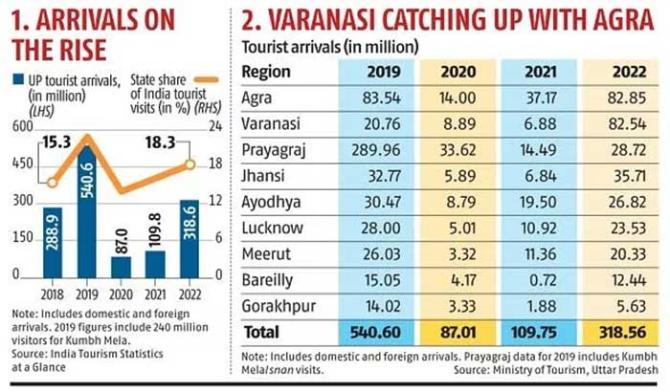 Feature Presentation: Ashish Narsale/Rediff.com