I stumbled upon shares worth around Rs 300,000 in my late father's name, which are currently with the Investor Education & Protection Fund, points out Harsh Roongta.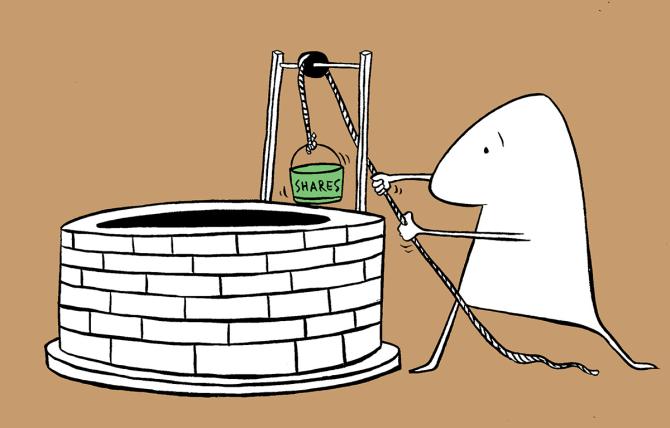 Are you or your family members among the many investors, active in the stock markets in the 1980s and 1990s, who may have unclaimed shares or dividends?
If so, you may be able to find out by searching their names on the Web site (external link).
You may discover that around 20 per cent of such people have unclaimed assets that they are unaware of.
I stumbled upon shares worth around Rs 300,000 in my late father's name, which are currently with the Investor Education & Protection Fund or IEPF.
The issue of unclaimed shares and dividends can be traced back to the stock market boom years of 1984-1995.
Many investors lost interest in the ensuing bear phase as some companies shut down or vanished, causing many investments to become worthless.
However, some good companies were also forgotten by shareholders who moved on, or died without informing their successors.
The un-encashed dividend cheques from these companies piled up.
First, these dividend amounts were transferred to the IEPF.
Eventually, even the unclaimed shares were transferred to the IEPF.
As of October 14, 2022, the value of unclaimed shares held by the IEPF was Rs 41,800 crore (Rs 418 billion).
Along with the unclaimed dividend of Rs 5,700 crore (Rs 57 billion), the value of unclaimed assets exceeded Rs 47,500 crore* (Rs 475 billion).
IEPF's process for claiming these assets can be long, tedious and complicated, which puts off many investors.
Furthermore, many investors are not even aware that they have these claims.
IEPF has recently invited suggestions on improving the refund process.
No effort, however, seems to be underway at IEPF to provide a transparent, searchable database to make the search and discovery process easier.
The lack of a transparent searchable official database for unclaimed shares is surprising given that the information on such shares is available in the public domain.
Anyone can download the details of shareholders holding shares in the physical form in listed companies as of March 31, 2017, by paying a small fee on the ministry of corporate affairs (MCA) Web site.
However, the data is available in PDF format with no structure.
Downloading the information company by company is painstaking.
To make the process easier, private companies have stepped in to fill the information gap left by IEPF.
These companies clean and index the data secured legitimately from official sources and provide access to a structured database that allows investors to search for unclaimed assets by name.
Some have argued against the creation of a searchable database for unclaimed shares, citing concerns about fraud and invasion of privacy.
However, these arguments do not hold water.
Firstly, a publicly available transparent database would increase the chances of genuine claimants finding out and making their claims, thus reducing the chances of fraudulent claims.
In any case, refund of shares and dividends is made after full KYC is done.
Secondly, this information is already available in the public domain, so there is no invasion of privacy.
Lastly, a transparent searchable database will reduce the price of discovery and may even reduce the dependence on private companies.
The biggest beneficiaries of a transparent searchable database will be small shareholders (value of shares less than Rs 2 lakh), who make up 82 per cent of the folios but only 27 per cent of the market value of unclaimed shares with IEPF*.
In the Union Budget, the finance minister had promised an integrated portal to ease the process of claiming unclaimed shares and dividends from IEPF.
Hopefully, this portal will include a transparent searchable database.
*Note: Data compiled by Jeevantika from shareholding pattern information disclosed by listed companies.
Harsh Roongta heads Fee-Only Investment Advisors LLP, a Sebi-registered investment advisor.