We asked you dear readers to share your photographs of Taj Mahal and tell us what the monument means to you.
This is what Rediff reader Praveen Kulshreshtha shared.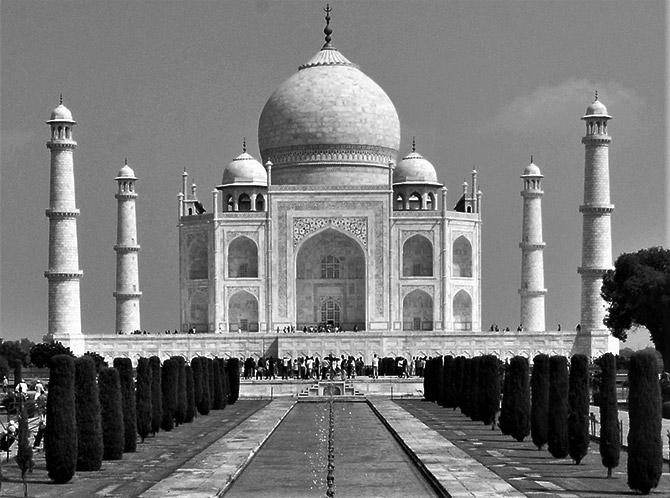 All photographs: Praveen Kulshreshtha
Praveen Kulshreshtha wrote, "Recently, I visited Taj Mahal with my family. It was the third time (that I was visiting Taj Mahal), but the first time with my family.
"Every time I enter the Taj, a great sense of awe and wonder strikes my soul -- words cannot describe the feeling, it is as if I'm seeing (the monument) for the first time, all over again.
"This time, my Nikon D5100 DSLR camera accompanied me, with a few lens that I have been experimenting with.
"It was a wonderful feeling to catch glimpses of people from all parts of India and the world, in different moods.
"It was a kaleidoscope of feelings, ranging from bliss and happiness, love and joy, to peace and wonder.
"Excitement (was evident on their faces), their eyes and souls beaming and brimming with the ecstasy of love.
"It was a feast for the senses as well as the soul...enough to keep the soul fulfilled for a long time.
"I am very happy to share my attempts to capture the mo(nu)ment! To underscore its universal sense of beauty, joy, love and peace."
Scroll down to take a look at the pics Praveen clicked.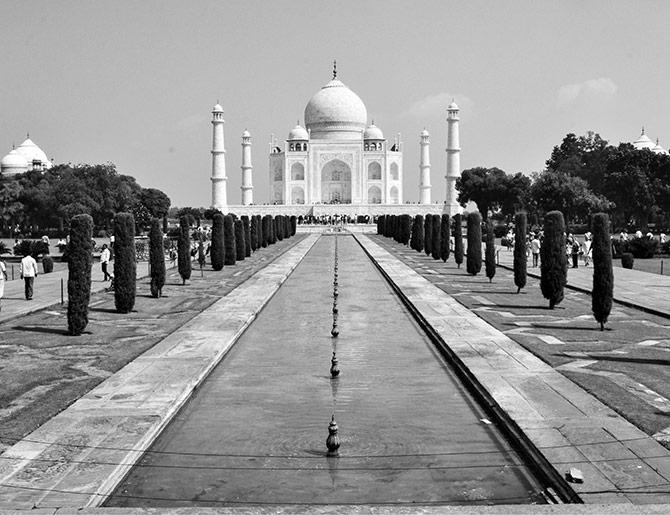 A black-and-white pic of the Taj Mahal taken from the main entrance.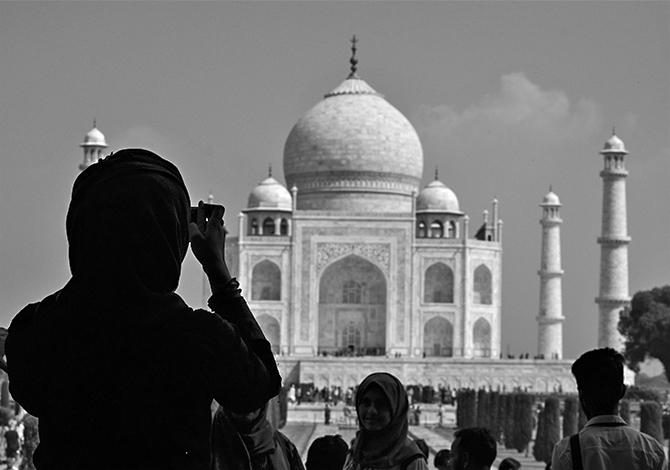 A tourist takes a pic of the monument.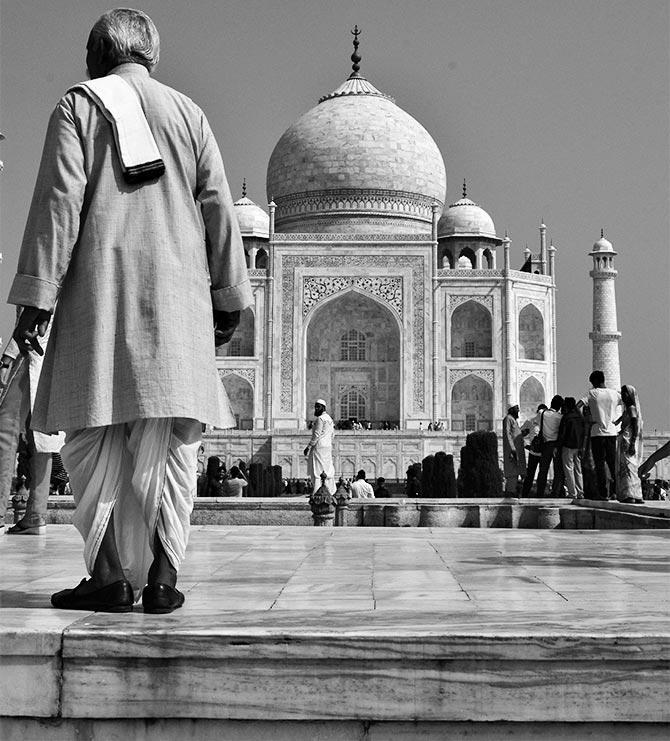 People from all religions are welcome here.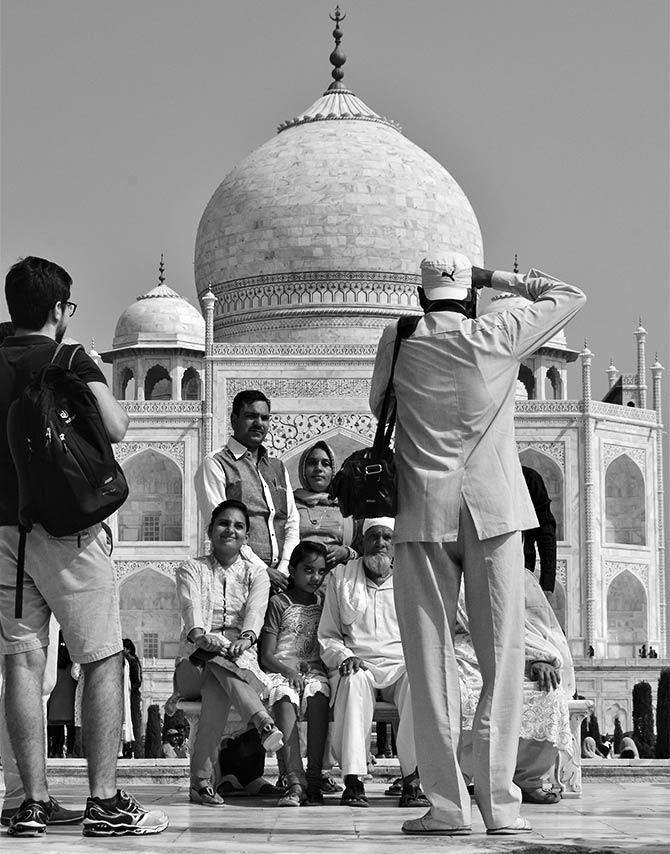 There is a reason why the Taj is so popular among tourists.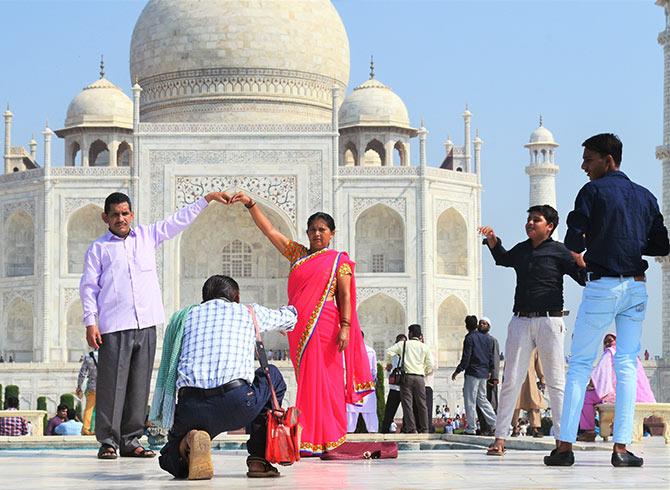 A photographer clicks a couple as they strike a pose in front of the Taj.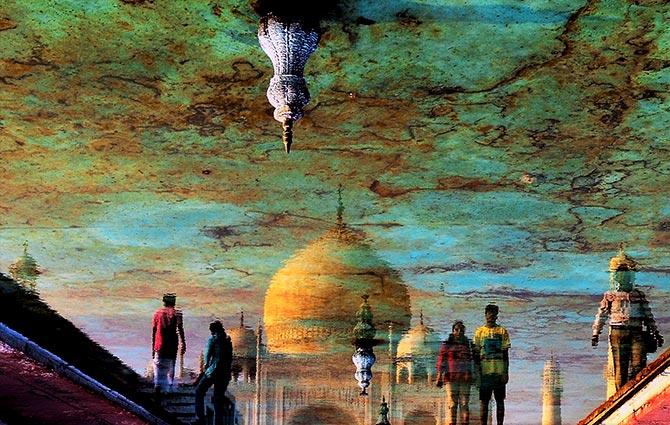 Even a reflection of the monument looks simply stunning, doesn't it!
---
Have you, dear readers, visited the Taj Mahal and clicked a picture there?
What does the Taj Mahal mean to you?
Share your pictures with us and we'll post the most interesting ones on Rediff.com.
You can mail them to getahead@rediff.co.in (subject: Taj Mahal pics) along with your NAME, AGE and the place where you LIVE.
Do include a little information about what makes your picture of the Taj Mahal so special.
We are looking for original photographs that have been clicked by you.