Dear readers, share your photographs of the Taj Mahal and tell us what the monument means to you.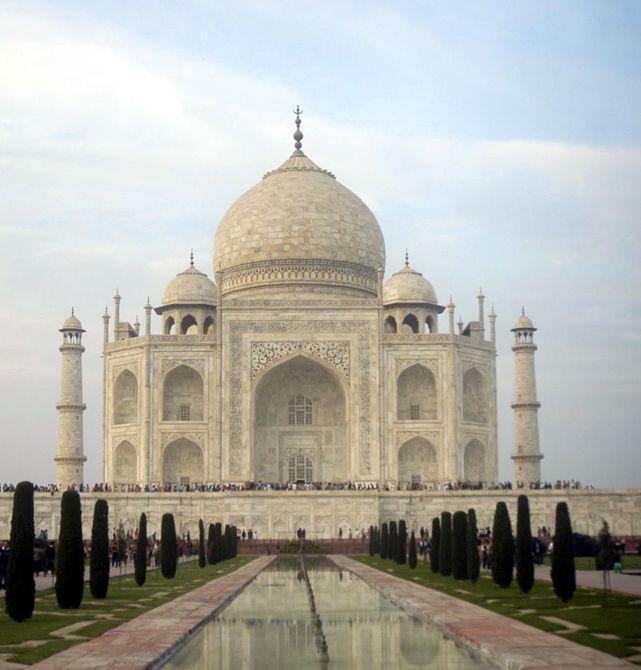 Photograph: Jayanta Dey/Reuters
It is one of the early facts that every little child learns in school -- the Taj Mahal is one of the seven wonders of the world and it belongs to India.
Every couple -- be they Indian or from abroad -- would like their picture clicked at this monument to love.
Every dignitary who visits India would like a glimpse of the Taj.
Back in January 2017, The New York Times listed 52 spectacular places to visit this year.
Agra made it to the list and was featured at the No 3 spot. And while the newspaper urged travellers to experience things beyond the Taj Mahal, do note that the 'sprawling, stunning Taj Mahal' was one of the main reasons why the city featured on the list.
The other reasons were the Agra Pavilion, the Mughal Museum and India's fastest and longest expressway that has reduced the travel time between Delhi and Lucknow.
But who thought that, come October, the Taj Mahal would not be one of must-visit places on the Uttar Pradesh government's tourism list?
The Taj Mahal has lately been subject to controversy after Bharatiya Janata Party MLA Sangeet Som questioned the 17th century architectural marvel's place in India's heritage.
Som's comments have prompted angry responses from people.
Twitter user Tufail Ahmad wrote, "You need to build museums on 1000 years of Islamic rule in India to remind our future generations -- not erase history.'
'Why do facts from the past make people uncomfortable?' questioned another Twitter user.
Have you, dear readers, visited the Taj Mahal and clicked a picture there?
What does the Taj Mahal mean to you?
Share your pictures with us and we'll post the most interesting ones on Rediff.com.
You can mail them to getahead@rediff.co.in (subject: Taj Mahal pics) along with your NAME, AGE and the place where you LIVE.
Do include a little information about what makes your picture of the Taj Mahal so special.
We are looking for original photographs that have been clicked by you.