Manasi Sadarangani shares a quick recipe.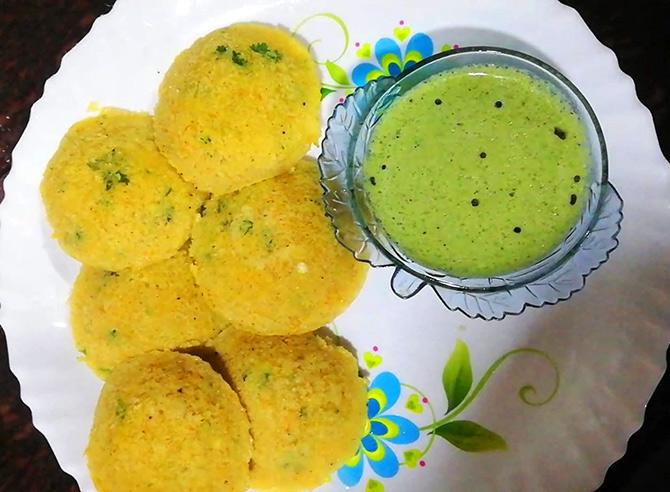 Most of us make idlis from rice and ,em>urad dal batter. But what if you don't have the time to soak rice overnight?
You can simply replace rice with oats and add some veggies too.
Here's the recipe for instant Oats Idli.
Ingredients
1 large cup rava
1 large cup oats (finely blend)
1 grated carrot
1 finely chopped capsicum
1 tsp black pepper
1 tsp turmeric powder
1 tsp red chilli powder
1 tsp mustard seeds
1 tsp chana dal
1 tsp urad dal
1 tsp asafoetida
1 tbsp curd
1 tbsp finely chopped coriander leaves
1 small cup of curd
Curry leaves
Salt as per taste
Water as per requirement
Chopped cashew (optional)
Method
In a large bowl, mix rava and oats with little water.
Add grated carrot and capsicum.
Add salt, pepper, turmeric, chilli powder, coriander leaves and chillies.
Mix well and add curd. Stir well to avoid lumps.
For tempering
Heat oil in a pan on a low flame.
Add 1/2 tsp mustard seeds, 1 tsp urad dal, chana dal and curry leaves.
Saute till mustard seeds crackle and both urad dal and chana dal turn golden.
Add a pinch of asafoetida.
To make idlis
Add tempered ingredients to the idli batter and adjust water to pouring consistency.
Cover and allow the batter to rest for 10 to 15 minutes
Grease the idli moulds with oil, ghee or butter.
Heat some water in the steamer.
Add 1 tsp Eno or fruit soda in the idli batter. Stir well so that the texture of idli will be fluffy and soft.
Pour batter in the greased idli moulds and place them in the idli steamer.
Cover and steam cook for approximately 10 to 12 minutes.
Insert a fork or a toothpick to check if they are cooked well.
Let it cool for 5 to 10 minutes before you remove them.
Serve with coconut chutney.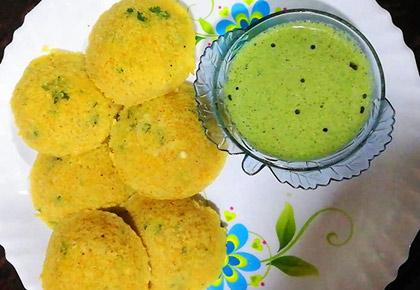 ---
Would you like to share an interesting recipe or cooking video?
Please do send your recipe/video to us at getahead@rediff.co.in (Subject: My Recipe) along with your name, location and, of course, the recipe.