The Michelin star chef and host of MasterChef India shares endearing stories from his life.
"I remember using coconut for the first time in food. My grandmother thought I got the coconut because a new scooter had come home. That is the only thing Punjabis know!"
"When I decided to make mishti doi at home, everyone was amazed. 'How can you use dahi in a sweet dish?' they asked."
In an interview with Rediff.com's Anita Aikara, Vikas Khanna -- renowned chef and poster boy of Indian cuisine -- recounts hilarious episodes from his life, novelist Salman Rushdie's encouraging words and what Indian food means to him.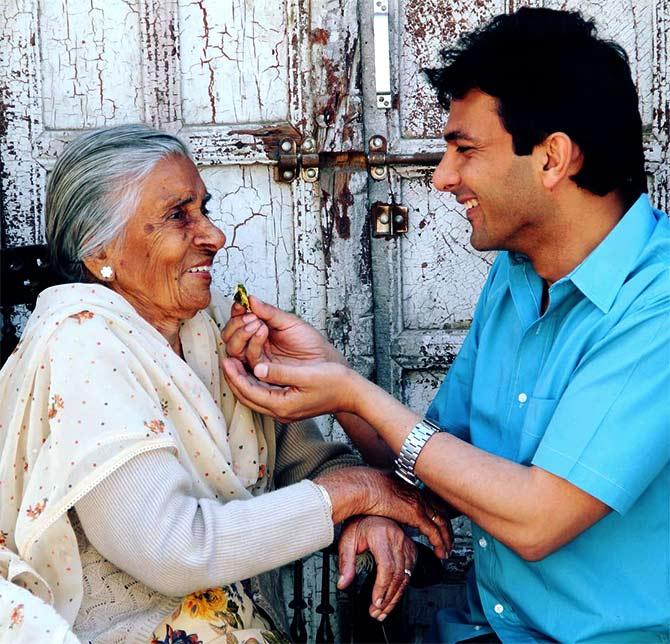 Chef Vikas Khanna loves the colour of haldi (turmeric). It inspires him.
"Ek baar chad gaya, toh nikhlega nahi. Once your white uniform gets smeared with the colour, it doesn't go that easily. But that's the beauty of it," says the celebrity chef who had the opportunity to cook for Prime Minister Narendra Damodardas Modi in New York. He made ravioli (an Italian dish) with the Gujarati dish, khandvi.
The Amritsar-born chef continues to praise haldi. "It is the colour of the sun and has amazing healing powers."
Best-known as the 'India's food ambassador to the world', he has cooked for the Obamas and the Dalai Lama.
It's perhaps his love for the cuisine that helped him marry progressive cooking techniques with Indian food.
"Indian food is not about that one dish," he says. "It has so many influences and it has been around for centuries."
What would he do if he weren't a chef? "Maybe I'd try something in the arts," says Khanna, adding that food has given him a voice worldwide.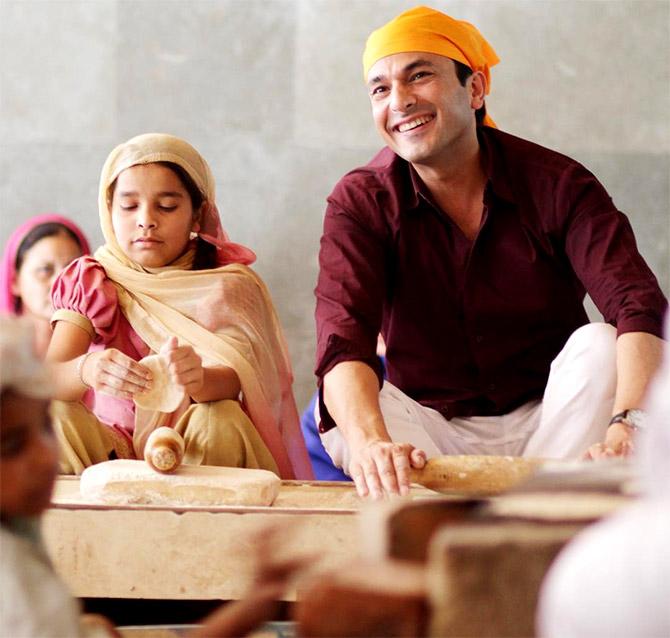 From selling chole bature in Amritsar to becoming a chef and television host, to creating his documentary series Holy Kitchens and the 15-minute Kitchens Of Gratitude which was screened at the White House, Khanna has gone beyond the kitchen.
He published his first work of fiction, The Last Color, which later was made into a full-length feature film.
Revealing the special moment he shared with novelist Salman Rushdie which encouraged him to write, he says, "Once I was sitting with Salman Rushdie and he said, 'I love the way you explain things. It is almost as though you are writing a novel'."
"I was surprised as I was doing nothing extraordinary. I was just making fun of my grandmother."
"I remember using coconut for the first time in food and she (his grandmother) thought I got the coconut because a new scooter had come home. That is the only thing Punjabis know. She didn't know how to use coconut in food. But her reaction was endearing."
"Then when I decided to make mishti doi at home, everyone was amazed. 'How can you use dahi in a sweet dish?' they asked."
"I was telling him (Rushdie) this story and he said that I'd make a good fiction writer."
"That's when I knew a novel was on it way."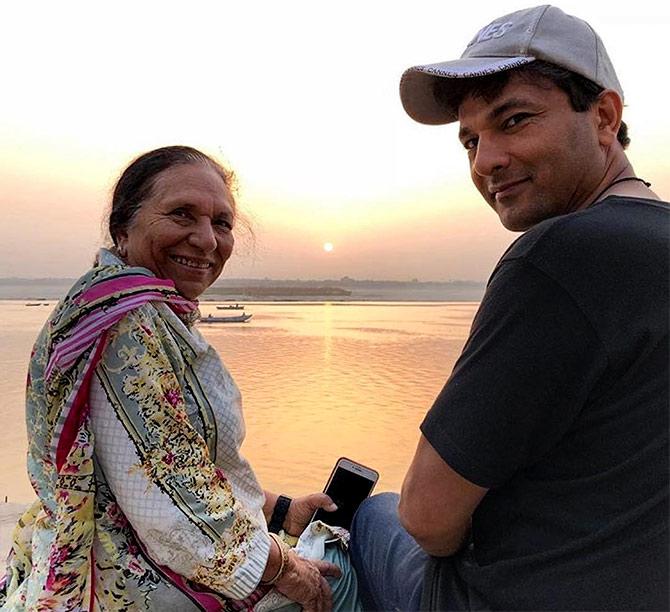 A host of MasterChef India, Twist Of Taste and Mega Kitchens on the National Geographic channel, the celebrity chef has wowed many with his recipes.
His cookbooks are very popular among his fans. However, when he decided to write a novel, the chef was in for a rude shock.
"People don't expect, and accept, a chef's novel," he says.
"Back in the US, the issue that I had with publishing the book (The Last Color) was that people didn't expect something like this from a chef."
In 2011, all his publishing houses in the US rejected the project.
Khanna first saw the widows of Varanasi in 2009, when they were prohibited from playing Holi.
Later in 2012, when he saw them again, they were drenched in the vibrant colours of the spring festival.
He couldn't forget the sight of their joyous abandonment, so he wrote a book about them. Later, he felt that a book wasn't enough to capture the beauty of the Ganges and Varanasi, so he went back and made a film.
"I didn't want to be the person who makes Slumdog Millionaire and just shows one dimension of India."
"The Last Color is a celebration of resilience; a celebration of empowerment. It is also a celebration of a culture that has taboos but overcomes it."
"I am not telling people what is wrong and right."
"There are people who ask me, 'What's the big deal about Holi?' This book is not just about Holi."
"When I was in Vrindavan, I have seen these women, totally isolated. It really affected me. For them, white was not the colour of mourning, it is something dark as well. This story is about them and their extreme hope."
Quiz him how much time the book took to complete and he says, "The biggest issue with this book was that it took a lot of time, because there were several projects and a lot of travelling during this phase."
"I had told myself that when I sit down to write the book, I didn't need distractions and had to devote my 100 per cent to it."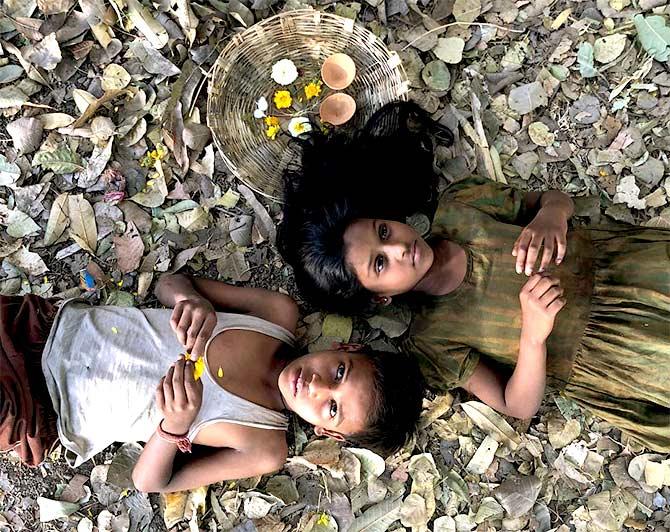 Khanna has made a name for himself but when he had to go to visit actress Neena Gupta, the lead actor of the film, he'd shiver.
"I respect her for her work and how she has lived her life. Her integrity is so high."
"The shoots were difficult and hectic because we wanted to shoot in natural light. But she never complained."
Neena Gupta plays a pivotal part in the film. Even before signing her, Khanna had written the script keeping the actress in mind.
"There were dialogues in the script which were attributed to her (Neena Gupta) and her name was written next to it."
"When she read the script for the first time and saw her name written next to the dialogues, she was in for a surprise."
He was so sure he wanted her in the movie that he had decided to scrap the project if Gupta refused to sign on.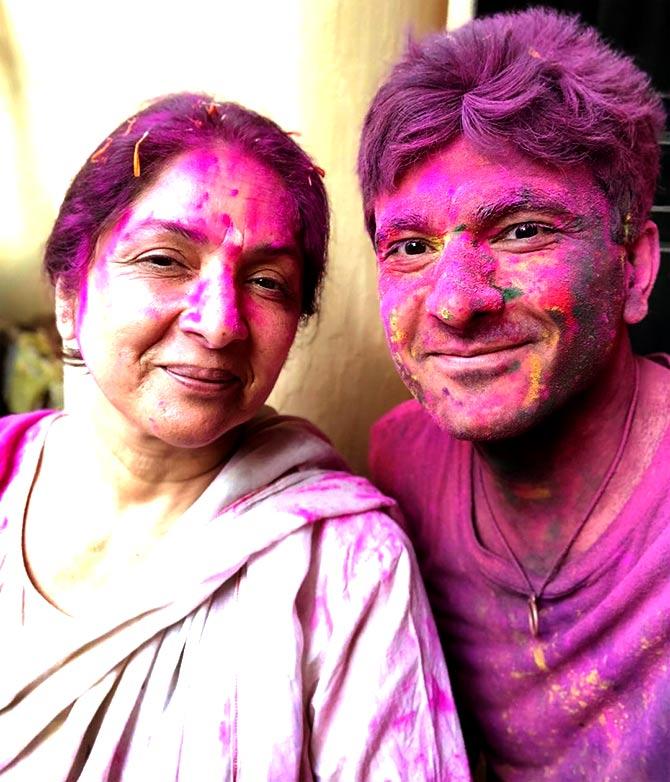 Talking of his choice of subject, Khanna admits, "When you watch the movie and read the book, you'll notice that I don't talk about the real subject."
"The backdrop," he adds, "is set against prejudices, taboos and traditions, but we don't pass judgments nor do we say that a widow's life is a horrible life."
The book -- which had been "under discussion since 2011" -- started taking shape soon after his father passed away; that was when the well-travelled chef spent a lot of time alone.
"There was so much happening in my life at that time," he reveals. "Most of the dialogues were written in the ashram during my communication and convocation."
Khanna had once read that nothing is fiction and (with authors) there's always an indirect relationship with something happening in your life.
"While the characters in my book are fictional, their pain, communication, fears and anxieties are things I have experienced," he says.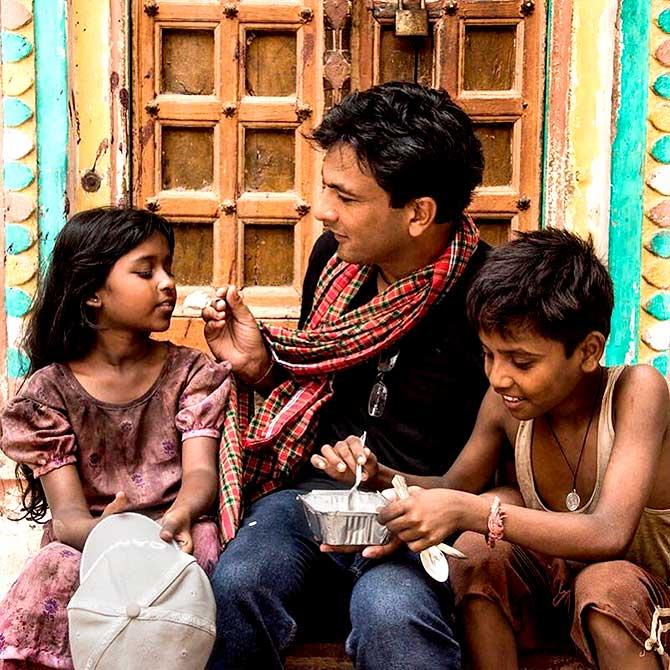 "Real change will take place in society when we educate our girls," says Khanna, before recalling the time when people tagged him as 'gavar(uneducated)'.
"I saved money and attended school," he reveals.
An advocate of girl child education, the chef feels that he could fight prejudices "because education gave him confidence".
According to him that's one of the reasons why he strongly recommends free access to education for every child.
During the research of The Last Color, Khanna often visited remote villages and towns in India where people didn't send their girls to schools.
In comparison, "The boys go to school while the girls are made to do household chores. That needs to change!"