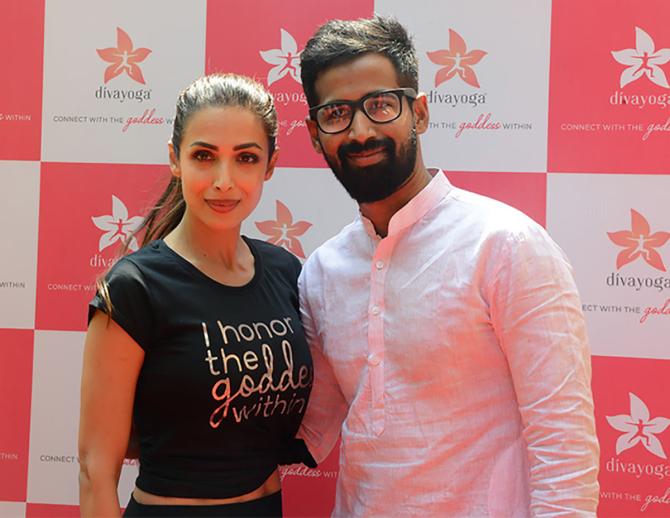 Yoga practitioner Sarvesh Shashi, founder of the Sarva Yoga Studios, has been cited in the Forbes 2020, 30under30 category.
Sarvesh was 17 when he was introduced to yoga.
Today, through Sarva, his brand has influenced individuals across the world.
The 27 year old shares 10 crucial tips for youngsters to help them achieve their goals.
1. Find your purpose
Living with a sense of purpose is living consciously, in a way that your inner self and your outer self are aligned.
It strengthens you and that's when you experience the high and lows in your life with a different perspective.
I was 17 when I took up yoga classes on my father's behalf and I was filled with questions regarding enlightenment.
Naturally, I went to Guruji with an intent to seek answers. He said, 'If you think I can enlighten you, you are a fool and I am a bigger fool.'
This changed my perspective completely.
That followed by a few practices such as observing 40 days of silence directed me towards 'finding my purpose'.
It does take a lot of energy, thought process and self reflection to decide on your purpose. But you should go through the process as that is what makes it easy to maneuver through life.
2. Passion is what glues you to your goals
When you are passionate about something, you are not going to feel like you have to work towards it.
Even if you fail at achieving a particular objective, you will enjoy and learn better because you are passionate about it.
Passion glues you to achieve your goals and accomplish what really matters to you.
When I could see the positive changes that yoga had brought in me, I felt the need to share it with others and that idea became my personal goal.
Yoga had always been a part of my life. But I became passionate about spreading the happiness I received from it with others.
3. Be a team player
Nothing can truly beat team work.
In today's knowledge economy, it has become more than essential to interact with professionals from diverse backgrounds to accomplish goals and meet business objectives.
It's all about connecting and working together in any given circumstance and that has been realised in 2020.
Things have been rolling with remote working as well but everyone has felt the lack of face to face interaction, isn't it?
4. Giving up is not an option
Failures are bound to come our way and it is okay to fail. Because the fear of failing holds people from achieving their dreams.
It needs to be accepted as a part of the journey.
No matter what the situation is, you always have to remember that it's not the end, you'll always live to fight another day.
Like every start up, even I hit a snag in 2015 with a negative balance in my bank account.
But what helped me stick to it is the very reason I started and that made the going easy.
5. Patience
Success doesn't happen overnight.
We need to learn the skill of holding on and appreciating the journey instead of rushing and being disappointed due to failures that come on our way.
Patience for me is like holding on the breath after inhaling and then slowly exhaling.
It's a skill that you will gradually master through consistent practice and patience.
6. You must be ready to wear more than one hat if needed
We all have skills that make us experts at our jobs, but that is just the beginning of the game, it cannot end there.
Sometimes, you have to do things and perform tasks that do not fall under 'your tasks' category.
During my initial days of starting yoga studios at Chennai, I realised early that there had to be ground work that needed to be done before I lead.
From taking yoga classes myself to cleaning the studio for the next class, I did it all.
Who doesn't want a multi-tasker, right?
7. You cannot let success or failure get to your head
There would be days when you win big and a few when you are on the verge of losing it all. But it is all about staying grounded.
A feeling of gratitude and humbleness towards the people and your environment is the key to tying your feet to the ground
No matter how the day is, what's important is to wake up the next morning with a clean slate of mind and remember why you started.
8. It has to be a win win situation
It is only when you give that you grow. It is as simple as that.
For achieving long term goals you will have to build relationships, be it with your clients or your employees.
You will have to provide them the space to grow while they build upon your vision.
A win win approach will just build the right kind of environment.
It helps you overcome barriers as when you collaborate and build on positivity, it is that synergy that will enable you to come up with creative solutions.
9. Your network is your net worth
It is easy to reach the best of best, get that meeting or find a connection point if you have a great network. So build it!
Networks can make it much easier, faster and as a result more efficient the process of climbing the ladder towards success.
You never know when and where you would have to approach whom to accomplish that one little task that will make a huge difference to you and your goal.
10. Be thankful
And last but not the least, the practice of gratitude will help you develop a state of mind that will make it possible for you to achieve your goals.
The earlier you inculcate the everyday practice of expressing gratitude, the better it is for your overall well being.
So wherever you are and wherever you want to be depends on your attitude.
Be thankful for everything you have and success shall follow.