Taken a picture of Mumbai you absolutely love? Share it with us right here.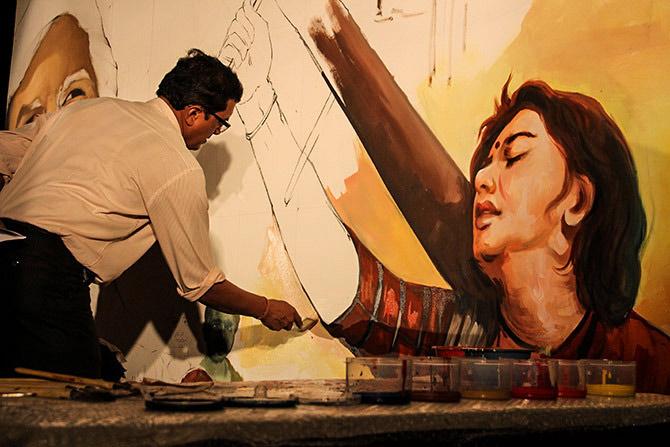 IMAGE: Balkrishna Vaidya, a film poster artist, demonstrates how a film poster is painted at an

event organised by the BMW Guggenheim lab at Mahim beach in Mumbai.


Photograph: Uttam Ghosh/Rediff.com

Mumbai, the city of dreams, never ceases to amaze.
From festivals that embrace all religions, to people from different countries and even continents, Maximum City binds them all.
Whether you love food, art, culture or calm, Mumbai has a place and occasion for everything, and for everyone.
It's time to celebrate this diversity.
Dear readers, do you have a picture that describes this incredible city?
It could be a group of young boys playing cricket on a narrow street or a policeman/woman on night duty.
Mumbai's lifeline, the local trains, are full of stories -- the disciplined dabbawallas, the screaming vendors, the hassled office goers.
Do you have a memory of Mumbai you cannot forget?
Do share them with us right here!
Follow this link to post your pics about Mumbai.
Do add a short description of the photograph -- where and how you clicked it.
We'll feature the best responses right here on Rediff.com.