Manoj Jain tells us how soon-to-be parents can nurture and build a stronger bond during this period.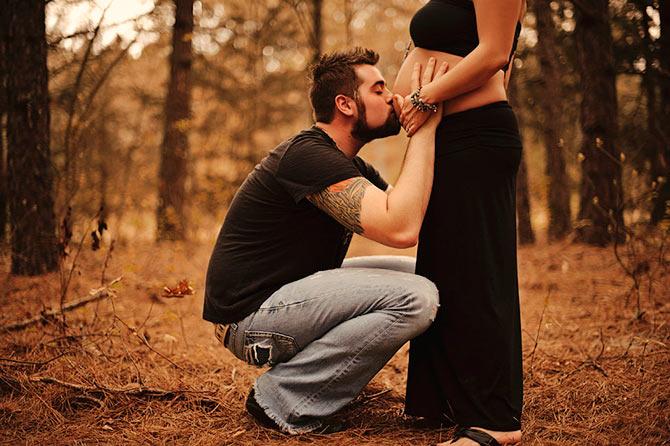 Photograph*: Matthew Hogan/Creative Commons
They can be the most special nine months of your life. It is a time filled with change, apprehension, excitement and expectations.
When a couple discovers they are pregnant, it is important to be aware of the psychological changes that take place so that you can nurture your relationship and make this time even more special.
The first trimester
The mother, who experiences a big change in this trimester, is prone to emotional mood swings. She often feeling low and depressed and may cry for no apparent reason.
Many mothers also experience a fear of losing their baby and so are apprehensive, especially if they have had a miscarriage before.
Solution
It is important to relax at this point in time. Breathing exercises and yoga can help calm the mother.
Remember that even though you are having a baby, you are also a couple and not just parents-to-be. Maintain the romance in your relationship with thoughtful gestures towards each other.
While it is important to plan for the coming member, it is necessary to talk to each other about topics that are not related to the baby.
The second trimester
The mother is less nervous at this stage.
She puts on weight which makes her slower and more dependent on others, especially the father. The foetus begins moving.
The woman has an increased sex drive and may worry that she is no longer attractive.
Fathers too are going through their own emotional changes. Some feel left out, others worry on the increased security they will have to provide, some are unsure about their parenting skills. Much of this emotional turmoil is often the result of his relationship with his father.
Solution
Take a holiday. The second trimester is one in which you can actually get away and spend time together. Check with the doctor if you can fly, choose a place without too much outdoor activity and get away from your routine.
Make love; this trimester allows you that pleasure before the mother's body becomes larger. Passions can run high and it is a fun semester.
Talk to each other. I'm repeating this point because it is important to talk to each other about your fears and expectations and feelings. It will nurture your relationship.
Make small, sweet romantic gestures towards each other. Have fun conversations that don't revolve around the baby.
The third trimester
In this trimester, the parents-to-be are getting ready for the baby's arrival. There is a sense of anticipation.
First time mothers are worried about the actual childbirth and the labour pain.
People around her recognise her special needs and strangers get a chair or offer to open doors.
Her sex drive is lower than the second trimester and movements are restrictive. She is preparing the home for the baby and attending pre-natal classes.
Solution
Go to pre-natal classes together for at least a couple of sessions; usually, there are a few classes for fathers as well. This will help the couple bond and allay fears about the actual delivery process.
Make time for romance. Plan a dinner with friends or a short play followed by a private candlelit dinner. Again, I want to emphasise that you have to make time for each other besides planning for the baby.
Fathers can feel sidelined during a pregnancy. Let them explore his creative side. Also, they are sexually less active so channel their energy by letting them help in the preparations for the baby.
Indulge in some flirting and spontaneous physicality. Use this period to flirt -- a squeeze, a gentle rub, hugs, kisses, compliments, flowers with message and maybe an adventurous afternoon.
Very soon, you'll be welcoming your little bundle of joy.
*Lead image used for representational purposes only.
The author Manoj Jain -- who has recently launched his first book, The BNO Sex, Life, Hookah -- is an alumnus from IIM Ahmedabad and a student of Psychology. He has always been interested in human relations and how they are played out over differing circumstances.
ALSO READ
Pics: 10 hottest pregnant celebrities