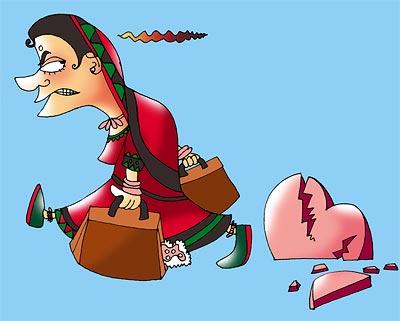 In an online chat with Get Ahead readers on August 28, Love Guru answered their relationship queries.
Here's the unedited chat transcript:
Shahina Shaikh
My love my jaanu is very much angry with now a days i don't know why but he teels he don't want to keep a relationship with me anymore however he sometimes talk to me and he says mein apna kuch aacha bura share karne call karta hon,i m in deeply love with him and can't think my life without him plz help ma
Love Guru
Shahina Shaikh, you sure you are not being strung along, that he is not taking advantage of your emotional vulnerability? You may not think of a life without him, but very clearly he has. How long do you plan to hold a candle for him, before you realise it wasn't worth it?
Vaishali
Hi LG. I am married women since last 4 years and we do not have child. This creates issues between me and my husband. He likes to go out and party all the time and I do not. He truly is a people person and likes to go out for the crowd, so he does not understand my thinking at all. Why he is behaving like this now? I love him v much and hope he so. Plz advice on it.
Love Guru
Vaishali, so he is the life of the party and you are a wallflower in the same room. Odder couples than this have made a success of it, so it shouldn't be all that difficult for you. Rather than try to change him into someone he is not, why don't you let him be?
Baburao
I am married and wife is very caring and recently a married lady in my office has become so close who discuss with me her sex life. what she expects from me .Iam confused
Love Guru
Baburao, she could expect anything from you. The point is, what do you expect from her?
Rajat
What do you do when your partner and you are just too different? We are getting into fights over our differences, and spending more time unhappy togther than we are enjoying each other's company. It seems like our differences are getting in the way of being happy together. What to do? We dont want to be separate. We dont want this option.
Love Guru
Rajat, there are differences and there are differences. Some are surmountable, some are not, and some are clearly deal-breakers. Are yours from the last category? If not, you can still save the relationship. Even with deal-breakers,you can find a way together, provided you both want to. You say you want to, so it shouldn't be too difficult, right?
Rajiv Ranjan
My boyfriend has a lot of anger toward my family for pain due to some personal reason. It has been 3 years since the day we meet and we both Love each other very much. What to do in this regards?
Love Guru
Rajiv Ranjan, it's obvious that she feels unfulfilled in her life with you. You don't want her to pursue her career but stay at home and rear the family, I presume?
Hezal
I dated a guy for 2 years. Well, we recently broke up and it's tearing me up inside. I love him alot but everytime we got into an argument everytime. How can I get him back? I know he cares for me too but we are still not together like I want. Please help.
Love Guru
Hezal, tough one. Why do you two fight so much? Maybe if you don't, you can be together and happy and not separate and unhappy
Janu
My boyfriend has a lot of anger toward my family for pain due to some personal reason. It has been 3 years since the day we meet and we both Love each other very much. What to do in this regards?
Love Guru
Janu, negative emotions are not known to cultivate positive feelings. If you are planning anything long-term with your boyfriend, then it is essential that the negativity between him and your family goes. Else it will always cast a shadow over your life, your togetherness
Umesh Kamath
I am 38 year married since last 4 year. My wife took up a quarrel with me and left my home and living with her parents since last 2 months. Whenever I call her back she says she will not and she tells me to come to her native place and took up a job there. What step I should take. I am having 1.6 year old girl child
Love Guru
Umesh Kamath, what did you say/do that has caused her so much anguish that she doesn't want to come back to your place? Did your parents/family behave in a mean manner with her and you didn't protect her? Introspect. And ensure you don't repeat the mistake. If you believe it, you may be able to convince her to come back. Else look for a job in her hometown
Gajanan Bose
We have relation from last 4 years suddenly she left me all alone and from last 1 year i am trying to convince her for to tell me the reason for leave me all alone she is ignoring me now what should i do please help me out i really love her need her to love please help me
Love Guru
Gajanan Bose, while I agree with you that every failed relationship must have a closure, there are times when this rule doesn't apply. I think this is one of those. Yes, you do love her still, you want her back in your life, but unfortunately she doesn't feel the same way. I think you should respect her decision, however hurtful it may be to you
Narendra Madan
Am a woman age 39 working but my hubby doesnt want to work and doesnt show also that he is interest to work. What step i should take?
Love Guru
Narendra Madan, you don't have to take any step. He is the one who has to take steps -- and leave your life.
Love Guru
Thank you folks, see you all next Thursday at 3 pm IST!
Also read:
Advice from the Love Guru does not reflect the opinions of Rediff.com and should not be considered in the capacity of professional counselling.
(Due to circumstances beyond our control, date and time of chat may change)