We'd asked you, dear readers to share your love stories with us.
Rediff reader Rahul Kapse tells us how he met and fell in love with Ashwini.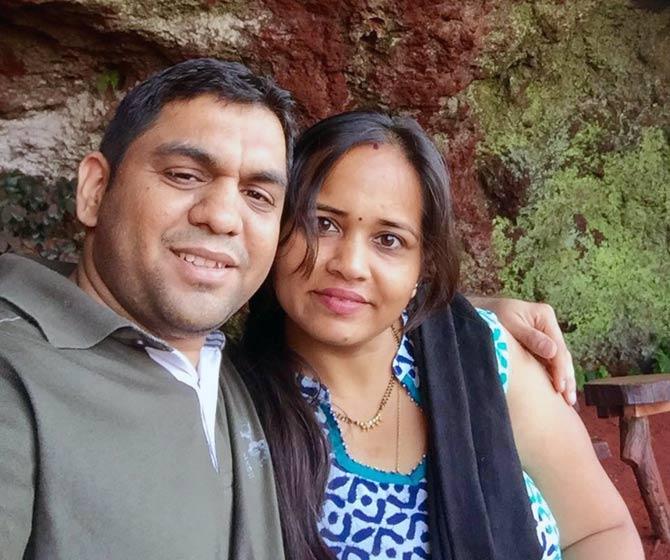 Ashwini and I had a typical Maharashtrian arranged marriage.
On January 25, 2014 I flew from Bangalore to Mumbai to meet her at her parents' place.
When I first saw her, I found her shy, introvert. But she had a very beautiful smile.
We spoke to each other for 15 minutes.
One week later, I decided to marry Ashwini.
Soon after our marriage got fixed we started chatting through SMS and WhatsApp.
I found her very bubbly and a happy-go-lucky person. She was interested in arts, cooking and decoration.
I met her for the second time on the day of our marriage.
She looked stunning in a beautiful peacock coloured sari. We got married on April 15, 2014 in Mumbai.
We went to Kerala for our first honeymoon. Those seven days were incredible.
Ashwini has become an important part of my life.
She has been supportive through the ups and downs in my life.
Within a short time, she has become an important person of our family.
We've been married for nearly two years and our love is blooming by the day.
ALSO SEE
Jab we met: 'She was simple and beautiful'
Jab We Met: 'Jodiya upar se bankar aati hai'
#Jab We Met: 'I fell in love for the first time'
#Jab We Met: 'I liked his supreme self-confidence'
Click here to read more Jab We Met stories
Dear readers, do you have an interesting love story that you want to share?
Tell us where you first met your partner and how the two of you fell in love.
Write in to us at getahead@rediff.co.in (subject line: 'Jab We Met'). You can also include a photograph of you and your partner and we'll publish the best entries right here on Rediff.com.