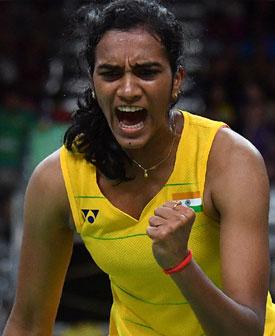 Success, they say, is the sweetest revenge. To all those who said 'No, they can't,' Thank You!
India's talent brigade says it with their sporting spirit.
More than a fortnight ago, when a contingent of 100 plus sportspersons left India for the athletic village in Rio, popular faces like Sania Mirza, Saina Nehwal and Abhinav Bindra stole the limelight and pinned India's hopes to win a medal.
Slowly, names like Dipa Karmakar, PV Sindhu, Sakshi Malik and Lalita Babar rose from the inside pages of sports editorials to the front pages and headlines of leading dailies national and international.
On August 14, on the eve of India's 70th Independence Day, Dipa Karmakar's tryst with destiny saw her fall short of just 0.150 points to win the bronze medal.
Then again, on August 17, India woke up to a new name and moment of jubilation -- Sakshi Malik, the first Indian wrestler to clinch a medal.
Two days later, PV Sindhu won India's first badminton silver.
For India, the Olympics this year, has more or less, been dominated by exceptional feats from achievers. In fact, the event also brought to the limelight umpteen stories of unusually talented women -- of relentless struggle, those breaking stereotypes and proving their mettle by even coming this far and attempting the journey.
Rediff.com celebrates the journey of five such inspiring women who won our hearts for their fighting spirit.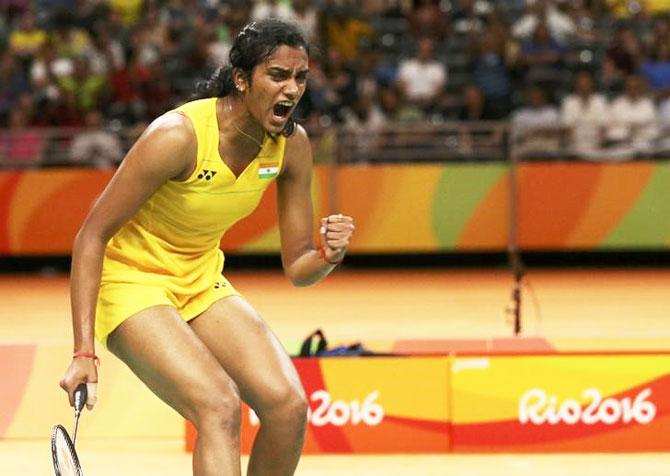 IMAGE: PV Sindhu's aggression keeps her motivated in the game. Photograph: Ruben Sprich/Reuters
If you have been watching her performances closely, you'd notice how every time she scores, she clinches her fist and says 'Yes (I did it)' in a matter-of-style.
Some years ago, when she first came to train under Pullela Gopichand, the latter had asked her to scream loudly in the badminton academy in Hyderabad. Sindhu, a soft natured girl found it to be an arduous task to be aggressive.
When she eventually did it, her coach explained why it was important for a shuttler like her to express emotions in the game, a strategy aimed to intimidate the opponent.
In life too, one faces more serious opponents and PV Sindhu's aggression can serve some of us good.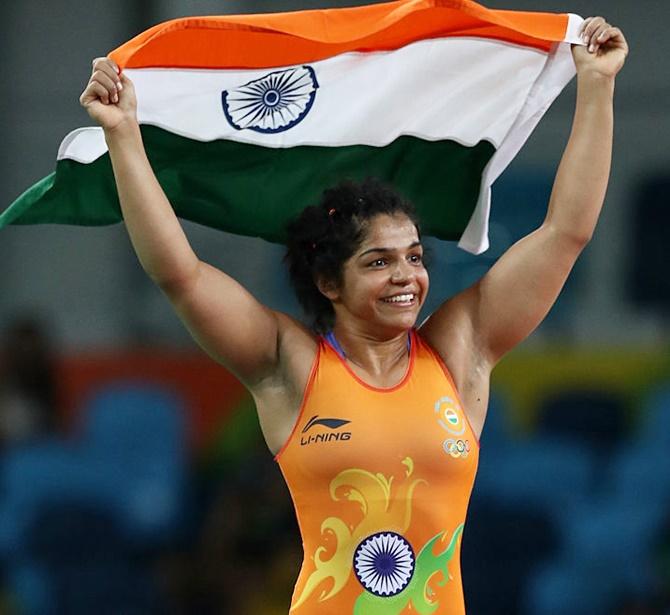 IMAGE: India's Sakshi Malik who won a bronze in the women's Freestyle 58 kg was a victim of body shaming. Photograph: Lars Baron/Getty Images.
Let's admit it. None of us had heard of this 23-year-old wrestler until August 17. Over the next couple of months, her face will be beamed across television sets and advertisements and she'll continue to be the subject of pride for India.
Rewind to a few years ago, the naysers had tried to discourage her by criticising her masculine looks.
"My neighbours and relatives used to dishearten my parents that girls in wrestling lose their feminine softness and they become more masculine which becomes an obstacle in getting them married.
But my parents didn't listen to anybody and supported me despite all odds," Sakshi had told Indiatimes in Lucknow days before leaving for Rio.
She has successfully written off the critics with her Olympic bronze medal.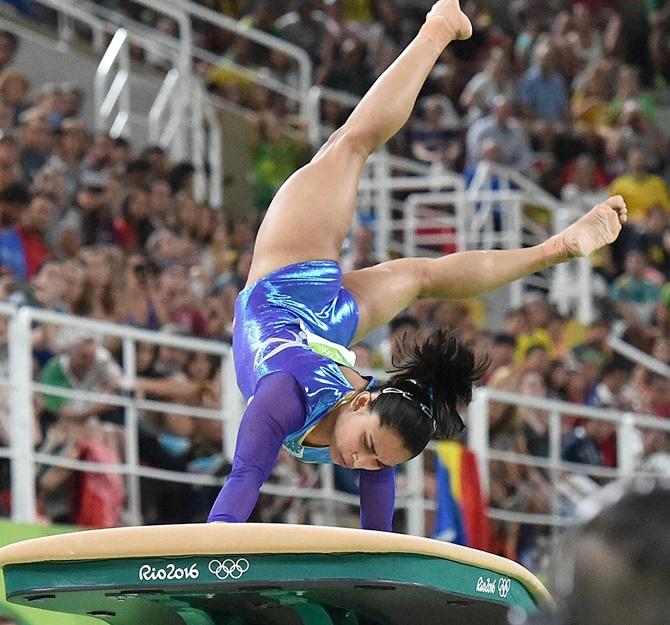 IMAGE: Dipa wants to be an inspiration for girls to pursue gymnastics. Photograph: Mike Blake/Reuters
Dipa Karmakar was born with flat feet, a defect that could have easily cut short her gymnastic pursuits. It took her years of hard work and perseverance to perfect that unnatural curve in her feet.
Not just that, at the Olympics, she performed a vault -- Produnova, a death defying stunt -- that even the gold medal winner had confessed not to try.
Even the lack of training equipment did not stop her from pursuing her dream.
In the past three months, her coach confessed, that Dipa practiced 1000 such vaults to prepare herself for the big day.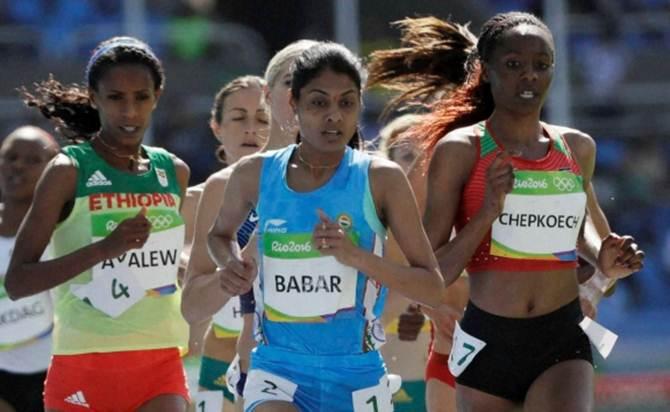 IMAGE: Lalita Babar is a hurdle chaser in real life too. Photograph: PTI Photos
It was more than three decades later that Lalita Babar represented India in the finals of 3000 metre steeplechase event.
Much before she joined the Olympics contingent, Babar was running a different hurdle race. In the drought affected district of Satara, Maharashtra where Babar was born, girls were considered a bane. Forget providing them with basic necessities or education, marrying them off early would be prime priority.
Forget qualifying for the big event, it was even a task for Babar to convince her parents to let her pursue sports.
Knowing that she stood tenth in the finals makes our heart swell with respect for the young girl. #Hurdlechaser truly!
The Indian women's hockey team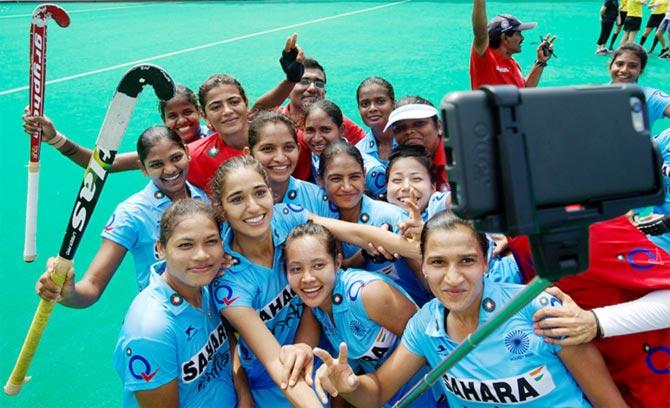 IMAGE: The women's hockey team represented India on the world stage after 36 years. Photograph: Hockey India
Sometimes truth is more hard-hitting than fiction.
We all raised our eyebrows when the women's team failed to hit the winning goal. Some of us poured our anger and disappointment over their dismal show.
Well, how many of us would credit the young girls to the fact that the Indian women's hockey team had qualified in the Olympics after waiting for 36 long years?
It's a pity, some of us won't even know who's the captain of the team; cause we are busy condemning them for their failure.
IMAGE: Indian sprinter Dutee Chand had to struggle even to qualify for Olympics. Photograph: PTI Photos
Most of us knew the Odisha girl for all the wrong reasons.
She was banned by the International Association of Athletics Federations because her testosterone levels were suspected to be higher than the limit.
Two years of relentless struggle later, she fought her way to the Olympics. A story cut for Bollywood, you may think, but how many of us will remember?
At the qualifying event, she finished the 100 metre heat in a record 11.24 seconds. She may have lost the Olympic medal, but she's a fighter in real life.