Inspirational. True grit. Rewards of perseverance.
Dipa Karmakar's achievement, says Rediff.com's Divya Nair, has lessons for us all.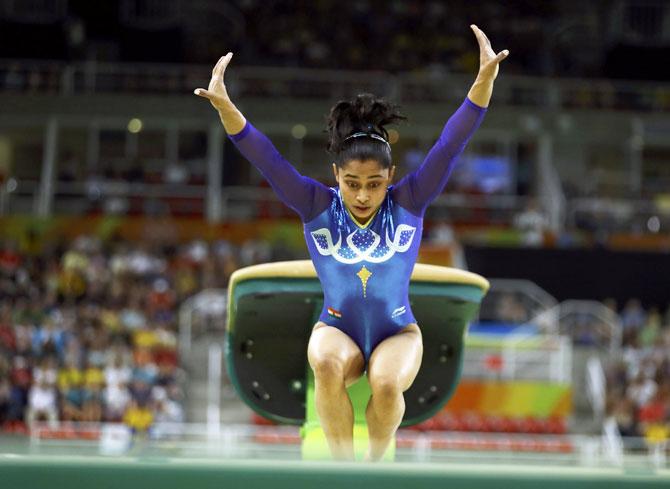 IMAGE: Dipa Karmakar competes in the Vault final at the Rio Olympics on August 14, 2016. Photograph: Mike Blake/Reuters
On the eve of Independence Day, if billions of Indians were glued on to the television sets with their fingers crossed, one young woman has to be credited for it.
Dipa Karmakar, the first Indian gymnast to qualify for the Olympics, was waiting for her turn to perform, hoping to bring home India's first Olympic medal for the year.
Our hearts raced and skipped a beat as we watched her risk the vault and wait for the score to be displayed.
She missed the medal by a fraction, but that night, Dipa, a young girl from Agartala, won a billion plus hearts and sent a strong message to India and the world.
Presenting 5 lessons from the 23-year-old 'ziddi' (stubborn) gymnast.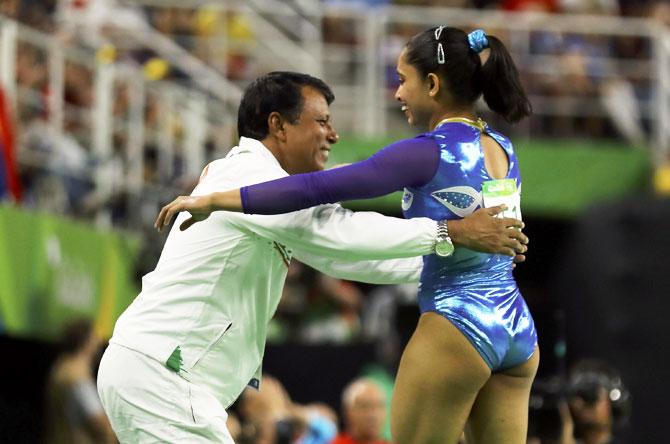 IMAGE: Dipa gets a hug from her coach Bisbeshwar Nandi after her brilliant performance in the Vault final at the Rio Olympics. Photograph: Mike Blake/Reuters
1. Start early
Dipa was 6 when she was picked up by her coach Bisbeshwar Nandi to train for gymnastics. It took her a decade and more of dedicated training and perseverance before she was noticed for her talent.
At 21, she won the bronze medal at the 2014 Commonwealth Games for her Produnova vault. Since then, she has won more than 77 medals -- including 67 gold -- in several state, national and international events.
She also became the first Indian gymnast to represent India at the Olympics.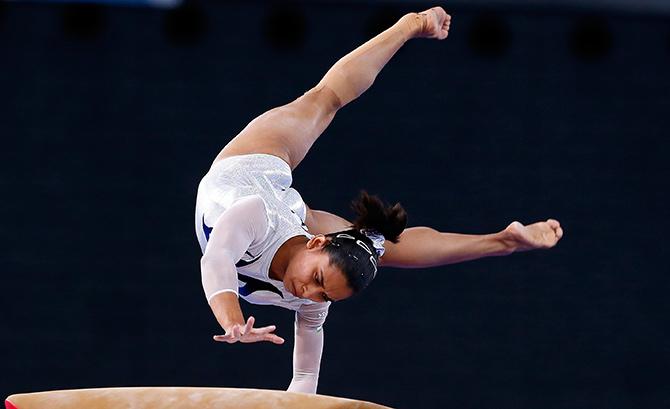 IMAGE: Dipa at the 2014 Commonwealth Games in Glasgow. Photograph: Andrew Winning/Reuters
2. Overcome barriers
Now that you know how amazingly talented she is, would you believe that Dipa had a flat foot when she dreamed of being a gymnast?
A flat foot meant that one cannot spring and jump naturally like a gymnast should. Yet, Dipa worked harder each day to overcome her postural defect and develop that curve in her feet.
Add to this, the lack of infrastructure and funding. For years, Dipa has practiced on tattered mats, with makeshift equipment made from duct tape and discarded scooter parts.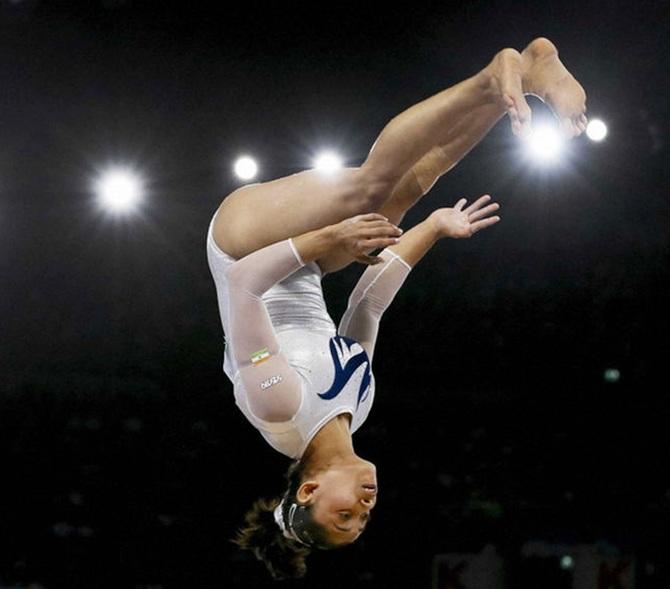 IMAGE: Dipa in action. Photograph: PTI
3. Take risks
Most Indians today know the name Produnova thanks to Dipa.
It gets its name from the Russian gymnast Yelena Produnova who first attempted the vault in the 1990s. Known as the 'vault of death', it involves the gymnast doing a handspring and two or more front somersaults in the air before landing on one's feet.
A wee miscalculation and you can land on your neck or spine and perhaps be damned for life. Most gymnasts don't even attempt the Produnova because of the risk involved.
With just a few months of preparation, Dipa mastered the Produnova, hoping to clinch a medal at the Olympics. She may have missed a medal, but it's commendable she stood 4th in the world.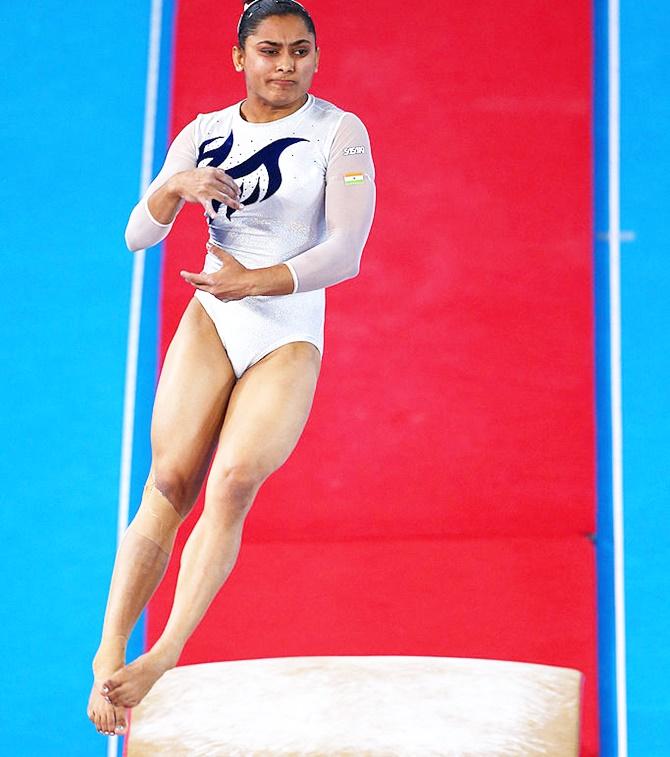 IMAGE: Dipa during her routine in the Vault at a competition. Photograph: Robert Cianflone/Getty Images
4. Sacrifice before success
No success is complete without sacrifice and Dipa's journey is proof of this. Since English medium schools were strict about their attendance, she opted for a vernacular medium school so she could concentrate better on her sport.
When she was 9, her father says she refused to cut her birthday cake until she finished her training.
On her 23rd birthday, she was cut off from the rest of the world, so she could focus on her Olympic event.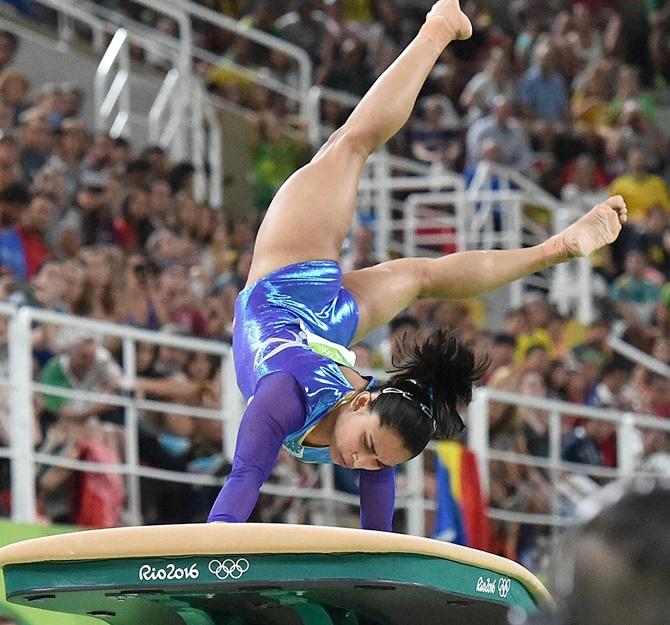 IMAGE: Dipa at the Rio Olympics. Photograph: Mike Blake/Reuters
5. Be humble
While returning to India, Dipa tweeted: 'Sorry to 1.3 billion people I can't make it possible. But tried hard to do so. If possible forgive me!'
Well, how does one react to that humility?
Most Indians told Dipa that they were proud of her.
In a country where female foetuses are dumped in garbage cans and academic excellence is given topmost priority, Indians like Dipa Karmarkar and her parents are setting a bright and right example.
Proud of you, girl! You rock!