The photograph of a brown egg has been liked by over 36 million people on Instagram to create a new record.
We live in extra-ordinary times.
With 36 million likes (and counting), the photograph of a brown egg has staked it claim to become one of the most liked Instagram posts of all time.
The previous record was held by Baby Stormi, daughter of Kylie Jenner and Travis Scott.
Shared by the account @world_record_egg on January 4, the egg portrait has received over 36 million likes as of Tuesday, January 15.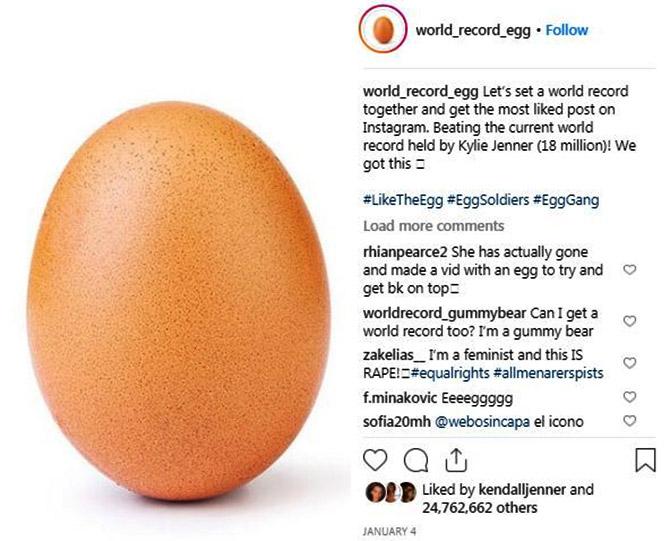 The photo of Stormi (external link) grasping her mum's finger, posted by her official account @kyliejenner on February 7, has on its part, 18.4 million likes.
Soon after the egg's picture was posted, Instagram users took it upon themselves to break Jenner's record.
One user wrote, "Ok we did it, les crack this yolk," while another posted, "EGGSELLENT RECORD."
There were few who expressed despair over the egg beating Jenner's photo and wrote, "Dammit, Kylie will never catch up."
The caption alongside the photo reads, "Let's set a world record together and get the most liked post on Instagram. Beating the current world record held by Kylie Jenner (18 million)! We got this."
The @world_record_egg, which has already got 4.9 million followers, has also asked Instagram "Now where's our blue tick?" on its page.
On Monday, Kylie Jenner finally reacted to the post.
Sharing a video of her breaking an egg on the road, she wrote: 'Take that little egg.' Jenner's video has garnered 24 million views.