The first installment of the German beer festival in Mumbai saw an eclectic mix of live performances, games, dance and much more.
Digital magazine Alcohowl recently hosted its first installment of the internationally popular Oktoberfest in Mumbai.
And it wasn't just about sharing beer, eating good food and having fun.
To keep the celebrations authentic, the organisers also set up a wooden hut-shaped lounge which resembled the original German Hut where revellers could experience the festival in Bavarian costume.
Photograph: Rajesh Karkera/Rediff.com
Videos: Hitesh Harisinghani, Dominic Xavier and Rajesh Karkera/Rediff.com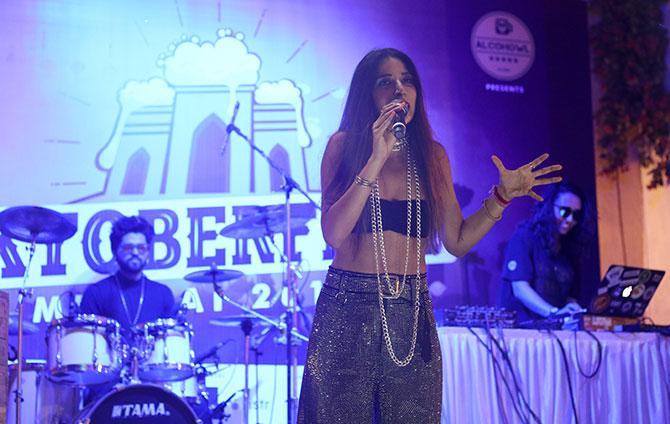 The first installment which was held between September 27 to 29, 2019, saw an eclectic mix of live performances, games and dance from artistes Sahib Singh, Saksham Tandon and Maddoc.
But the highlight of Day One was Monica Dogra who enthralled the audience with her mesmerising energy!
Watch one of India's best female DJs perform at the festival.
Watch the video to know what Alcohowl Oktoberfest 2019 is all about!
The Oktoberfest at Dublin Square in Mumbai saw the girls dressed up in the German traditional Dirndl dress.
Here, Sheela Tiruchi, model and now director, Libelle Events explains the importance of the costume.
The next display of the German festival will be held between October 11 and 13 at the Mahalaxmi Racecourse in Mumbai.